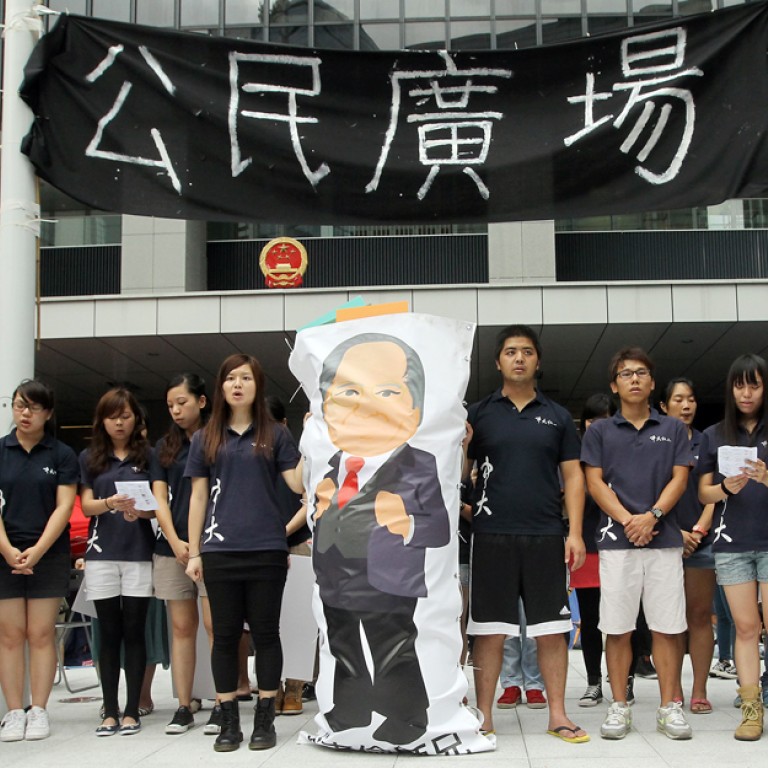 Leung to give 'cautious consideration' to scrapping national education
He also suggests cool-off period, but protesters dismiss offers as tactics and vow to fight on
Chief Executive Leung Chun-ying said yesterday "cautious consideration" would be given to suggestions national education should be scrapped.
But his remarks were dismissed by the protesters who have rallied outside the government's headquarters in Admiralty since last Thursday. They said it was a tactic to appease the public ahead of the Legislative Council election on Sunday.
Beijing also weighed into the debate yesterday, with Education Minister Yuan Guiren saying all nationals should receive national education.
Echoing the words of other officials in the past few days, Leung said any topic could be discussed by the advisory body set up after protests against the policy.
"Any topic can be discussed ... withdrawal can also be suggested, or cancelling the three-year initiation period, the so called deadline [for schools to implement the subject]," he said.
He also suggested to protest leaders a "one year cooling-off period", saying this would allow for more discussions by the committee headed by executive councillor Anna Wu Hung-yuk. Wu also backed open talks.
But protest leaders, who have refused to join the committee, said both its formation and the cooling-off suggestion were just tactics and the government had not signalled a change in policy.
"How can we accept bulldozing of the subject again after the so-called one year calm-down period?" one of the campaign leaders, Andrew Shum Wai-nam, asked. The alliance against national education, of which Shum is a spokesman, urged all Hong Kong people to dress in black today to express their opposition.
The campaign has spread from schools to the wider community, with university students and scholars calling for a city-wide class boycott in universities next week. Every evening since Monday, several thousand people have gathered at government headquarters, site in one of the longest protests since the handover. Forums have been held each day on a range of topics.
Breaking his silence on the issue, Yuan said that while all nationals should receive national education, the Hong Kong government indicated "room for discussions" over the controversy.
Nine more people yesterday joined the hunger strike that started last Thursday, including John Shum Kin-fun, a film director and activist who supported the student pro-democracy movement in Beijing in 1989.
This article appeared in the South China Morning Post print edition as: Leung opens door to 'consideration' of axing subject