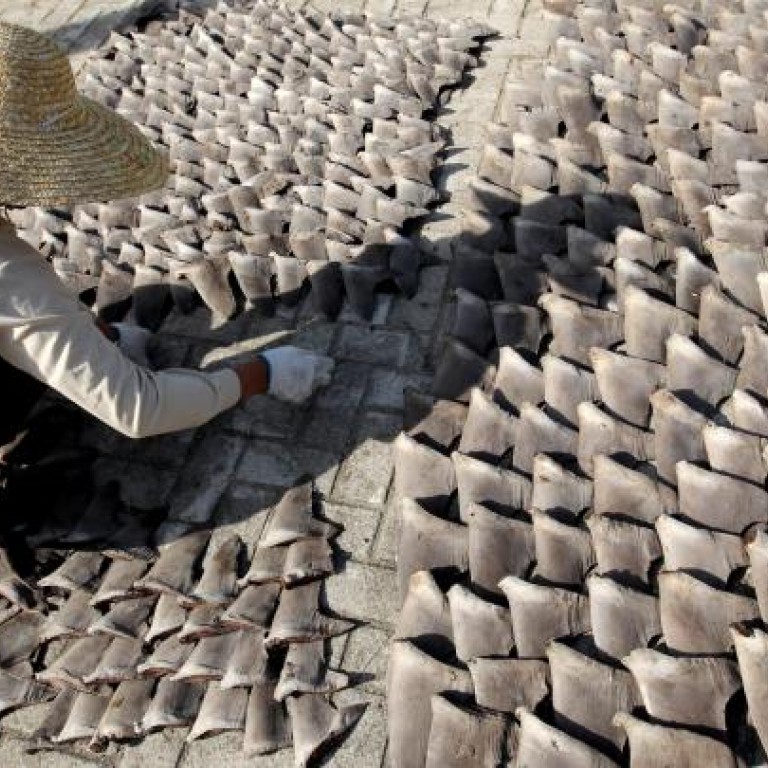 Angry merchants protest against Cathay Pacific's shark fin ban
More than 100 angry merchants yesterday
protested outside Cathay Pacific's headquarters against the airline's decision to stop carrying shark fins on its cargo flights.
The Marine Products Association said the ban announced on Tuesday would damage a business that had already been contracting for two decades because of environmentalists' global campaigns against the harvesting of shark fins.
Chairwoman Choy Mei-kuen said the ban amounted to a "smear campaign" that would lead Hongkongers to believe the shark fin business was "worse than committing a crime like drug trafficking".
More Hongkongers would stop eating shark's fin as a result, she said.
Under Cathay's new policy, it will accept cargo orders only when merchants provide proof that their products were independently verified as sustainable shark and shark-related products. The airline expects the transition to the new policy to take about three months.
Choy said: "We are not stealing or robbing anyone to make money. The Hong Kong government has not banned the import and export of shark fin. This business is not illegal. How can Cathay Pacific decide on a ban without even consulting us?''
She noted merchants can still use of other airlines' cargo services, as well as shipping services, and said: "In fact, not many merchants use Cathay Pacific's cargo services. That is why we think it has banned shark fin just to put itself on a moral high ground and tell the public how it is devoted to sustainability."
Neither she nor Sharks Fin Trade Merchants Association chairman Ho Siu-chai could say just how many merchants use Cathay Pacific.
Choy's view of Cathay's policy stands in stark contrast to that of the 40 environmental groups who signed a petition calling for the ban. They estimated Cathay carries up to half of all shark fins imported to Hong Kong by air.
She said her association had already sought legal advice on the matter and that it would decide on the next step after listening to what the airline has to say in the coming few days.
A Cathay Pacific spokeswoman said she did not have a figure on the volume of shark fins the airline carries.
But she added: ''There is very compelling scientific evidence to support [our stance] that this is the right thing to do for a company committed to sustainability."
This article appeared in the South China Morning Post print edition as: Protest over Cathay's shark fin ban