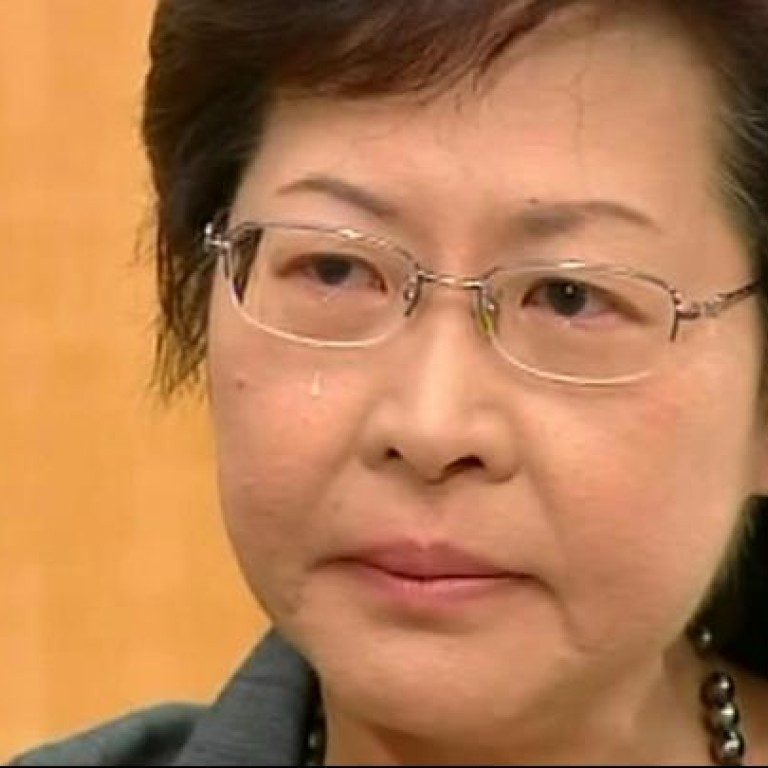 Tearful Carrie Lam says she put reputation on the line
Chief secretary blames national education controversy for damaging her approval rating, as she loses her composure in TV interview
Chief Secretary Carrie Lam Cheng Yuet-ngor
broke down in tears in a televised interview, admitting her credibility has suffered in the new administration.
Losing her composure, Lam said that becoming entangled in the controversial national education debate had damaged people's faith in her.
"Someone said I have had my popularity diminished by getting into the controversy of national education. Perhaps they are right," she conceded.
"I said before that I didn't care much about my popularity. But did I make use of it? Yes," Lam told Cable TV yesterday.
Despite entering her third month in the new administration facing strong public opposition to most policies, Lam defended Chief Executive Leung Chun-ying for having the courage to speak up for the city's interests.
"I decided to be part of Leung's team because I would have let people down if I, as an official who was relatively popular in the last administration, just left the government behind.
"That would have been jumping ship," she said, tears rolling down her face.
"To a certain extent, I have gambled my integrity and credibility on the government. I'm fine with criticism against me. But I really hope that Hong Kong will be a better place in five years."
Lam's popularity rating dipped two percentage points last month, from 64 per cent to 62 per cent, compared to July. She attributed the fall to the public's distrust of Leung, as well as to increasing conflict with the mainland over issues such as births in Hong Kong.
"From the working experience with Leung in the past two months, I can seriously say that, in every matter, the interests of Hong Kong people have been his highest priority," she said.
"He has the courage to express the people's concerns to the central government. The central government also responded quickly based on its trust and support for Leung," she said.
After the interview, Lam explained she had been emotional because the public was suspicious of the government no matter how hard it worked.
Ray Yep Kin-man, social and public administration professor at City University, said public discontent stemmed from officials' misconduct in the last administration, and had been worsened by further episodes in the new government.
"A clean government is the basis of public trust," he said. "The distrust gets bigger when fear and anger against the mainland and the Communist Party intensify."
He said Lam had believed her popularity could be used to help the government.
"I guess that's why she's upset," he said, citing executive councillor Anna Wu Hung-yuk as another example.
"Wu has been recognised for her contribution to freedom and human rights. But her popularity could be ruined in a day," he said, referring to criticism of her leadership of a committee advising on national education.
This article appeared in the South China Morning Post print edition as: I've put my reputation on the line, says tearful Lam