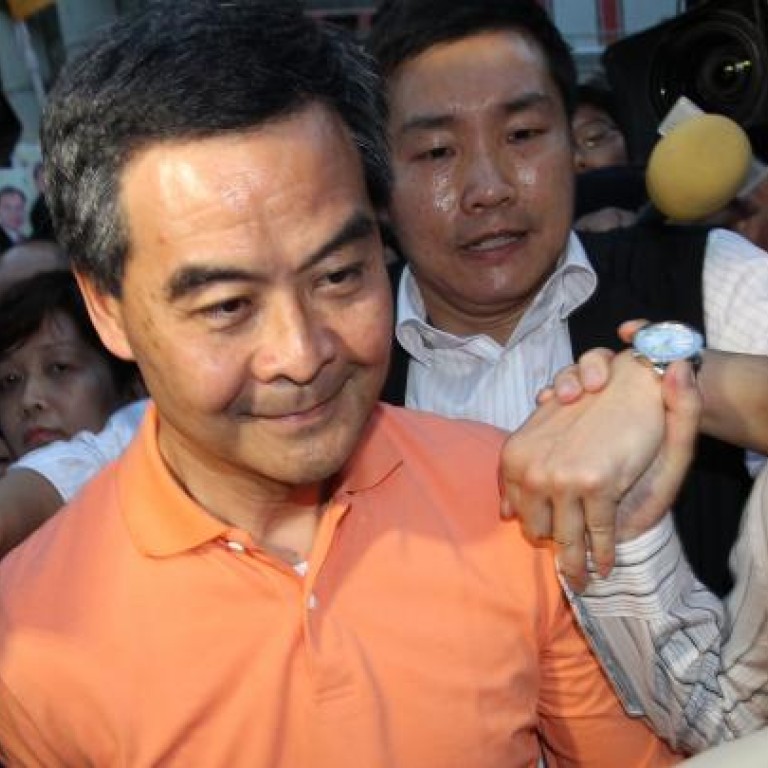 Leung Chun-ying gets Shenzhen to delay issuing multi-entry permits
Deal struck with the mainland authorities to assess city's ability to cope with visitors
A decision to give millions of non-permanent Shenzhen residents easier access to Hong Kong will not be implemented until the city has examined its capacity to receive more visitors, Chief Executive Leung Chun-ying says.
Leung's assurance came after concerns arose over Shenzhen's plan to let 4.1 million of its residents apply for multi-entry permits to Hong Kong from September 1 without returning to their home provinces.
He said yesterday that for the first time, Hong Kong and mainland authorities had reached a consensus to take the city's capacity into consideration in the issue of travel permits. The breakthrough would allow Hong Kong to play a bigger role in cross-border tourist control.
Previously, mainland cities granted permits to visit Hong Kong without discussion of its capacity to cope. Locals fear the infrastructure would be overwhelmed and visitors would vie with them for resources.
"The change [to the issuing of multi-entry permits] will not be rolled out in the short run," Leung said in his second appearance in two weeks to address a public outcry over the possible influx of mainlanders. The government would set up a mechanism to assess the city's potential to receive more travellers, and Shenzhen had agreed not to change its permit rules until the assessment was finished, he said.
The authorities named hotel accommodation, tourist attractions, immigration services and livelihoods of Sheung Shui residents as factors to be considered.
People in the border town are troubled by the many parallel traders buying goods in the neighbourhood and are worried that more would join the fray if the permit rules are relaxed.
After the assessment, 48 other mainland cities covered by the Individual Visit Scheme can use the Shenzhen case as a reference when granting permits to Hong Kong. The scheme, started in 2003 after the Sars outbreak, allows mainlanders to visit on their own.
Also since the start of this month, Beijing, Tianjin , Shanghai, Chongqing and Guangzhou have let their non-permanent residents apply for single or dual-entry permits to Hong Kong away from home and have begun receiving applications.
Leung said those cities would issue the permits gradually to lessen the strain on Hong Kong.
Sheung Shui residents and conservancy group Green Sense welcomed the delay in the issuing of the Shenzhen permits.
Tourism and hospitality veterans, meanwhile, expect the National Day "golden week" holiday starting on October 1 to be busy, since Shenzhen residents are entitled to single-entry permits and demand from other cities remain strong.
Year-on-year growth in visitors on group tours, however, would drop from double digits to about 6 per cent because of infrastructure constraints, said Michael Wu Siu-ieng, of the Travel Industry Council.
Expectations within the retail industry are divided.
The city reported lower-than-expected retail sales growth of only 4 per cent in July - the lowest figure since September 2009.
The Retail Management Association made a downward revision for this year's sales growth from up to 15 per cent to up to 12 per cent.
The delay in implementing the easing of permit rules would make no difference, the association said.
CCB International, an investment bank wholly owned by China Construction Bank, said in a report that the suspension would extend the slowdown in Hong Kong's retail market.
This article appeared in the South China Morning Post print edition as: Multi-entry permits put on hold for influx study Leung pledge on multi-entry permits