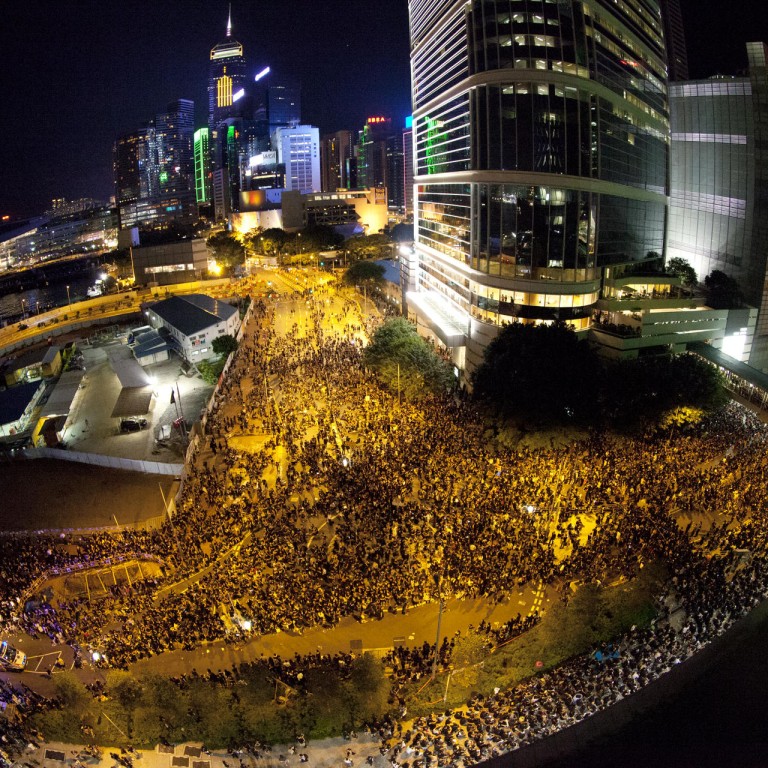 Black day for national education as Tamar site is swamped
Tens of thousands estimated to have descended on Tamar site as the protest escalates, piling more pressure on C.Y. Leung
An ocean of protesters in black T-shirts swamped the government's headquarters at Tamar in Admiralty last night as tens of thousands rallied for a ninth consecutive day against the national education curriculum.
Organisers said 120,000 protesters packed the site, spilling back on to streets of Wan Chai and as far as Causeway Bay. Police estimated the crowd was 36,000 strong by 9.30pm.
They inundated roads and forced staff to divert the crowds inside Admiralty MTR station as more and more people flocked to the site, spreading into a park between the complex and the Tamar military base of the PLA.
Incensed protesters sat and chanted slogans while about a dozen activists continued their hunger strike. They said the rally would continue overnight.
Joshua Wong Chi-fung, the 15-year-old convenor of student-activist group Scholarism, said: "The government cannot do whatever it wants. Hong Kong people will fight for their rights on their soil. Hong Kong will win. This movement will not fail."
Pro-democracy media tycoon Jimmy Lai Chee-ying, outspoken Cardinal Joseph Zen Ze-kiun and Democratic Party veteran Martin Lee Chu-ming were among the crowd offering their support.
Campaign leaders insist Chief Executive Leung Chun-ying withdraw plans to introduce national education - branded a brainwashing tool to be used by Beijing to indoctrinate future generations - but agreed to a meeting proposed by Leung yesterday afternoon provided it was held in public. Leung's office informed protesters that he was willing to resolve the crisis through "dialogue without preconditions".
Eva Chan Sik-chee, of the Parents Concern Group, said she talked to the Chief Executive's Office by phone several times last night and was given no sign the subject would be withdrawn. She urged people to gather at the site again this morning at 10am.
Leung said earlier that the government could not alter policies whenever there was a protest. He stressed the government was open to any suggestions that might be made by the committee set up recently to scrutinise the controversial subject, which is scheduled to be introduced in primary and secondary schools by 2016.
"I do care about those who are on hunger strike, but we ought to follow procedures [of the committee]," Leung said.
Engineer Kevin Chung Chi-fai, who was attending the rally for the first time, said: "I think the government is just repeating the same line on its insistence on the curriculum."
In a TV interview, Chief Secretary Carrie Lam Cheng Yuet-ngor said the turmoil was the result of a lack of trust in the government. She admitted it could also have arisen from fears about the Communist Party.
A government teachers' union said it would meet to discuss the circumstances under which to start various kinds of action, including a class boycott.
One school that had indicated it would start teaching national education, Baptist Lui Ming Choi Primary School in Sha Tin, suspended the plan after protests.
The campaign has now spread overseas, with emigrant groups organising protests in their cities. The Civil Alliance Against National Education said it would stage a protest outside Hong Kong's representative office in London today.
This article appeared in the South China Morning Post print edition as: Black day for national education