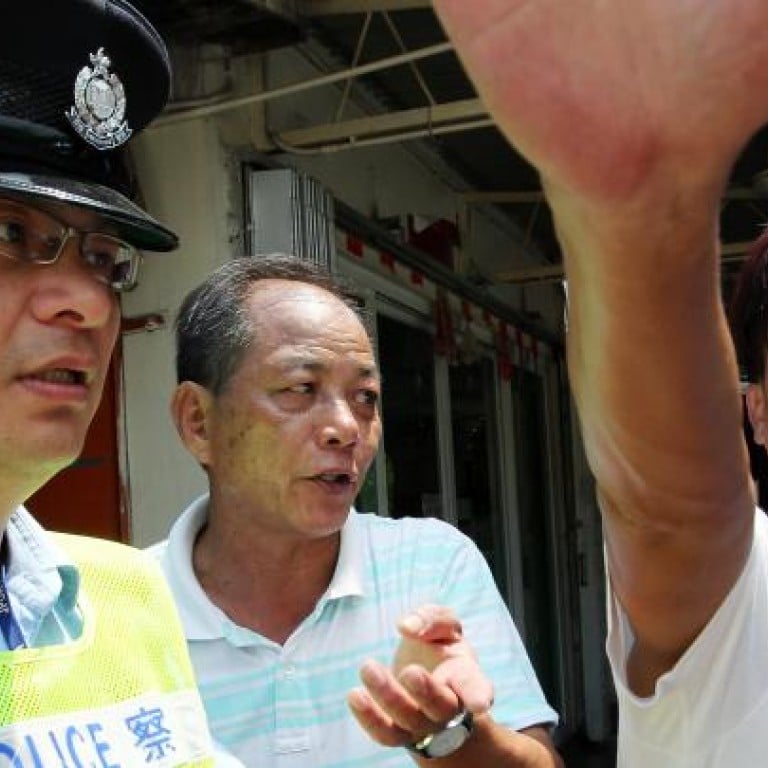 How does one conduct an election campaign without actually showing up and knowing the details? Independent candidate Chan Keung was a perfect example. Chan, a New Territories West candidate with a rural background who had been accused of no-shows during the month-long hustings, finally made his appearance on election day. After multiple changes of vote-canvassing sessions and venues, ranging from Tsuen Wan to Tin Shui Wai, he eventually agreed to talk to the in Hung Shui Kiu, Yuen Long. Asked why he was seldom seen in person, and heard only on non-stop loudspeakers across the constituency broadcasting recorded speeches, he said he "was busy handling livelihood issues", but declined to give details. When the pointed out to him that his election materials had been produced in Guangzhou, Chan said: "Really? I did not know why the banners were printed on the mainland."
One can see two sides of the same coin in having a large number of frenetic fans, the downside being possibly unruly behaviour. Outside a polling station in Wang Toi Shan San Tsuen, Yuen Long, a handful of supporters of the Democratic Alliance for the Betterment and Progress of Hong Kong candidate Leung Che-chung hurled foul language at the when asked about their support of Leung. One man wagged his finger and a cigarette at the reporter, while another tugged at her wrist, promising to ask his fellow supporters in other villages to boycott the newspaper. The saga ended with police mediation and Leung, chairman of the Yuen Long district council, said: "For sure I will continue to answer the 's queries. You know, some villagers do not know how to handle the press."
Tempers flared in Kowloon Bay as the Kowloon East independent candidate Paul Tse Wai-Chun was confronted by rival Andrew To Kwan-hang and his fellow League of Social Democrats member "Long Hair" Leung Kwok-hung, who was contesting New Territories East. The two arrived shortly after Tse had settled at his booth at a bus terminal near Amoy Gardens. "You are the godson of 'Western District'! Shame on you!" To and Leung declared, referring to the central government's liaison office. They followed Tse on the streets before he was forced to get into his van and leave. Tse, ringed by his pink-shirted team, denied any links with Beijing, saying he advocated "healthy democracy", but refused to confront his rivals face to face. Leung had earlier roamed Hong Kong Island, where he "greeted" DAB candidate Jasper Tsang Yok-sing with a placard showing Tsang's and Leung Chun-ying's faces and reading: "There is nothing as the most shameful, just something more shameful."