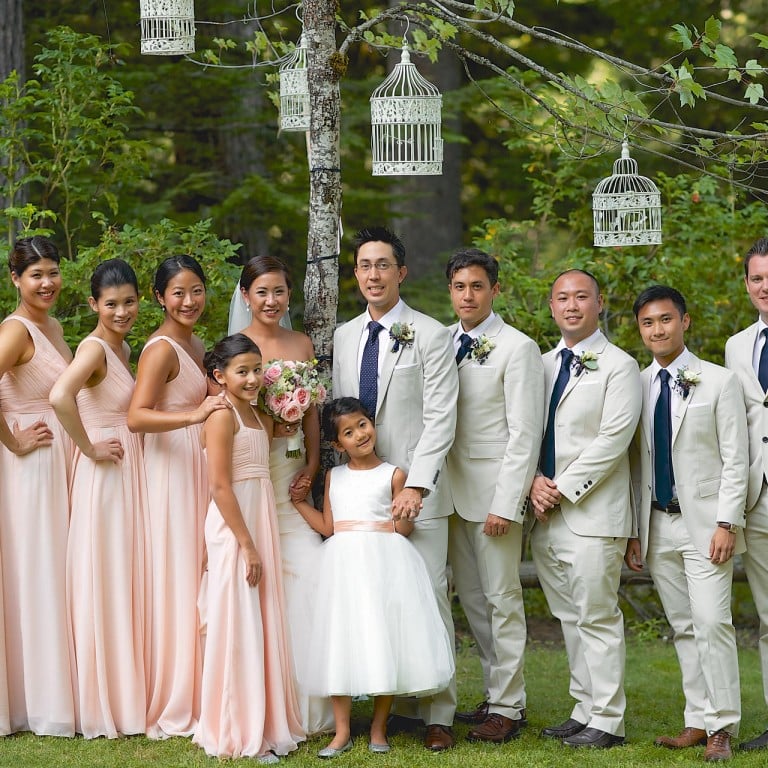 Hong Kong banker Catherine Tan weds Kevin Lepsoe in Canada
Couple share a love of the outdoors and a hearty steak dinner at the end of the day
Long hours in the office were more tolerable for Kevin Lepsoe when he was able to peek at Catherine Tan sitting in her cubicle. "Catherine was the only person I knew in the industry who smiled at the office. How could I not be attracted to that," he said.
Kevin, who quit his job in banking to start social network
notey.com
and banker Catherine tied the knot in Whistler, Canada, on August 10. They celebrated in Hong Kong on September 1 with a lunch in The Library at the Island Shangri-La hotel, followed by a dinner prepared by Ammo restaurant.
Although Kevin was smitten by Catherine's radiant smile and warm personality, she did not notice him at first.
"I thought he was quiet and very serious," she said. "But outside work, his personality is quite the opposite. He has the best sense of humour of anyone I know. And that can make any dark day seem bright."
Kevin said he made up random excuses to meet Catherine outside work.
"Then the first time I saw her coincidentally at a club she ignored me," he said. "I thought, typical Hong Kong girl. So I played the typical Hong Kong banker and annoyed her until she went on a date with me."
For their first date they had a meaty feast at Ruth's Chris Steak House. "And little did I realise that it would be one of our staple meals going forward," Catherine said. "We wanted meat at our wedding because it's so 'us'."
For their Whistler wedding, Kevin barbecued for 60 guests at the spectacular Cedarstone estate. Gourmet burgers were served at their post-wedding party in Hong Kong.
Kevin said everything about Catherine was amazing. "From her warm heart, to how she makes me a better person, to how she misses me so much when I travel."
Catherine loves Kevin's optimistic outlook on life and how he puts family and friends as his main priority.
Last December, Catherine visited Kevin's family in Vancouver. They went for a hike and Kevin invited his father and brother to join them.
What Catherine did not know was that he had bought an engagement ring eight months before the trip, but wanted to propose on a specific trail.
"I was thinking, he's definitely not going to propose, not in front of his dad and brother," Catherine recalled.
When they reached the mountaintop, Kevin got down on one knee. But he was so emotional that he almost burst into tears.
"I was completely tongue-tied and Cath was like, 'What are you doing?' She thought I was tying my shoelace," Kevin said.
Catherine did not say "yes" immediately because she was trying to catch her breath after the strenuous hike.
Their wedding ceremony in Whistler was not particularly traditional, either.
The three-day affair brought together friends and relatives at the rural beauty spot. And prior to the wedding, they organised a day of hiking up the Stawamus Chief peak.
"Having events around the wedding brings different sides of the family and friends closer together," Catherine said.
"On that third day, there was a moment when Kev and I looked around the room, and noticed how everyone from different backgrounds had got to know each other and how everyone was having fun. We gave each other a high five and laughed."
This article appeared in the South China Morning Post print edition as: Kevin's proposal hits the heights