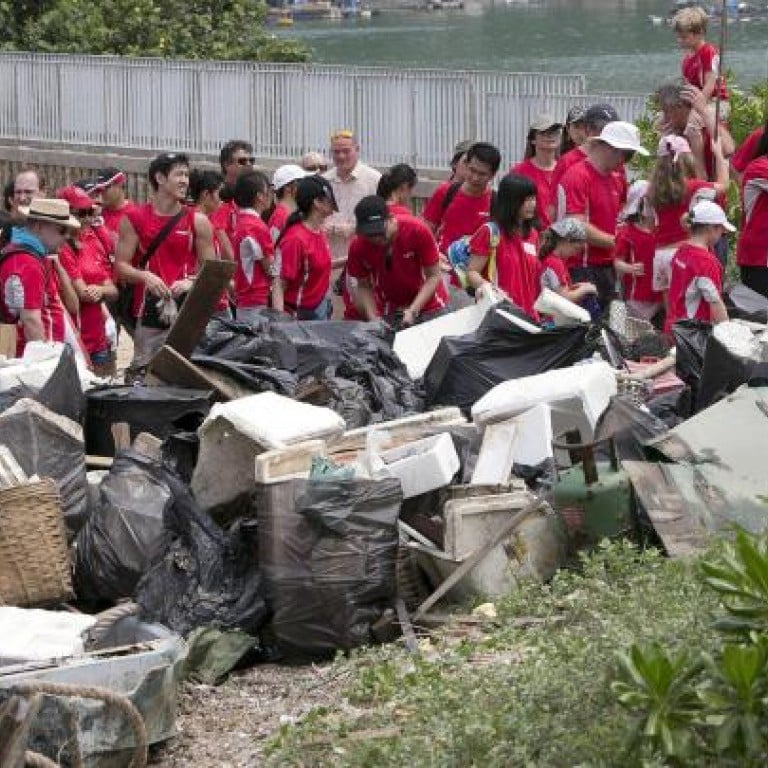 'Unsexy' trash is a real problem in wasteful HK, clean-up organiser says
HK, one of the world's most wasteful places, urged to change thinking about consumption
There is nothing "sexy" about rubbish - that was the message behind yesterday's launch of Hong Kong Cleanup, an initiative that dovetails with two other global projects aimed at reducing waste on land and at sea.
Hong Kong is among the most wasteful cities in the world, producing six million tonnes a year - but everyone can do their bit to help lighten the load, such as Ocean Conservancy's global coastal clean-up.
"Waste is not a sexy topic but it's a real and global issue, especially in Hong Kong," said Nissa Marion from Ecovision Asia, one of the organisers of beach, country park and city clean-ups over the next six weeks.
Charles Moore, who researches plastic waste in the oceans and was in town last week to promote his book , said the ultimate goal was to end the need for beach clean-ups.
"Hong Kong is going to have to reduce its consumption but that's not good for economic growth, so there's a contradiction," he said. "I think we need a new economic paradigm where we improve infrastructure and make better products, not more."
Moore said the recent plastic pellets spill, caused after shipping containers carrying the pellets fell off a vessel during Typhoon Vicente, had focused Hongkongers' attention on the amount of man-made waste that ends up in the oceans.
Some of that waste was reduced yesterday morning when about 200 volunteers from investment bank Nomura - its staff and their families and friends - donned red shirts, gloves and sunblock before scouring a Sok Kwu Wan beach on Lamma Island for rubbish.
Calvin Fung, 34, said he would be more mindful of what he took to the beach after seeing the amount of waste there.
In two hours, the volunteers collected more than 200 bags of rubbish, weighing just over a tonne. Their booty included a water ski, gas canister and surfboard.
The event was sponsored by National Geographic Channel, Nikon, and
Ecozine.com
with as a media partner.
This article appeared in the South China Morning Post print edition as: City must clean up its act, says campaign chief