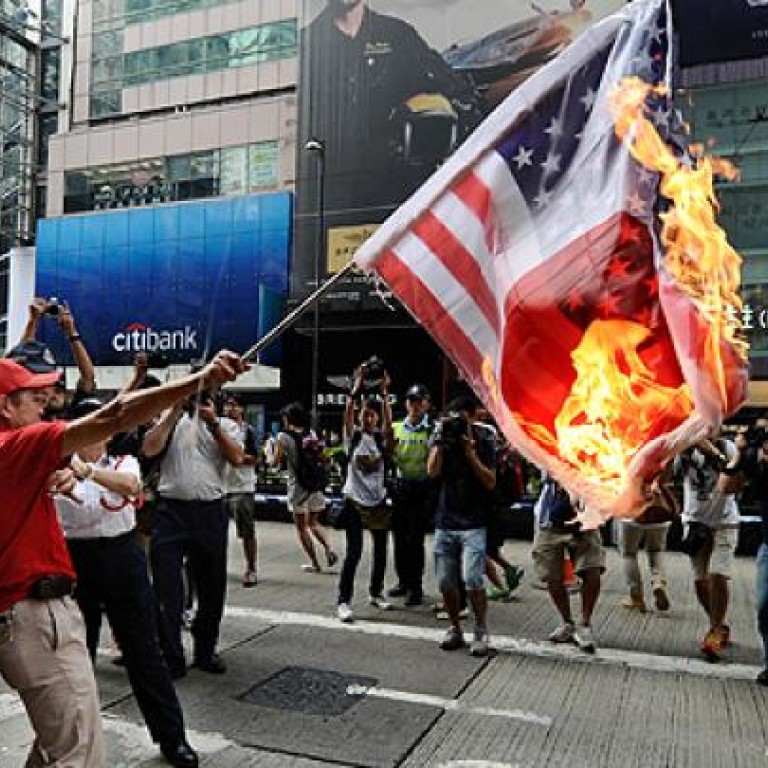 Hong Kong protesters join anti-Japan chorus
Scores of protesters on Sunday afternoon participated in a march to the Japanese consulate to protest Tokyo's assertion of control over the disputed Diaoyu Islands.
Organiser said 5,000 marched from Victoria Park in Causeway Bay to the consulate at Exchange Square in Central. Police put the figure at 850.
Marchers, which included locals and mainland and Macau visitors, demanded that the Japanese government stop its claim of sovereignty over the islands in the East China Sea, which China calls Diaoyu and Tokyo calls Senkaku. On Tuesday, Japan announced it would buy the island chain. Anti-Japan protests have broken out in cities across the mainland, including in Beijing, Shenzhen, Shanghai and Qingdao.
Protesters in Hong Kong also chanted slogans, saying the Mukden Incident, which Japan used as a pretext to invade China in 1931, should not be forgotten. The incident's anniversary is on Tuesday.
They burned Japanese military flags and a letter to Japanese Prime Minister Yoshihiko Noda outside the consulate.
Two Japanese flags with a cross on them were dragged on the ground in the protest. "Japanese flags are used to sweep the floor," said Tsang Kin-shing, member of the Action Committee for Defending the Diaoyu Islands.
A man lighted and waved a flag that melded the Japanese and American emblems as the crowd reached Hysan Place. He was arrested by the police for disorder in a public place soon after.
The crowd remained calm when they passed by Japanese department store Sogo, only chanting slogans "boycott Japanese goods".
A branch of the popular Japanese fast food shop Yoshinoya on Hennessy Road blocked its windows for protection, but stayed open for business. A shopkeeper said she was told by police that protesters could cause problems.
A visitor from Xian said she took part because she wanted to help put the pressure on Japan.
"Many of my friends joined the protest in Xian. And I feel the need to take it to the street even though I am in Hong Kong now," she said. "People across China have to unite in getting Japan out of the Diaoyu Islands."