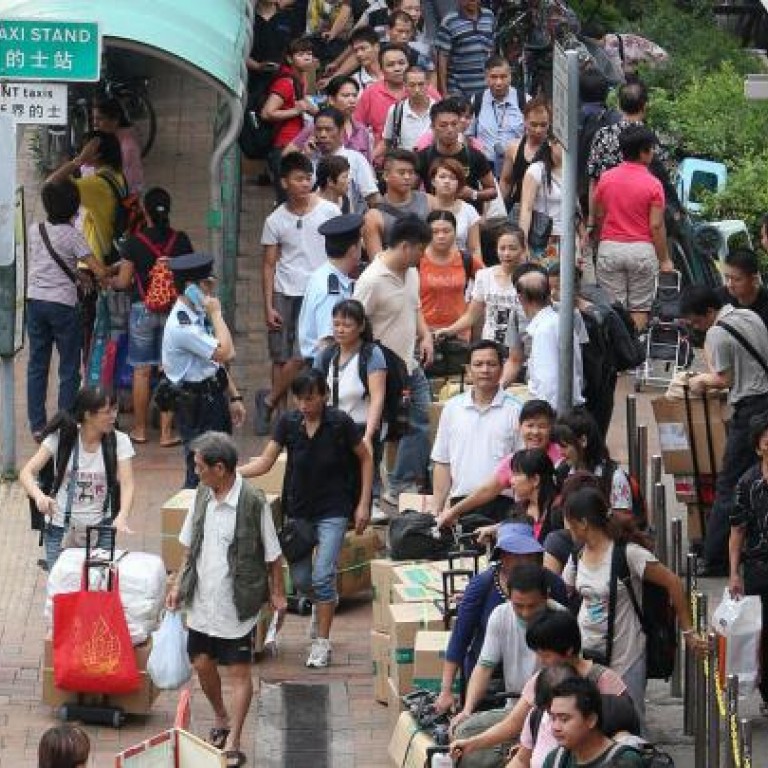 50 parallel trading cases detected in HK-Shenzhen border crackdown
More than 50 suspected parallel trading cases have been detected in the past week as a result of an enhanced crackdown by Hong Kong and Shenzhen customs authorities on illegal cross-border exports.
Thousands of people make their living by buying everyday goods in Hong Kong and selling them across the border to avoid the mainland's hefty taxes. They have been accused of putting a strain on the local infrastructure and pushing up prices in the New Territories.
Since border customs officers stepped up co-operation on September 7, Hong Kong authorities have referred 150 suspected parallel traders to their mainland counterparts, of which 50 cases were acted upon. In the first seven months of the year, co-operation between the two forces cracked just 150 parallel trading cases. Hong Kong authorities are now looking beyond obvious parallel traders - those pushing goods on trolleys - and targeting those using secretive methods.
Some parallel traders wear clothes with secret pockets to hide their goods, according to a government source.
Investigators are also trying to work out how many of the traders are working for syndicates, who pay about HK$100 for each trip.
Goods commonly transported across the border include daily necessities such as milk powder and diapers, as well as cosmetic and health care products, electronic goods and computer parts.
"When they return to Hong Kong, some bring contraband cigarettes and counterfeit products to earn extra money," the source said.
While trading activity has died down in recent days due to public protests at the Sheung Shui MTR station and an increased police presence, the spotted more than 730 people who appeared to be parallel traders, with carts full of bulging boxes and heavy bags, during the evening rush on Thursday.
Some members of the group made multiple trips during the day. One person carried more than 15 laptop computers on three journeys between Sheung Shui and the border at Lo Wu.
Accomplices at Sheung Shui station passed goods through the ticket gates. One person entered the station seven times, offloading three boxes each time.
The traders are not breaching Hong Kong's Import and Export Ordinance, but may fall foul of the mainland's customs laws, under which people are allowed to bring in goods worth up to 5,000 yuan (HK$6,124) for their own use. Cigarettes, alcoholic drinks and 20 other types of goods - including cameras, television sets, phones, computers and tablets such as the iPad - are taxable regardless of value. Tax rates vary from 10 per cent to 50 per cent of the product's value.
But parallel traders from the mainland can be arrested for breaching their conditions of stay in Hong Kong. The crackdown will continue until the end of the year.
A plan to allow 4.1 million non-permanent residents of Shenzhen to apply for multi-entry permits to Hong Kong was shelved this month amid concern that they could engage in parallel trading or strain the city's infrastructure. But residents say Shenzhen permanent residents will continue the trade.
Liberal Party honorary chairman James Tien Pei-chun is to write to the Security Bureau today, urging that the multi-entry permit scheme be amended so holders can only enter the city once per day, in an attempt to end the parallel goods trade.
But ideas to restrict travellers have previously been dismissed by Secretary for Security Lai Tung-kwok as "unfriendly to tourists" as it would increase border waiting times.
Residents have called on the MTR to bar passengers from carrying goods which exceed the permitted size on its trains.
This article appeared in the South China Morning Post print edition as: 50 parallel trading cases netted in crackdown Crackdown on parallel trading detects 50 cases