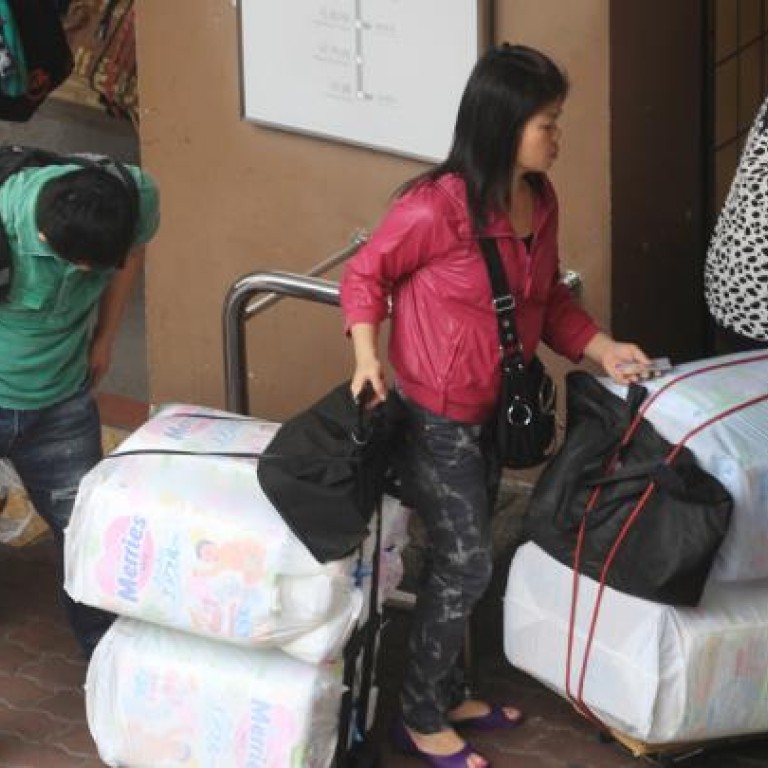 Multi-entry permits help thousands of parallel traders cross into HK daily
Many are Shenzhen residents carrying multi-entry permits, government sources say
More than 3,000 parallel traders are crossing the border every day and over half of them are Shenzhen residents with multi-entry visit permits, according to government sources.
The figures were revealed by a mainland official during a recent meeting of a newly formed working group between Shenzhen and Hong Kong customs authorities to combat illegal cross-border exports.
The disclosure comes at a time when emotions are running high among North District residents annoyed at the increasing numbers of parallel traders who they blame for pushing up prices of goods in the neighbourhood, blocking streets and littering.
Hundreds of people protested at Sheung Shui MTR  station over the weekend, resulting in ugly scenes and scuffles with parallel traders.
"At least 3,000 to 4,000 parallel traders are in operation every day. More than half are mainlanders who carry multiple-entry permits," the source said.
"They make at least two return trips a day, but some can make four to five."
Based on these numbers, the parallel traders, who make a profit by evading import taxes charged by the mainland authorities, account for at least 2.2 million cross-border trips a year. Although they are not conventional tourists, the numbers are included when the city calculates its tourist arrivals.
In 2011, Shenzhen residents with multi-entry permits accounted for 6.17 million arrivals in Hong Kong, while a total of 28.1 million mainland tourists visited the city last year.
Following Saturday's confrontations, there seemed to be far fewer traders at Sheung Shui station, prompting hundreds of protesters to march to a nearby warehouse building, which they said suppled many of the goods. However, its gates were closed and some of the marchers returned to the station where they hurled insults at anyone calling heavy boxes or pushing a trolley.
Sociology Professor Chan Kin-man, of Chinese University, feared the demonstrations could evolve into yet another wave of widespread discrimination against mainlanders.
"There are signs the residents' anger is going beyond hatred of parallel goods carriers …  some of the traders are Hongkongers, but the protesters still chant slogans like 'Go back to the mainland'," Chan said.
This article appeared in the South China Morning Post print edition as: 3,000 parallel traders cross into HK daily