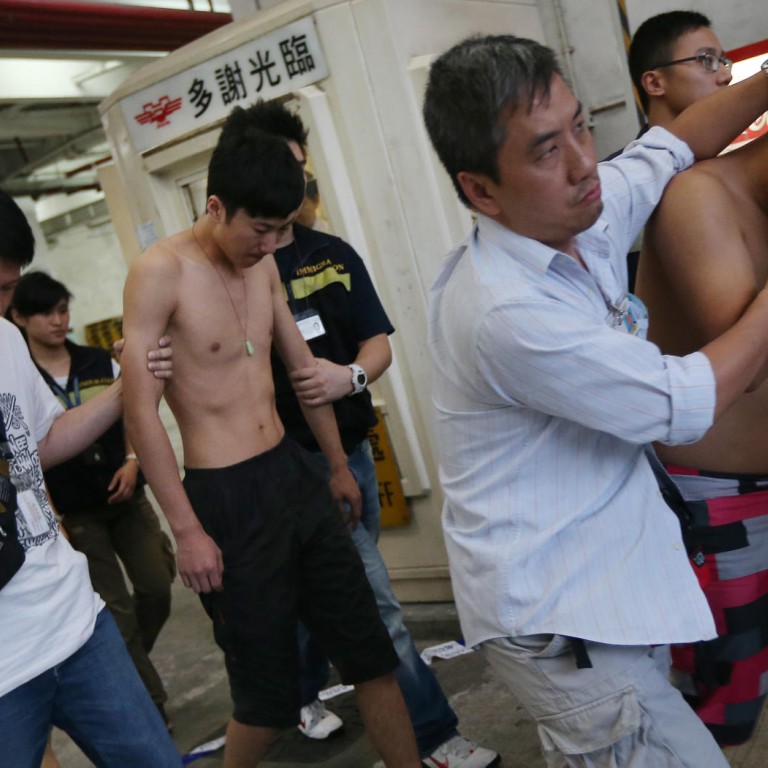 Parallel exporters using Hong Kong flats as warehouses
Mainlanders found busy packing mobile phones during raid on Sheung Shui apartment block
Parallel traders who tried to outsmart police by using residential flats instead of industrial units for goods storage were raided yesterday by law enforcement officers armed with emergency court warrants.
Immigration and police officers arrested 15 mainlanders in the fourth action in eight days against illegal activities by parallel exporters.
A Shenzhen official meanwhile estimated that up to 30,000 people were involved in the business of buying goods in bulk to be ferried across the border for resale in order to evade taxes on the mainland.
Officers yesterday obtained emergency court warrants against two residential apartments at the Sheung Shui Centre, principal immigration officer Wong Yin-sang said.
In one flat, officers arrested six mainlanders who were packing "a very popular mobile phone model", Wong said. In the other flat, two Hongkongers were also found packing mobile phones. They were not arrested, as immigration officers targeted only mainlanders.
District councillor Simon Wong Yun-keung, who is also chairman of incorporated owners at the Sheung Shui Centre, said he had learned that iPhone 5s were stored in those flats. He estimated as many as 30 flats in the complex had become mini-warehouses for parallel goods.
Meanwhile, a suspected distributor of red wine was caught outside Sheung Shui railway station, while eight were arrested in the Cardinal Industrial Building in Fanling, two stations away from the Lo Wu border. One of those arrested holds a temporary Hong Kong identity card.
Shenzhen authorities told a visiting group from the Democratic Alliance for the Betterment and Progress of Hong Kong yesterday that 20,000 to 30,000 parallel traders were operating.
A mainland official was earlier quoted as saying more than 3,000 such traders were crossing the border daily.
The deputy head of Shenzhen customs, Wang Zhi, assured the democratic alliance group that his department would deploy extra personnel between 4pm and 7pm, when traders tended to re-enter the mainland from Hong Kong.
Traders caught three times face at least six months in jail.
This article appeared in the South China Morning Post print edition as: Parallel traders using flats as warehouses