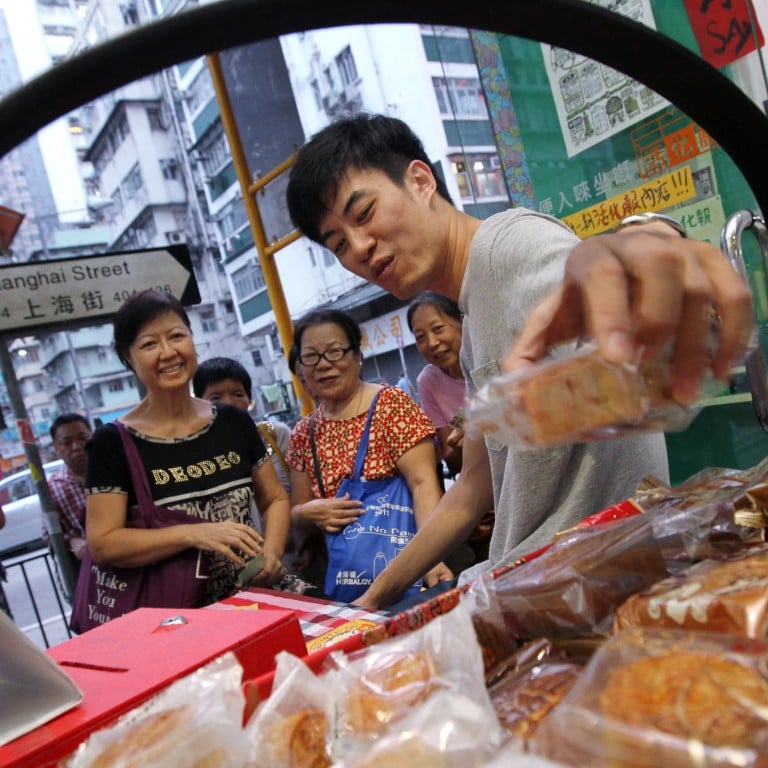 Mooncakes carry a revolutionary message
An art group is restoring meaning to mooncakes by distributing them with radical messages.
Community art group Woofer Ten distributed the "revolutionary mooncakes" at its Shanghai Street Artspace in Yau Ma Tei.
Ming revolutionaries are believed to have used mooncakes to spread their revolutionary message while fighting Mongolian rule at the end of the Yuan dynasty (1279-1368).
Created by artist Wilson Shieh, the cakes have two designs and carry the slogans "anti-rent increase" or "fight the landlords".
Each mooncake comes in its own box. One features 1911 revolutionary leader Dr Sun Yat-sen and his famous quote "the revolution has not yet succeeded", followed by a rhyming slogan "rent is up every month".
The other is decorated with the face of Mao Zedong and his quote "to rebel is justified", paired with the slogan "life is hopeless".
"Rent increases and rebellion are the ideas that are most relevant to Hong Kong at the moment," Shieh said, referring to soaring flat prices and social movements such as the protests against national education.
Woofer Ten said of 360 mooncakes, 185 had been pre-ordered. The rest would be available to locals who made a donation. They also gave out ordinary mooncakes for free yesterday.
It did not say how much the special cakes cost, but it hoped to raise HK$100 to HK$300 from each one to help pay the legal fees of eight activists convicted of unlawful assembly. They were among 53 protesters arrested in a clash with police in North Point after last year's June 4 vigil commemorating the 1989 Tiananmen Square crackdown.
Shieh sees the mooncakes as a way to extend his public reach. "In the past my works were mostly shown at galleries, but the audience was limited."
This article appeared in the South China Morning Post print edition as: Sweet delicacies that carry a bitter message