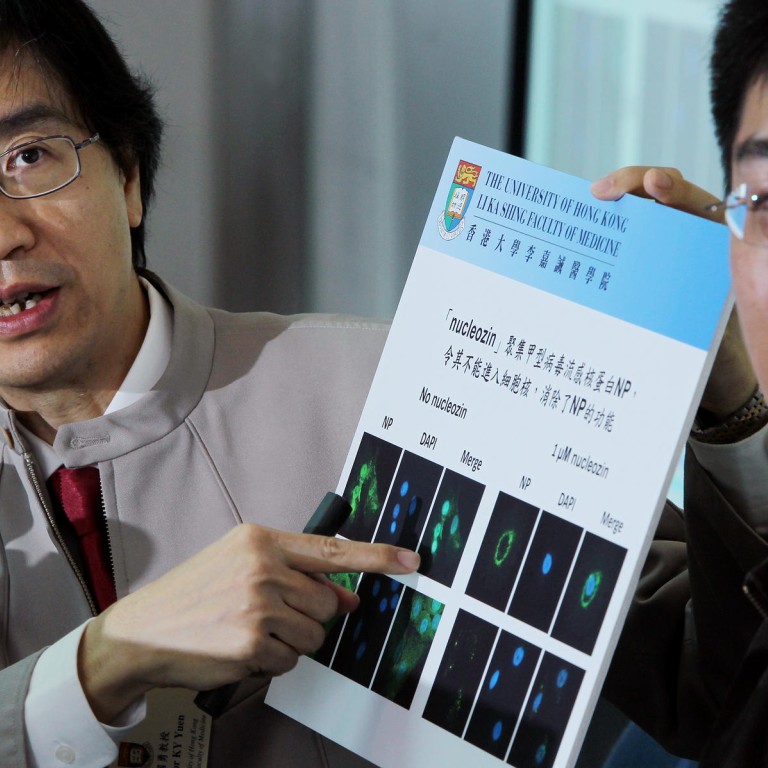 Sars-like virus in Middle East 'closely related to Hong Kong bat strains'
Expert says new coronavirus is 90pc similar to two other bugs that were discovered in city
A Sars-like respiratory virus that has emerged in the Middle East is closely related to two bat viruses found a few years ago in Hong Kong, a university don says.
Neither bat virus jumped from animal to human in normal circumstances, University of Hong Kong professor Yuen Kwok-yung said yesterday.
Medical centres around the world are on alert after a Saudi Arabian man died several months ago of the new respiratory virus, named "human betacoronavirus 2c". A Qatari man who fell ill in Saudi Arabia is in critical but stable condition in a London hospital.
The Centre for Disease Control and Prevention on the mainland called for calm, saying the detection of two cases so far suggested the transmission of the virus was weak.
Yuen, an authority in coronaviruses, said the new virus' genetic sequence was 90 per cent similar to the two bat strains found locally, the closest match so far. "We can say the new virus has a common ancestor and come from the same family as the two bat viruses," he said.
No conclusion could be drawn that the Middle Eastern patients had contracted the new virus from bats, he said. It was also genetically distinct from the Sars coronavirus, he added.
Sars, or severe acute respiratory syndrome, killed hundreds of people, mostly in Asia, in a 2003 outbreak, including 299 in Hong Kong.
The university discovered coronaviruses HKU4 and HKU5 in two kinds of bats common in Hong Kong, the lesser bamboo bat and Japanese pipistrelle bat. "There is a 10 per cent difference between the new virus and the ones we had found," Yuen said. "It is highly possible the new virus came from animals, as many in the family were found in animals. It could have come from any animal."
Overseas scientists have suggested that camels, sheep or goats may have been involved.
The Hong Kong government said it had gazetted the new virus.
In Beijing, the disease control agency said there was no need to panic as the mainland had recorded no outbreak.
It appeared not to be highly communicable, given the first case occurred three months ago and those who had close contact with the two patients had not shown symptoms, Feng Zijian, emergency office director at the China CDC, told Xinhua.
Feng also told China Central Television that the centre had obtained the virus' genetic sequence from British health authorities. "Suspected cases can be tested in the laboratory and the health authorities will monitor pneumonia cases that emerged with unknown reasons," he said.
Meanwhile, the World Health Organisation said it was working with experts in the Middle East to ascertain how the two cases were infected, including the possibility of direct contact with animals.
This article appeared in the South China Morning Post print edition as: Sars-like virus closely related to HK bat strains