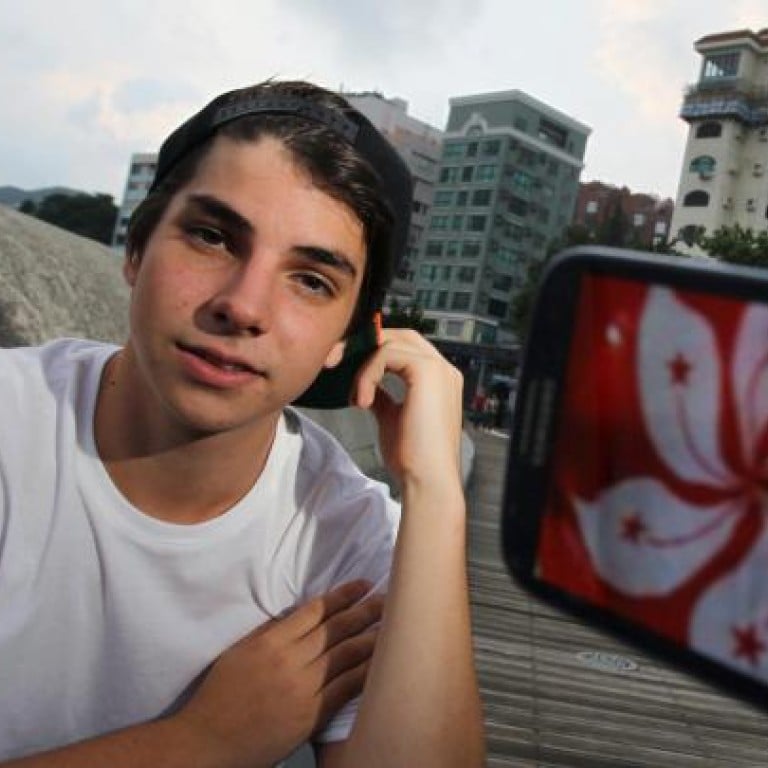 Expat rapper Lucas Scibetta causes row with Hong Kong Kids video
US-born Lucas Scibetta has caused controversy with the video for his song Hong Kong Kids and its portrayal of his privileged lifestyle
A young Hong Kong rapper's controversial music video has sparked a debate about the life of privileged expat children in a city with one of the world's biggest income gaps.
But Lucas "Skibs" Scibetta wants the critics to know that it is not such a black-and-white issue.
"It's for kids in Hong Kong and around the world. There's no crazy lyrical hip hop - it's just happy positive music," Scibetta said.
The 17-year-old US-born secondary school pupil devoted weeks through summer to writing and recording with teenage producer Barton "DXL" Chan.
The partnership started after Chan, from Island School, heard Scibetta, who attends Hong Kong International School, freestyling (impromptu rapping) along the promenade in Stanley.
They holed up in Chan's bedroom studio - with equipment amassed through years of birthday and Christmas present requests - and the result was a five-track album available for free download.
The title track, , comes with a video that has attracted 35,000 views on YouTube since it was uploaded two weeks ago, with hits from more than 30 different countries.
Two independent record labels in Britain have approached Scibetta and the album has been downloaded about 1,500 times.
But the images shown in the video - young expat teenagers enjoying the carefree lifestyle that their backgrounds afford them - has drawn both applause and criticism. "We created it knowing that there would be controversy," Scibetta said.
"We're not necessarily living the perfect path for a kid. We're not writing songs about studying. But if the song was, 'We're Hong Kong kids and we're pretty normal', it wouldn't be as interesting.
"Our view doesn't represent every Hong Kong kid and we know that.
"The [album] was made for everybody, but we understand that certain kids in Hong Kong will see the video and feel they are misrepresented."
Part of the reason behind making the video controversial was to gain attention in a tough industry.
Scibetta said: "There's not a lot of independent music coming out of Hong Kong that gets noticed, so if anything breaks through, it's going to cause a little bit of controversy." He has read all the YouTube comments, which range from positive reviews to scathing, personal insults.
"We are appreciative of what we have and we know that we're very privileged, but we're hard-working kids," he said.
"We don't hate other people, so I don't find it necessary for people to hate on us."
He performed at a school fashion show this year and said that, while support from the school was limited, his parents and older brother backed his career choice.
He said: "I do my best at school, but truly music is where it's at and they understand that.
"I'm very honest with them with everything I do, which I think is very healthy for a family relationship."
New York-born Scibetta's family moved to Japan when he was just six months old.
He has lived in the US and Britain and moved to Hong Kong three years ago.
This article appeared in the South China Morning Post print edition as: Expat rapper gets city teens hip hopping mad