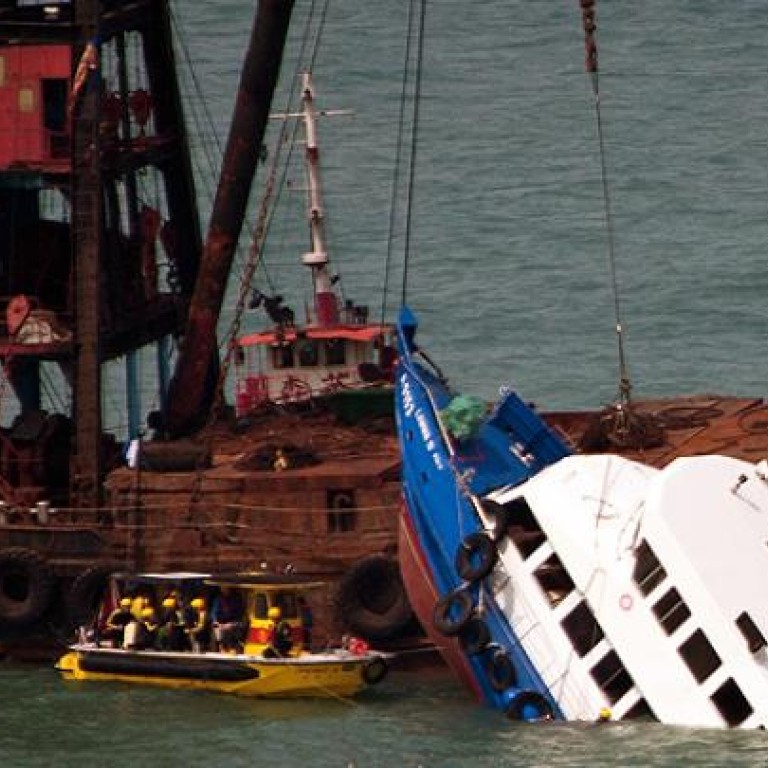 38 die in Hong Kong ferry disaster
At least 38 dead after an evening cruise to watch the National Day fireworks celebration ends in tragedy
Investigations into the cause of a ferry collision that killed 38 people and left 101 injured continued on Tuesday afternoon as authorities boarded the half-submerged boat.
It was still unclear whether all 124 passengers from a Hongkong Electric ferry which sank near Lamma Island on Monday night were accounted for. The boat was packed with utility company employees and their families, and three crew members, on their way to watch a fireworks display in celebration of National Day in Victoria Harbour. 
It collided with a Hong Kong and Kowloon Ferry (HKKF) boat headed for Lamma Island from Central around 8.15pm on Monday night. The Hongkong Electric vessel was half sunk in the water with the bow pointing up at an angle of 90 degrees.
Of the passengers on the Hongkong Electric ferry, 38 have been confirmed dead and 93 injured. Of the 93 injured, two are listed in critical condition, two in serious condition, 23 as stable and 66 were discharged from hospital.
Eight onboard the HKKF ferry were injured and treated at a local clinic on Lamma Island.
"Twenty-eight were certified dead at the scene while eight others were certified dead upon arrival at hospitals," the government said earlier in a statement. Two other deaths were announced later on Tuesday.
[Video: Eye-witness account of ferry disaster, by Helene Frachineau]
Before the start of a press conference dealing with the disaster late Tuesday afternoon, Chief Executive Leung Chun-ying and a team of government officials observed a minute of silence in honour of the victims.
Leung offered his deepest condolence to the families of the victims and to those injured and promised that an independent panel would be set up to investigate the disaster.
He declared Thursday as a mourning day for the city and  said flags at major government buildings would be flown at half-mast for three days starting on Thursday.
All government workers, except those involved in emergency services, would observe three minutes of silence at Thursday noon.  Condolence books would be available in all of Hong Kong's 18 districts for residents to sign starting from Thursday.
Police commissioner Andy Tsang Wai-hung said at the same press conference that the police do not have a complete list of passengers' names.
"We must build this list one by one, by asking survivors if they still have any missing friends," he said. "This is a very time-consuming because some survivors were discharged and some were never admitted to hospital."
Hongkong Electric has identified 19 of the dead. Five of them are Hongkong Electric employees, while the other 14 are friends and family. 
Of the 124 people on board, around a third or a quarter are employees of the company. The others were the family and friends of employees.
Victor Li Tzar-kuoi said all resources will be poured into helping the families of the deceased and those injured. He also said the company would be giving HK$200,000 to each family of the deceased for emergency use.
Teacher Chris Head, 48, a Lamma resident of 18 years who was on the Central to Lamma ferry, told the Post: "Initially we were trying to put on our life jackets so we were more concerned with that. But after a few minutes – probably about five – I could see that the end - I couldn't tell whether it was the bow or the stern - of the boat was sticking vertically out of the water and I thought 'Shit! This is real'. I could see it going upright and sinking, just like the Titantic."
A man brought ashore at the pier near South Horizons in Aberdeen said: "After 10 minutes out, a boat crashed into ours from the side at very high speed. The rear of the ferry started to sink. I suddenly found myself deep under the sea. I swam hard and tried to grab a life buoy. I don't know where my two kids are."
Another woman at the pier said: "I swam for a long time to reach the surface and swallowed a lot of water. Then I found a rescue boat."
Some of those rescued were taken to Queen Mary, Ruttonjee, Queen Elizabeth, and Pamela Youde Nethersole Eastern Hospitals for treatment, with some on stretchers and unconscious.
While they earlier waited for ambulances at the Ap Lei Chau pier, they were wrapped with blankets or aluminium foil to keep warm. A paramedic at Queen Mary Hospital said some of the survivors were suffering hypothermia and four had to be resuscitated.
Without naming Hong Kong and Kowloon Ferry, Yuen Sui-see, Hong Kong Electric's director of operations, blamed the other vessel for the tragedy.
"The ferry rammed the side of our boat. They didn't bother and just left," he said.
Yuen said the power company's captain was experienced and sailed in the waters daily. He said there was no problem with safety or overloading as it was able to carry 200 passengers.
A spokeswoman for Hong Kong and Kowloon Ferry said the ferry was arriving at Lamma from Central. She said no one on that ferry fell into the sea but a few passengers had sought treatment at a Lamma clinic.
Earlier in the day,  Leung visited disaster victims in Queen Mary Hospital where he said he had met had met HK Electric management and said that the cause of the accident would be thoroughly investigated.
Before this Leung said that an all-out effort by all relevant departments was being made to search for those who had fallen into the sea after the collision.
"I and senior officials will closely monitor the situation," he said. "We will do whatever we can."
In an unusual appearance, Li Gang, a deputy director of the central government's liaison office in Hong Kong, went to the hospital with Leung and offered his condolences.
"We are deeply sorry about the dead citizens," Li said.
He said he would liaise with Guangdong and request them to send salvage ships.
Hong Kong and Kowloon Ferry company continued to run ferries to the island after the accident occurred on Monday night. One passenger on a ferry that set off from Central at 11.30pm told how others travelling on the ferry fell silent as it slowly made its way past the area where several ships and a helicopter were still searching for survivors.
Another Lamma resident said that hundreds of people had queued at Lamma's pier throughout Monday afternoon and early evening to get to Central in time to see the fireworks. She said Hong Kong and Kowloon Ferry company were running ferries to the island every 15 minutes to cope with demand.
Hong Kong and Kowloon Ferry officials were unavailable to comment, but a spokeswoman told Cable TV that "several" passengers on the ferry were injured.
Police said the collision was under investigation and refused to comment on its possible causes.
The twin-hulled ferry involved in the collision was moored at one of Lamma's piers on Tuesday, with a gaping hole in its left hull.
It was believed to have been travelling from Hong Kong to Lamma when the collision occurred close to its destination, allowing it to dock and disembark its passengers before it took on too much water.
Marine Department senior official Chung Siu-man told reporters it was too early to determine which vessel was at fault.
"If there is a collision, usually the boat would stay to offer assistance to the other boat, but according to the initial report we received, some passengers on the ferry were injured," he said.
The National Day holiday brought thousands of extra visitors to Lamma island, the third-largest island in Hong Kong, with a population of only around 5,000 people.
It was the second National Day calamity after a 15-year-old boy was swept away in Shek O and drowned and another was missing.
This article appeared in the South China Morning Post print edition as: Deadly ferry crash off Lamma Island