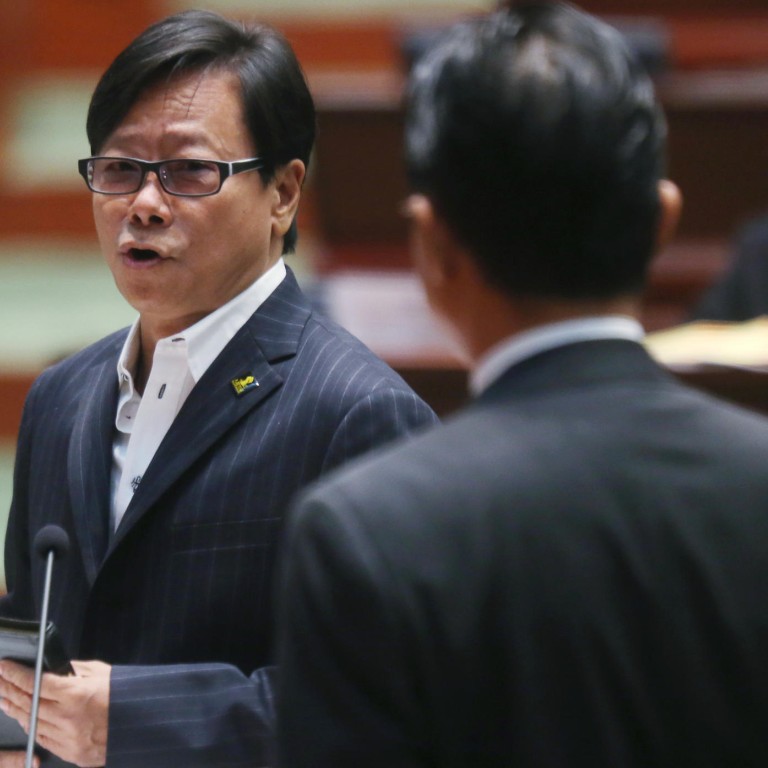 Wong Yuk-man retakes oath of office to Legco
After People Power lawmaker coughed through first attempt, he ends pledge with slogans
People Power lawmaker Wong Yuk-man has finally taken his Legislative Council oath of office - after a second attempt.
Instead of skipping key words in the oath by coughing at strategic moments as he did the first time, Wong started by praying "for God to forgive him for making a dishonest oath", but was stopped by Legco president Jasper Tsang Yok-sing.
Wong then proceeded to read out part of his oath in different tones of voice. For example, in the Cantonese phrase , which means "People's Republic", he read out some words in an unusually loud voice while pronouncing the others in a hushed tone.
When he had completed the oath, he went on to shout slogans: "Down with the Hong Kong communist regime, down with [Chief Executive] Leung Chun-ying." He was again quickly stopped by Tsang, who asked him to return to his seat.
But Wong's second attempt at taking the oath was not without controversy. Independent pro-government lawmaker Paul Tse Wai-chun criticised Wong's manner of oath-taking, asking Tsang to judge whether Wong had legally completed the oath.
"Wong was taking his oath in an unwilling manner," said Tse. "He held the Bible in his hands and [tried to] ask God to forgive him. It was completely insincere. It will seriously hurt the integrity of the legislature."
But Tsang ruled that Wong had legally completed his oath. "If there are those who think that Wong's oath-taking was against the law, then the person can challenge it according to the Basic Law and the law of Hong Kong," he said.
Wong is the first lawmaker since the handover to take his oath of office twice because the first oath was considered invalid.
Last Wednesday, Wong punctuated his loyalty pledge with coughs, skipping words such as "Republic" and "Special Administrative Region".
At the time, Wong insisted that he had completed the oath, saying: "Of course I finished it … Sometimes you will cough while you are reading."
But after seeking legal advice, Tsang said that Wong's oath could lead to a legal challenge, and approved Wong's request to retake his oath yesterday.
This article appeared in the South China Morning Post print edition as: Wong Yuk-man retakes oath with a prayer to God