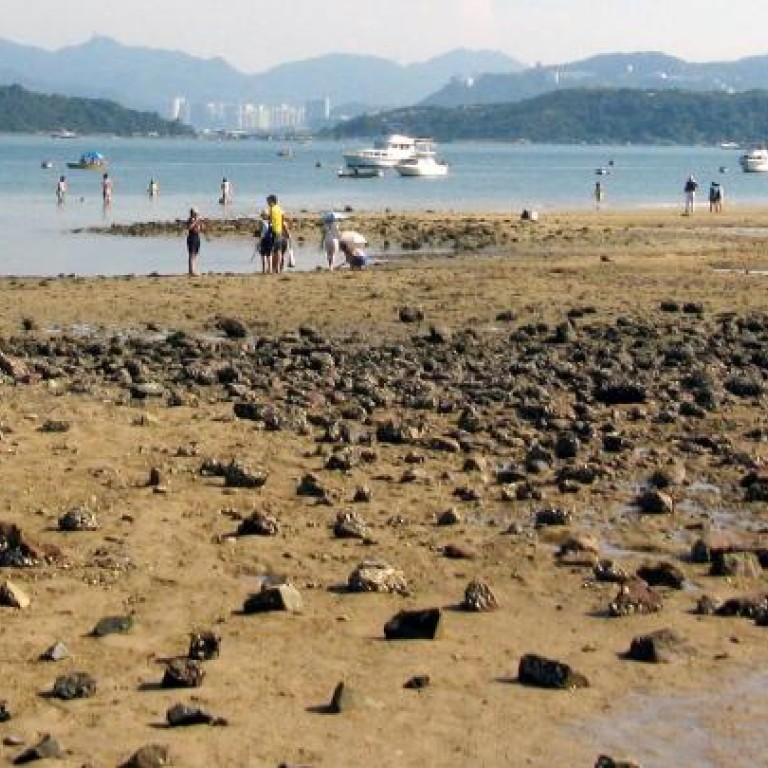 Lung Mei beach found to be contaminated with heavy metals
Activists uncover government records showing there was a dumping site nearby, which they say makes it unsuitable for swimmers
More doubts have been raised about water quality near the site of a proposed artificial beach in Lung Mei, Tai Po. Green groups said yesterday it had high levels of heavy metals, making the site unsuitable for swimming.
Campaigners against the project have uncovered government records showing there used to be a dumping site 500 metres from the site. Even though the dumping area no longer exists, a University of Hong Kong study published in 2009 showed "an abnormally high level of heavy metals" in Plover Cove which it believed was linked to waste dumped there, as well as extensive residential development in the area since the 1950s.
"Dredged mud with unknown contents was dumped in that place. The government should provide more information regarding this," said Chan King-ming, an associate professor of life sciences at Chinese University.
Chan explained that swimmers in the waters may not be exposed to immediate health dangers, but he said high levels of heavy metals including chromium and lead were toxic and posed potentially severe health risks in the longer term.
Chan said that the heavy metals accumulated in the sediment and would be released into the water slowly. They could not be removed unless the sediment was dredged and removed. There were no safety standards for the level of heavy metal at Hong Kong's beaches, and many invertebrates were much more tolerant to heavy metals than humans, Chan added.
The Environmental Protection Department referred all inquiries yesterday to Secretary for the Environment Wong Kam-sing's statement earlier in the day that he would be happy to invite government experts to exchange views on ecology and water quality of Lung Mei with the campaigners. He believed that the environmental impact assessments had considered the old dumping site and heavy metal levels in the area.
Secretary for Home Affairs Tsang Tak-sing wrote on his online column that people had been swimming at Lung Mei for many years, and the artificial beach was to address the lack of public beaches in Tai Po.
Officials said last Thursday that the man-made beach plan would proceed despite green groups' findings of unsafe levels of and a rich biodiversity of more than 200 species, including endangered ones, in the muddy coasts of Lung Mei.
The Hong Kong Wildlife Forum and 14 other groups will hold a demonstration against the beach at the government headquarters in Admiralty on Sunday.
This article appeared in the South China Morning Post print edition as: Heavy metals found at new beach site