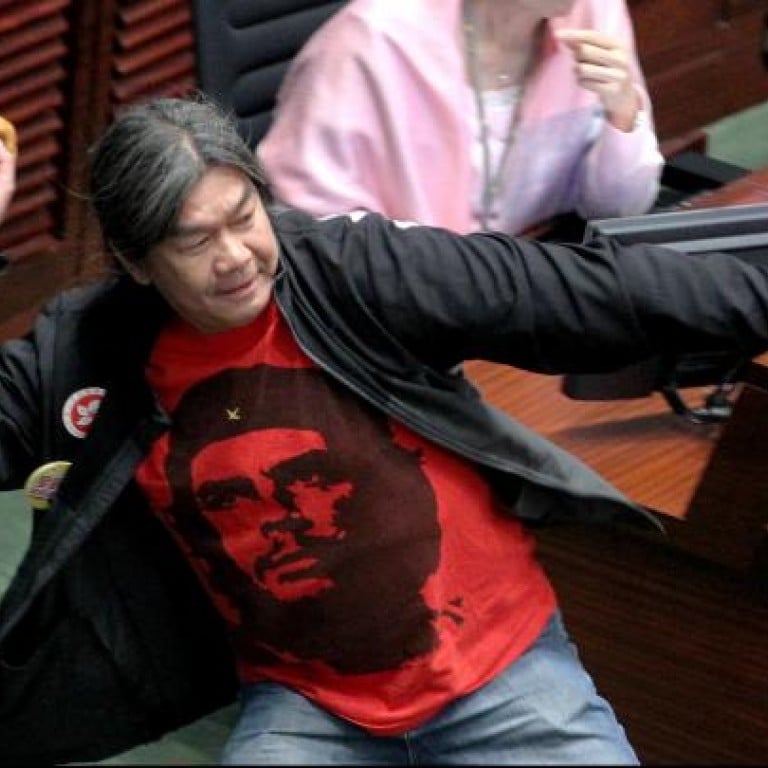 Hong Kong chief executive urges people not to wave colonial flag
Chief executive says there is no need for people to take such action to vent their frustration
People unhappy with the government don't need to wave the British flag to express discontent, Chief Executive Leung Chun-ying said yesterday.
His appeal, echoed by some Beijing-loyalist lawmakers, follows heated comments associating the waving of the flag with demands for independence.
Leung, in his second question-and-answer session in the Legislative Council, said the handover in 1997 was "a matter of fact" and "the regional flag of Hong Kong features a bauhinia flower". He added: "It is understandable that the population of seven million in Hong Kong share different opinions on the government. But in any case they do not need to wave the colonial flag to vent their frustrations."
During a stormy session, "Long Hair" Leung Kwok-hung, chairman of the League of Social Democrats, was ejected from the chamber after throwing plastic faeces at Leung to protest at what he said was a lack of integrity among senior officials.
Leung declined to comment on remarks by former secretary for justice Elsie Leung Oi-sie, a vice-chairwoman of the Basic Law Committee, about the city's judiciary. Last month she said the legal profession lacked understanding of the relationship between Hong Kong and Beijing.
Leung said he was working on problems of integration with the mainland. Competition for land, housing and infant milk formula had strained relations.
Lu Ping , former director of the State Council's Hong Kong and Macau Affairs Office, has called for those who do not recognise that they are Chinese to renounce their Chinese nationality. Communist Party newspaper the has called the notion of an independent Hong Kong a "false proposition".
Analyst Johnny Lau Yui-siu said the pro-independence notion had hit the nerves of some hardliners, but that might not be the mainstream view in Beijing.
Labour Party lawmaker Cyd Ho Sau-lan said: "Hong Kong people are asking for social justice and officials should face the real problem."
But Wong Kwok-kin, of the Beijing-loyalist Federation of Trade Unions, said: "The colonial flag should not be brought out … you can also express discontent by waving the Hong Kong flag."
This article appeared in the South China Morning Post print edition as: Don't fly colonial flag, Leung urges