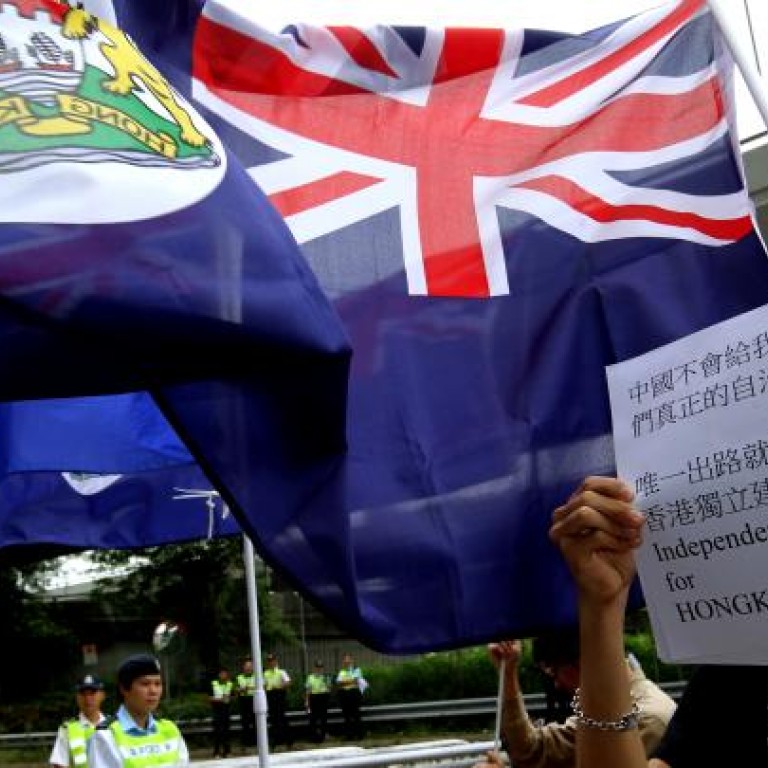 Fury in Hong Kong at Beijing official's claim of 'foreign interference'
Beijing official's allegation that 'external powers' help to co-ordinate campaigns for opposition parties in city called 'hollower than hollow'
A top mainland official in charge of Hong Kong affairs has lashed out at interference by "external powers" in Hong Kong elections, alleging for the first time that the unspecified powers were helping co-ordinate campaigns for opposition parties.
Zhang Xiaoming, a deputy director of the State Council's Hong Kong and Macau Affairs Office, said "necessary measures" were needed to combat such interference and called for Hong Kong to pass the national security law required by Article 23 of the Basic Law.
His words, in an article published yesterday in the pro-Beijing newspaper , sparked alarm among pan-democrats, who said it could indicate a harder line by Beijing towards dissent in the city.
Zhang wrote that the "external powers" "even get deeply involved in local elections and help co-ordinating campaigns for opposition parties. We have to take necessary measures to prevent external interference."
Civic Party leader Alan Leong Kah-kit, describing the allegation as "hollower than hollow", said: "It is the most irresponsible way to make an allegation, because there is no evidence. We only have evidence of how the [central government] liaison office meddles with the elections."
Political commentator Johnny Lau Yui-siu said "external interference" had long referred to Britain and the US. But the definition had expanded in recent years to include Taiwan and Chinese dissidents in exile.
The 6,000-word article, "Enrich the implementation of One Country Two Systems" was a chapter in a study guide to the report of the 18th party congress in Beijing last week.
In it, Zhang said Hong Kong should complete the Article 23 legislation "in due course".
He added that any referendum campaigns and the Hong Kong City-State Autonomy Movement were in breach of the "one country" part of "one country, two systems".
He also insisted that the Standing Committee of the National People's Congress had legitimate power to interpret the Basic Law, a view echoed by the former Secretary for Justice Elsie Leung Oi-sie. The committee should also take up its role to monitor Hong Kong's legislation, Zhang said.
Leong said the article shed light on the central government's changing policy in Hong Kong. "What Zhang said is not only unconstitutional but also immoral," he said. "If it had been said before 1997, I would bet Hong Kong's transition would not have been as smooth as it was."
Another pan-democrat, Lee Cheuk-yan, said he feared the central government had been ill-advised on Hong Kong affairs. "A hardline approach can now be expected," Lee said.
The Democratic Party's acting chairwoman, Emily Lau Wai-hing, said Zhang was twisting the facts. "Hong Kong people are furious at Beijing's interference in the city's internal affairs," she said.
Beijing-loyalist lawmaker Wong Kwok-kin said some recent developments in Hong Kong, such as protesters raising the colonial Hong Kong flag, might have struck a nerve in Beijing on the issue of sovereignty.
"Zhang's message could be a warning to some Hong Kong people," he said. "Overseas influences have long existed in the city. But the article shows Beijing is not going to tolerate any more."
Separately, former chief secretary Anson Chan Fang On-sang said Hong Kong was enduring the worst atmosphere since the handover. She said Chief Executive Leung Chun-ying had failed to maintain meritocracy in his appointments of senior officials and top advisers.
"I could only shake my head at what [Central Policy Unit head] Shiu Sin-por said," she said. "He seems to think he is a loyal servant of the Chief Executive and to forget he is employed as a civil servant."
The recruitment of Sophia Kao Ching-chi by the unit to co-ordinate appointments to government advisory and statutory bodies was also a bad move, she said. "I wonder whether the government wants to hear merely one voice, which is to support the administration," she said.
Correction: the comment quoted in the 11th paragraph was by Alan Leong Kah-kit, not Elsie Leung Oi-sie. 
This article appeared in the South China Morning Post print edition as: Fury at claim of foreign 'interference'