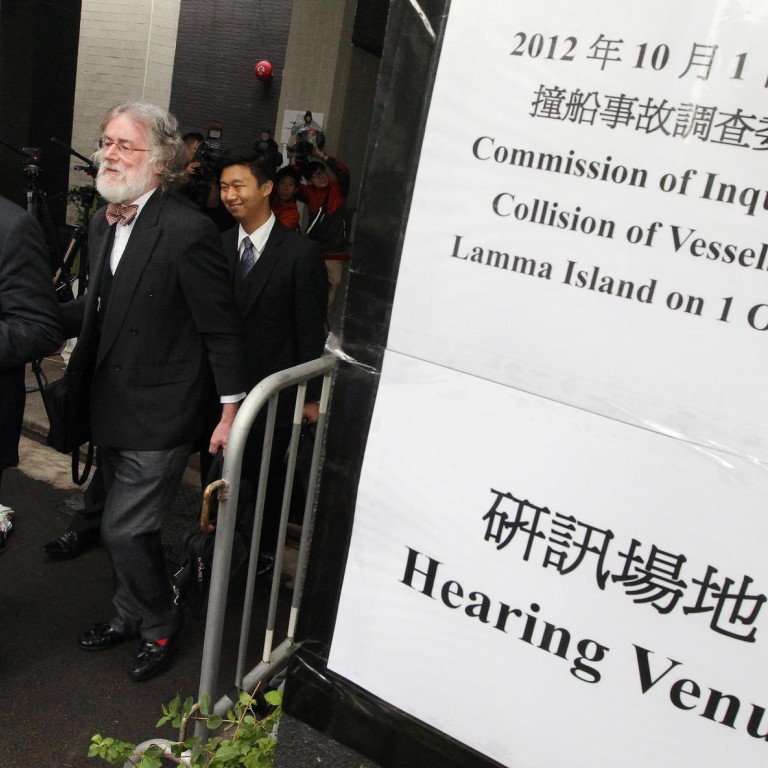 Lamma ferry crash crew may face charges of manslaughter
DPP seeks adjournment of public inquiry into collision in which 39 died to allow police to finish investigation and determine charges
Crew members of the two vessels in the deadly crash off Lamma Island on October 1 could face serious charges, including manslaughter, the chief prosecutor told a commission of inquiry yesterday as he applied to adjourn part of the hearing to next month.
Some victims' relatives questioned the necessity for the adjournment, saying they wanted answers as soon as possible to the cause of the collision, which claimed 39 lives in the city's worst sea disaster in 40 years.
The commission of inquiry appointed to investigate the causes of the accident began a preliminary hearing yesterday to review maritime safety conditions and to make recommendations for changes.
The Director of Public Prosecutions, Kevin Zervos SC, applied to adjourn the part of the hearing dealing with evidence relating to the causes until mid-January to allow police more time to complete their investigations and to let the Department of Justice reach a decision on whether to charge the seven arrested crew members from the Lamma IV and Sea Smooth.
He said the police investigation and possible criminal trial, which might be heard before a jury, could be affected by the premature release of information into the public domain during the commission's hearings.
Mr Justice Michael Lunn, the commission's chairman, said criminal liability would not be covered in the hearing. He asked if Zervos would apply a stay of the proceeding if anyone had been charged. Zervos said he would not, but he would bring it to the commission's attention that someone had been charged.
Charles Sussex SC, representing Islands Ferry, Hong Kong & Kowloon Ferry and the Sea Smooth crew, and Clive Grossman SC, representing Hongkong Electric and the Lamma IV crew, also applied to adjourn the hearing until early January, to allow more time to study 30 boxes of documents and a report by a British maritime expert, Captain Nigel Pryke.
There are currently 42 people listed as witnesses: Pryke, two Marine Department staff, a police officer and 38 passengers from the two vessels and the Lamma II, which helped in the rescue. The crew members and other rescue workers are also expected to be called as witnesses. An Australian naval architect expert, Tony Armstrong, was appointed to find out why the Lamma IV sank so quickly.
The hearing was adjourned until tomorrow to rule on the applications. If the applications for an adjournment are rejected, hearings will begin on Wednesday and continue at least until February.
A woman who had lost a family member in the accident said outside the hearing: "If the evidence is not submitted to the commission, how can the commission continue with the hearing and find out the cause of the collision?"
This article appeared in the South China Morning Post print edition as: Crash crew may face charge of manslaughter