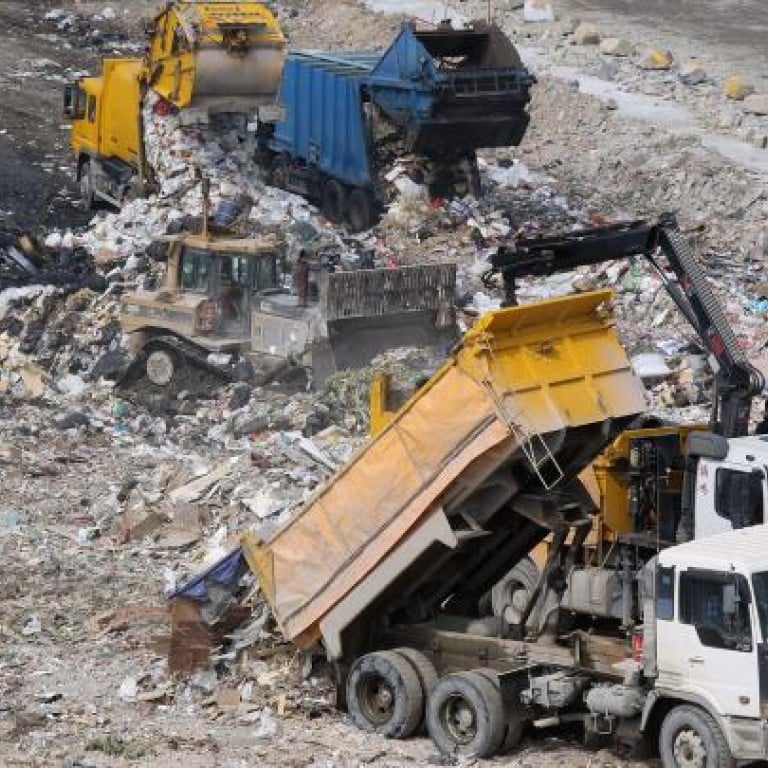 Hong Kong's waste-charges plan get broad support, poll shows
Environmental Protection Department poll shows 60 per cent of respondents back scheme as a way to tackle rubbish-disposal problems
People will have to pay to have their rubbish dumped after the Hong Kong government finally took the next step in dealing with its mounting waste problem after years of delays.
Officials had pledged to introduce quantity-based solid-waste charges scheme, in which people pay according to how much rubbish they dump, by 2007.
The Environmental Protection Department said that a public consultation exercise held between January and April showed that about 60 per cent of respondents supported waste charges and believed that the quantity approach was the way forward.
While the EPD neither specified its preferred model of charging for waste nor spelled out details of the plan, in a paper submitted to the legislature yesterday it made extensive reference to Taipei's experience in implementing the measure, in which households buy designated rubbish bags of varying sizes.
In the Taipei model, households are levied the equivalent of HK$0.50 for each kilogramme they discard. This is then used to dispose of the waste they generate. If Hong Kong adopted a similar scheme, a three-member household would pay about HK$40 a month, based on the average of 0.87kg of rubbish each person disposes of a day.
But a department official who declined to be named said that the waste charge, even if implemented, would not fully recover the cost of waste treatment. He said the charge would serve only as an incentive for people to cut their waste. He said more than 9,000 tonnes of solid waste a day was being dumped in landfills and that if there was no expansion, the landfills would reach their capacity by 2018.
Secretary for the Environment Wong Kam-sing said yesterday that he had invited the Council for Sustainable Development to help the public address key questions about the charging scheme, which he hoped would be implemented by 2016.
He said the questions would test the public's level of tolerance in accepting the waste charges and other changes that would come with the measure, such as removing up to 20,000 rubbish bins from the streets so as to ensure proper enforcement of the charges.
The department's officials said although Taipei's waste charge had helped cut domestic waste disposal by about 60 per cent, up to 27 tonnes of waste were still being illegally dumped across the city each day.
Alkin Kwong Ching-wai, president of the Hong Kong Association of Property Management Companies, said that while the association supported the quantity approach, they were worried that the charge would increase their workload. "We are bound to spend more in cleaning up rubbish not properly thrown away, and we might be forced to increase management fee to pay for that additional expense," he said.
Environmental organisation Friends of the Earth said the problems foreseen with introducing the charge could be overcome.
Its spokeswoman, Celia Fung, said that stringent enforcement could deter people from disposing of their waste illegally and that conventional rubbish bins on the streets could be replaced with recycling bins.
This article appeared in the South China Morning Post print edition as: Waste-charges plan gets broad support