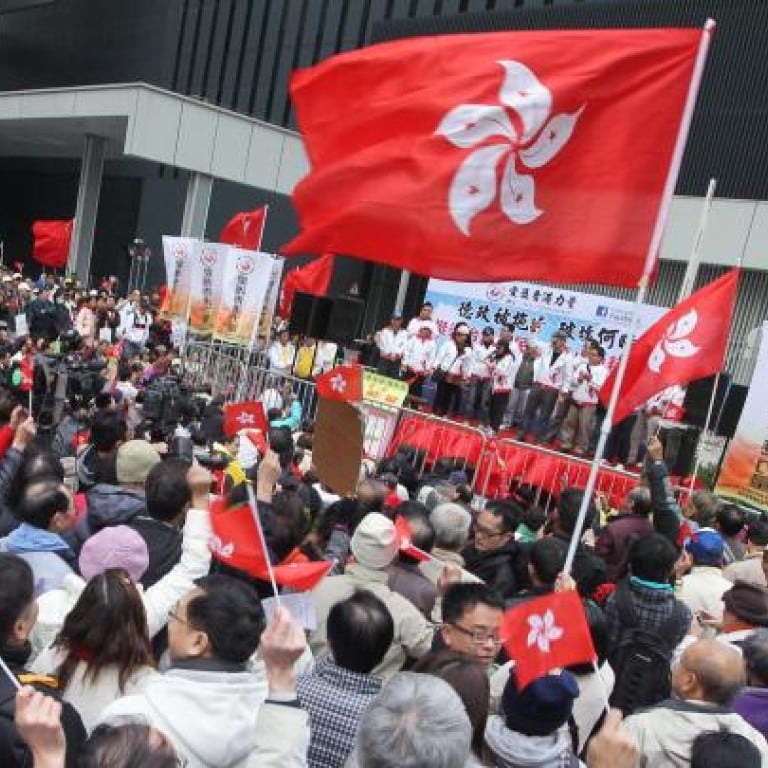 Marchers in show of support for Leung
Rally draws an older crowd who air views on 'destabilising' pan-democrats - and hurl abuse at those who want Leung out
Thousands of protesters attempted to steal the thunder of an anti-government rally planned for tomorrow with a march through the city yesterday in support of the besieged chief executive.
Caring Hong Kong Power, an online group, organised the rally that was attended predominantly by middle-aged and elderly people.
They chanted slogans supporting Leung Chun-ying, and slamming the "destructive" pan-democrats.
It came as anti-Leung groups also staged citywide rallies to galvanise public support for a New Year's Day protest tomorrow organised by the Civil Human Rights Front and expected to draw 50,000 people.
Yesterday, as they made their way from Victoria Park to the government headquarters at Tamar, Admiralty, protesters aired their views on the "destabilising" and "foreign-power-backed" forces disrupting the Leung administration. Organisers said it was a bid to counter the pan-democrats' repeated attempts to overthrow the chief executive and his government.
Police said there were 2,600 protesters at the event's peak but organisers said as many as 40,000 attended.
Anti-government passers-by were met with boos as they raised doubts over the protesters' attempt to shift attention from their key criticism of the chief executive - his credibility.
Leung has been embroiled in a self-created scandal, after his house on The Peak was found to have contained a number of illegal structures.
Following his various accounts of the existence and details of the structures throughout the past months, his credibility has been thrown into question, and his scores in opinion polls remain low.
One marcher, retiree Liu Shing, called on the pan-democrats to stop focusing on trivial issues, saying: "The government should focus on solving social issues."
Housewife Jenny Lam said: "I want a harmonious society, but politicians are doing everything to stop the government from functioning properly out of their own interest. This is intolerable."
The protesters reacted strongly to criticism from bystanders.
"You're a traitor, a stooge," they told one man sitting on a tram that was stuck on Hennessy Road, who they said had pointed and shouted at them. They also hurled abuse at a group waving old British Hong Kong flags.
Yeung Kai-cheong, a defiant anti-Leung protester, handed out black T-shirts with the words "Despair Hong Kong". One of the protesters grabbed a T-shirt from him, threw it to the ground and trampled on it.
Democratic Party lawmaker Wu Chi-wai said the rally had highlighted for the first time the polarised political atmosphere in Hong Kong, but added: "Our main query of Leung was his credibility. But it seems the marchers couldn't offer any evidence to show that Leung was a credible man."
Lew Mon-hung, a key Leung supporter and delegate to the Chinese People's Political Consultative Conference, said support for Leung should not come down to people taking to the streets.
"[He] must deal directly with the economic and livelihood problems," Lew said.
Student group Scholarism, which has previously successfully campaigned to have the proposed national education lessons in schools shelved, staged a protest of its own, unfurling a banner from a crane which read: "Oust Leung for democracy, regain the right for universal suffrage."
Agnes Chow Ting, a Scholarism member, said: "We hope our system can be overhauled, so that we can take Hong Kong on the path to democracy."
Meanwhile, the newly formed League in Defence of Hong Kong's Freedoms, led by retired teacher James Hon Lin-shan, is planning a protest outside government headquarters at 7pm tomorrow after the anti-government march, calling for Leung to quit.
But the situation could turn confrontational, with another pro-Leung group, Voice of Loving Hong Kong, planning to hold a rally nearby in the afternoon.
This article appeared in the South China Morning Post print edition as: Marchers in show of support for Leung