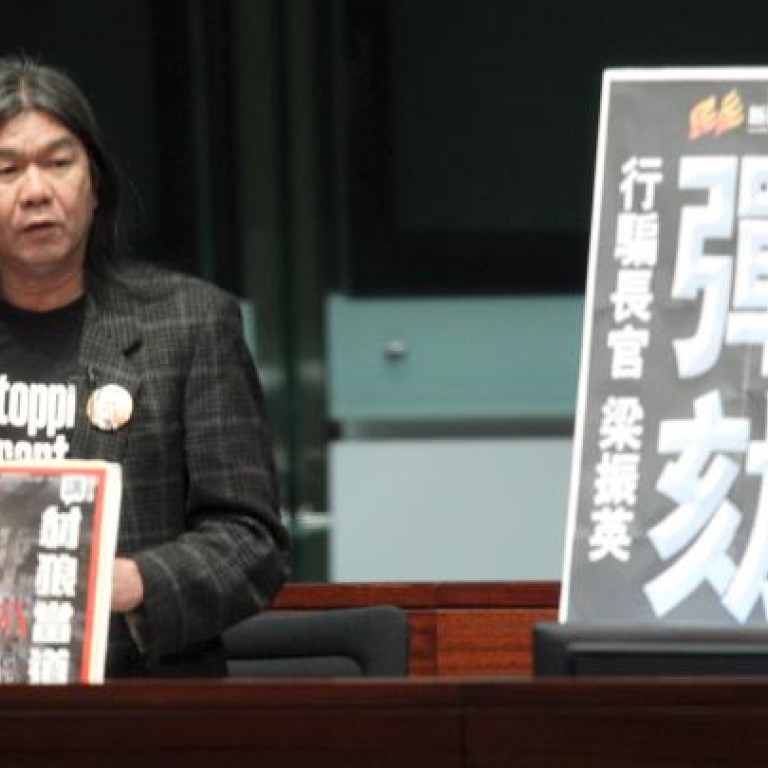 'Long Hair' in appeal to challenge Legco filibuster decision
Legislator wants to challenge Legco chief's decision to halt debate on by-elections bill
Lawmaker "Long Hair" Leung Kwok-hung appealed yesterday against a court's refusal to hear his judicial challenge to Legislative Council president Tsang Yok-sing's decision in May to halt a filibuster.
The League of Social Democrats legislator is trying to convince the Court of Appeal that he should be allowed to challenge Tsang's move to invoke for the first time powers in Legco's rules of procedure to halt a long debate on a bill to curb by-elections.
Lawyers for Leung also said the court should declare void the changes successfully made to election laws after Tsang's ruling due to "unconstitutional irregularity" in the legislative process.
The amendments to the Legislative Council Ordinance, passed in June, bar lawmakers who resign from standing in a by-election for six months. It was introduced to prevent a repetition of a "de facto referendum" on political reform when five pan-democrat legislators resigned in 2010 only to contest the same seats.
Leung lodged the appeal after Mr Justice Johnson Lam Man-hon, in the Court of First Instance in May, refused to hear the judicial review, ruling that lawmakers did not enjoy a constitutional right to filibuster. Lam ruled that the Legco president could, under the Basic Law, take action to ensure the proper running of the council. Leung and lawmakers Wong Yuk-man and Albert Chan Wai-yip proposed 1,300 amendments to the election law, dragging out the debate to 36½ hours before Tsang halted it.
Yesterday, barrister Martin Lee Chu-ming for Leung, argued that Tsang was wrong to have invoked rule 92 of Legco's rules of procedure to abruptly cut short the debate. Rule 92 stipulates that if there is a matter which is not covered by the rules of procedure, the president can decide on the practice and procedure that the council should follow.
Lee said Tsang's decision was flawed as he had not first turned to other rules such as rule 45 that allowed him to discontinue the speech by a lawmaker or to expel the lawmaker from the meeting.
Lee added that rule 57 also empowered the president to ban a lawmaker from proposing amendments, which he thought was frivolous or meaningless.
He stressed that rule 92 could only be invoked in a situation where no other rules applied. "The applicant's case was not that he has a constitutional right to filibuster. Instead, his case is that [the Basic Law] confers on a legislator a constitutional right to speak in Legco," Lee said.
Barrister Jat Sew-tong, for Tsang, said the matter was purely in the political sphere.
"At the end of the day, the president and the lawmakers are elected by the public. The court should simply not interfere with the president's interpretation of the rules," he said.
Mr Justice Andrew Cheung Kui-nung, Ms Justice Susan Kwan Shuk-hing and Mr Justice Jeremy Poon Shiu-chor reserved their decision.
This article appeared in the South China Morning Post print edition as: 'Long Hair' in appeal over filibuster