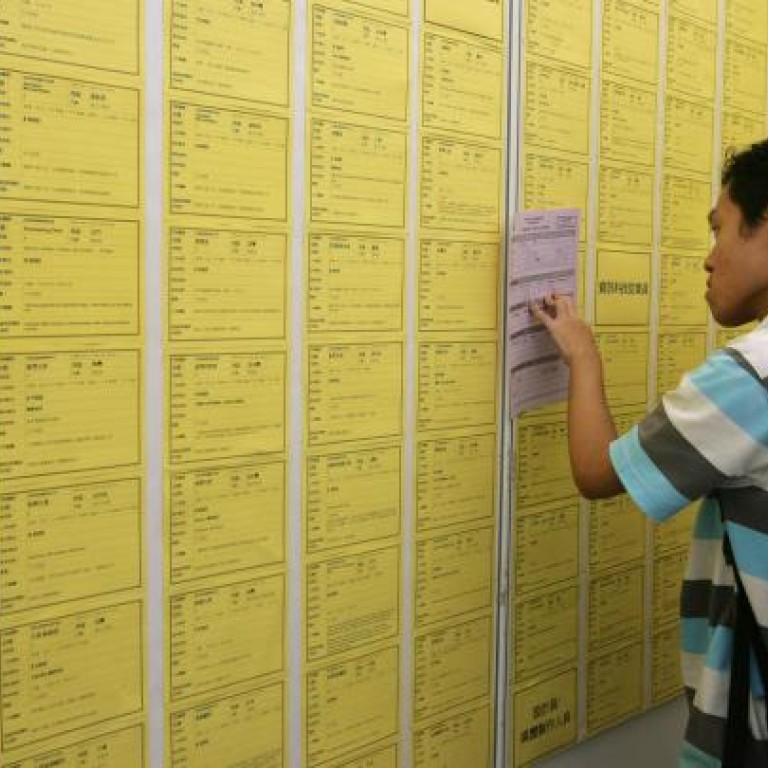 Hongkongers' median income grew only 10pc in last decade
City's median wage goes up by only 10 per cent between 2001 and 2011, with income of young adults unchanged in period of rocketing costs
Hongkongers' median pay rose by only about 10 per cent between 2001 and 2011, despite property prices going through the roof and food prices climbing steadily.
According to the Census and Statistics Department, the 2001 median monthly income for men was HK$12,000.
But a decade later it was HK$13,000 - a rise of just 8.3 per cent, and that does not take inflation into account. Women's incomes went up 10 per cent, from HK$10,000 to HK$11,000.
Even more surprising is that the median income for men and women aged 15 to 24 remained unchanged over the 10 years at HK$8,000. The figure also remained unchanged for women aged between 25 and 34, standing at HK$12,000.
Labour Party chairman and lawmaker Lee Cheuk-yan was appalled by the findings.
He said: "This is shocking and miserable. Hongkongers' lives have not improved in a decade and have even turned worse. When the economy is prosperous, bosses offer pay rises of only 2 to 3 per cent.
"But when the economy was not good, like during the Sars crisis, bosses cut their employees' pay by 20 to 30 per cent."
The slow growth in median income was evidence that the wealth gap was still wide, he said.
The gap, measured by the Gini coefficient, hit a record high of 0.537 in 2011.
The index works on a scale from 0 to 1, with a higher score indicating greater income inequality.
Lee urged Chief Executive Leung Chun-ying to introduce standard working hours and offer more allowances to the poor when he delivers his first policy address on Wednesday.
An associate professor of economics at Chinese University, Terence Chong Tai-leung, estimated the inflation rate for the decade was about 30 per cent.
But while inflation takes into account a range of goods, he believed the cost of food had increased a lot more.
Statistics from the census department supported his views.
The average retail price for 1kg of top-grade chicken was HK$35.81 in 2001 but had shot up to HK$83.4 in 2011.
The price for 1kg of , or golden thread, a common type of fish, also soared, from HK$40.35 to HK$74.39, while a kilogram of white cabbage rose from HK$9.61 to HK$15.61.
Dixon Sing Ming, associate professor of social science at the University of Science and Technology, said the sharp increase in food prices could be attributed to the lack of competition in the supermarket sector.
As rents skyrocket, shops are forced to sell their products at a higher price, he added.
Lee asked: "Why can't the government introduce a form of tax like the new BSD [buyer's stamp duty] on landlords who always increase the rents?"
The average price of private housing - depending on the size and location of the residence - has almost quadrupled in some cases.
The average per square metre price for a property measuring between 100 and 160 square metres in Kowloon went up 3.76 times over the 10 years to HK$154,327. A property of the same size on Hong Kong Island went up 2.95 times to an average of HK$167,939 per square metre.
The figure was HK$34,812 for a New Territories property in 2001, which increased to HK$73,228 in 2011.
Sing urged the government to build more houses under the Home Ownership Scheme so that the middle-class, who cannot afford private housing, can have a place to live.
Lee noted that 10 years ago, Hongkongers spent 30 per cent of their monthly income on paying their mortgage, but for many it now accounts for half their salary.
"Hong Kong people just don't have much money left after paying for the mortgage and food," Lee said.
This article appeared in the South China Morning Post print edition as: Pay outpaced by prices in decade of high inflation