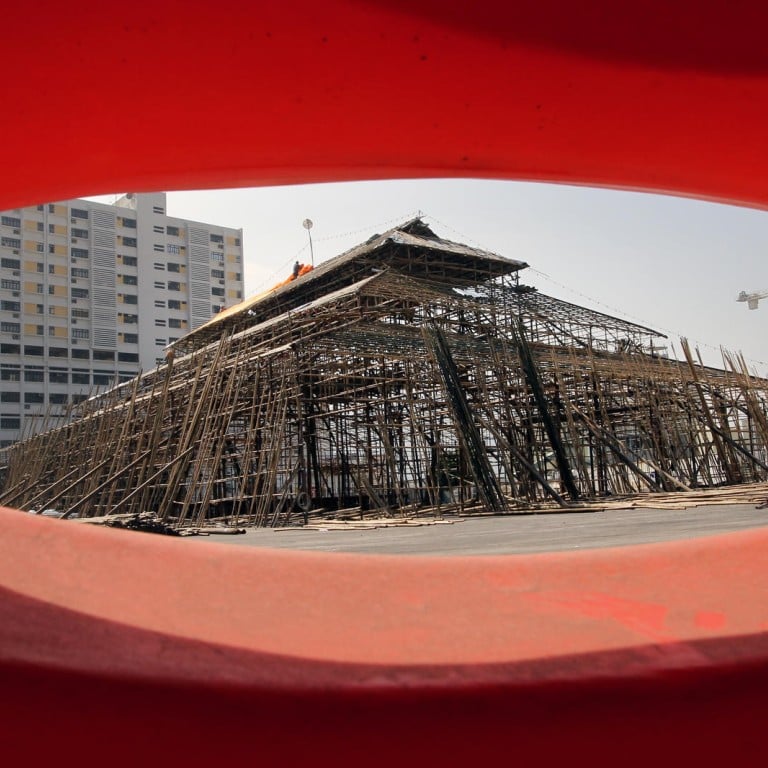 Tradition of grand bamboo theatres may disappear, architect warns
The skills of the craftsmen who assemble the structures must be preserved, an architect says
The art of building a grand bamboo theatre will be forgotten unless action is taken to preserve the knowledge of the master craftsmen, an architect says.
William Lim Ooi-lee, who conceptualised the design for this year's West Kowloon Bamboo Theatre at the hub, said bamboo architecture was an integral part of Hong Kong's architecture.
"Bamboo theatres from the 1950s and '60s looked like what we are building. They weren't only stages for performances but also venues for banquets. They were part of Hong Kong people's lives. However, the use of bamboo might one day disappear and be replaced with steel," Lim said.
Bamboo theatres are temporary structures usually erected without the aid of a detailed floor plan. Workers learn the art over many years and pass the techniques to the next generation
Fifty-six-year-old Sunny Im Shun-lee started learning the trade at age 15. Construction involved a great deal of improvising, Im said, and the process was much more complicated than putting up bamboo scaffolding for building construction.
The
bamboo theatre festival
runs from January 30 to February 16 at West Kowloon Cultural District. The structure will take about 10 workers two weeks to complete, and require more than 10,000 bamboo canes. The theatre will seat 800 people.
A "bamboo theatre fair" will be held outside the building, allowing people to browse stalls selling traditional snacks and handicrafts as well as works by local artists, who will on hand to meet the public.
"The floor plan reflects the spirit of Chinese traditional architecture, which focuses on the balance of elements," Lim said.
As well as the usual entrance to the fair ground in Austin Road, this year there will also be one in Canton Road.
Lim said the layout of the fair was arranged to help visitors appreciate the architecture of the bamboo theatre.
Although the Xiqu Centre, one of the art hub's showpiece buildings that will host Chinese opera performances, is not scheduled to open until 2016, the public will have a chance to see how the centre will look by using an app, which will be available at the fair. The app superimposes an image of the Xiqu Centre when a smartphone or tablet's camera is pointed at the spot where the structure will stand.
The West Kowloon authority has extended the programme run for the Bamboo Theatre from one to three weeks this year.
Besides ticketed Cantonese opera performances starring top artists, the event will showcase other art forms, including a Chinese dance performance by the Hong Kong Dance Company, contemporary music shows by local fusion group SIU2 and an a cappella performance of traditional Chinese music.
This article appeared in the South China Morning Post print edition as: Keeping alive tradition of grand bamboo theatres