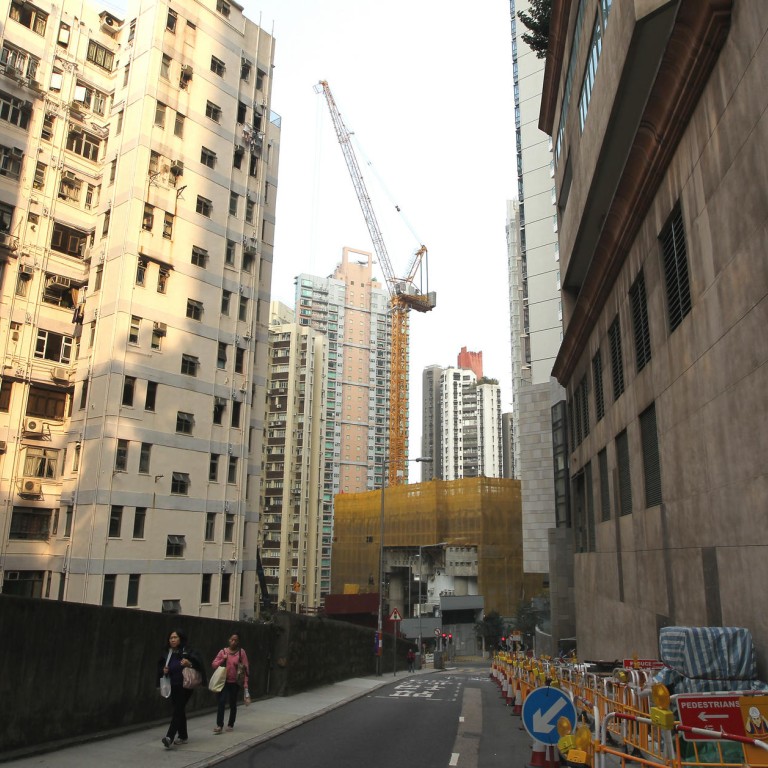 CY Leung insists housing policy won't cause property crash
Chief executive insists his housing blueprint will not lead to oversupply - and a market disaster
Leung Chun-ying has vowed to keep a close watch on global markets to ensure history does not repeat itself in a property crash as his extra-flats policy takes hold.
The chief executive was responding to an RTHK radio interviewer who asked whether his blueprint for building more homes could cause a crash if the US raises its rock-bottom interest rates in 2015, as some economists are predicting.
"We are mindful of the economic situation in the States and in Europe … and any possibility of an interest rate hike might bring market adjustments, so we are being very cautious," he said.
Leung also rejected a suggestion that his housing targets could lead to oversupply and repeat the failure of former chief executive Tung Chee-hwa's infamous "85,000-flats-a year" policy immediately after the handover.
"The 1997-98 crash of the market wasn't really due to oversupply," Leung said. "I remember very clearly that the Asian financial crisis hit Thailand on the second day of July 1997, and it hit Hong Kong - and not just Hong Kong, but also other Asian markets, including the property markets."
Tung's policy of building 85,000 subsidised flats a year was intended to cool the market at a time many people were priced out of buying a home - a similar situation to the one that prompted Leung to boost supply. But after its introduction, the Asian financial crisis sent prices spiralling, pushing many property owners to the brink of bankruptcy. Leung was said to have been the brains behind the policy.
The chief executive also suggested yesterday that he would keep his word and not let the New Territories small-house policy go on forever.
"We need to look forward. We cannot let this policy go on indefinitely because we will soon run out of land for these three-storey houses."
In place since 1972, the policy allows male indigenous villagers to build three-storey houses. Official data show nearly half the vacant government land is reserved for building the homes.
Speaking at a lunch, Secretary for Development Paul Chan Mo-po echoed Leung's view. "The small-house policy has been here for 40 years," he said.
"This is a complex issue as many small houses are scattered in different villages. The government needs to study its development potential including different stakeholders' interests, the availability of transport and infrastructure."
House prices, meanwhile, remain stubbornly high, according to the Centa-City Leading Index, which tracks prices at 100 housing estates. It closed at 115.93 for the week to January 13, up from 115.6 for the week to January 6 - less than one point away from the record 116.81 in November.
This article appeared in the South China Morning Post print edition as: We won't see another crash: Leung