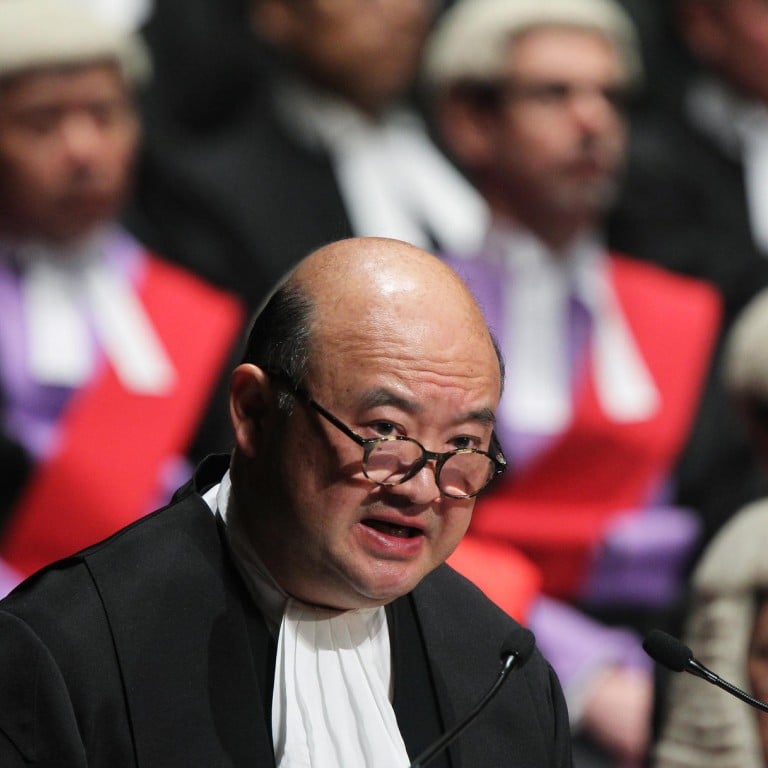 Preserve common law after 2047: top Hong Kong judge
Chief justice says legal system must continue as it is after 2047, and warns against a repeat of 1999 case in which top court was overruled
Common law should remain the basis of Hong Kong's legal system beyond 2047, the end of the 50-year guarantee stated in the Basic Law, the city's top judge says.
Chief Justice Geoffrey Ma Tao-li also warned that the judiciary's authority would be undermined if the government again sought a Basic Law interpretation from Beijing in the way it did in the 1999 right of abode case.
"There is nothing in the Basic Law that says, 'by 2047 there must be a convergence of legal systems'. It's difficult to see a convergence. At the moment, the way our law works and the way the law works in the mainland are quite different," Ma told the .
"Only by showing that a system works for the community ... and also demonstrating this to the wider world, the central people's government or the [National People's Congress], can we ensure its survival," he said. Ma was speaking in a rare interview in which he also said some lawyers have huge egos and that judges lacked a "human touch".
Hong Kong follows the English common law system where judgments and legislation together form the law. The mainland's civil law relies solely on statute.
"We're moving away now from 1997," Ma said. "People want to be assured that Hong Kong will carry on the way it is."
In the 1999 case, the Court of Final Appeal ruled that the children of parents who have the right of abode in Hong Kong also have the right of abode.
But the government then asked Beijing for an interpretation of the Basic Law that in effect overturned the court's decision.
Ma said: "If you use Article 158 [of the Basic Law] to seek an interpretation every time you don't like a court decision, it undermines the authority of the courts." Ma said it was legitimate for the top court to seek interpretations. "That is perfectly within [judges'] remit," he said. "What is not permissible is to ignore laws."
The interview was conducted about six weeks before Secretary for Justice Rimsky Yuen Kwok-keung announced last month the government had asked the Court of Final Appeal to consider seeking a "clarification" from Beijing over the 1999 interpretation.
The request was made in connection with a residency appeal by foreign domestic helpers due to be heard next month.
Constitutional law professor Michael Davis, of the University of Hong Kong, agreed common law should be preserved after 2047, especially as the mainland had shown "little evidence" of advancing its rule of law.
"It would be almost catastrophic to take that away from Hong Kong," Davis said. "Our economy is built around the common-law legal system."
This article appeared in the South China Morning Post print edition as: PRESERVE COMMON LAW, SAYS TOP JUDGE