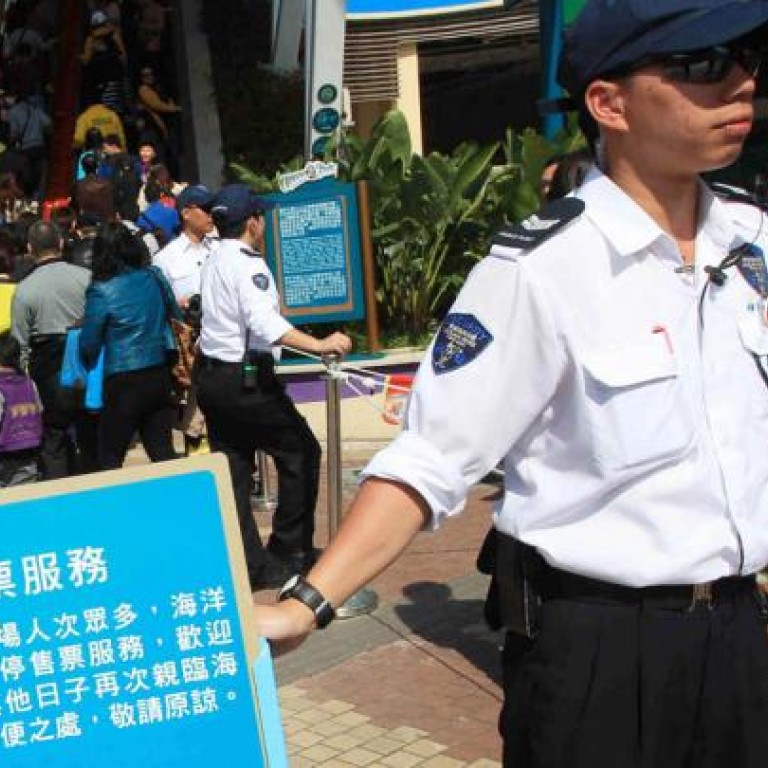 Hong Kong feels strain of influx from mainland China
380,000 tourists crossed border in first three days of new year, filling hotels and theme parks
A rapid jump in mainland arrivals has stretched hotel and tourism facilities to the limit, with Ocean Park suspending ticket sales two days in a row and a group of tourists who refused a substandard guest house opting to sleep on the tour coach.
The good business pleased hoteliers and tourism executives, but a legislator urged the government to put a cap on the number of tourists allowed from the mainland market of 1.3 billion.
Immigration Department figures show that inbound mainland tourists in the first three days of the Year of the Snake numbered more than 380,000, a 33 per cent increase from 286,000 in the same period last year.
Yesterday, for the second day in a row, Ocean Park suspended ticket sales for part of the day as the theme park neared its legal maximum of 36,000 people.
"Generally we work at 10 per cent less than the optimum for safety's sake, to ensure that everyone doesn't spend the day lining up for the rides," park chairman Allan Zeman said.
Disneyland meanwhile recorded its second-highest patronage level ever.
But Travel Industry Council chairman Michael Wu Siu-ying said the city was not at its limit.
"This is not saturation," he said, adding that both tourists and the businesses that catered to them needed to plan well.
The cumulative number of mainland visitors under the individual travellers scheme - established in 2003 and allowing mainlanders to visit Hong Kong without joining a group - surpassed 100 million in December, according to Tourism Board data.
Peak seasons such as Lunar New Year also bring mainlanders to the city in hundreds of organised group tours.
Big crowds at theme parks were an uncomfortable experience for park patrons.
A visitor who was turned away when she tried to buy at a ticket to Ocean Park yesterday missed the chance to celebrate her husband's birthday there. "We are very disappointed," Hong Kong housewife Yeung Siu, 37, said.
Mainland tourist Lou from Huizhou said she had to line up for a long time everywhere, including at the border.
"We don't have to wait that long even at the amusement park in Shenzhen. In Hong Kong, it's people everywhere," she said.
Travel Industry Council executive director Joseph Tung Yao-chung confirmed the council had received a complaint about tourists sleeping on a coach, and said the council was investigating why it happened.
Reports said that the 36 mainlanders - from Jiangxi , Shandong and elsewhere - arrived on Tuesday for visits of three to five days. A booking glitch led to about 20 of them being sent to a Sham Shui Po guest house instead of their promised three-star hotel. They slept on the bus instead.
Tung said the tour operator claimed the booking was made through a mainland company. "No matter what, the arrangement it is not acceptable."
Legislator Gary Fan Kwok-wai said that a cap was needed on mainland visitors. "I had a walk on Lamma Island yesterday and realised mainland tourists no longer come just to shop. I know they want to enjoy nature in Hong Kong, but we need better control," he said.
This article appeared in the South China Morning Post print edition as: City feels the strain of invasion from mainland