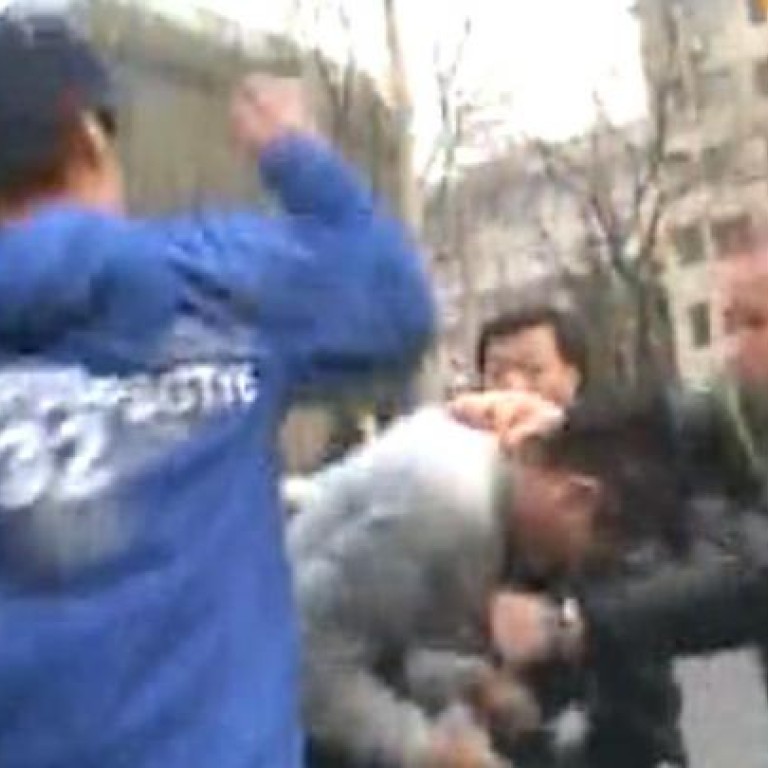 Hong Kong journalists, activist beaten outside home of wife of dissident Liu Xiaobo
Campaigner also attacked and taken away after trying to visit wife of Nobel laureate Liu Xiaobo
Two Hong Kong journalists were beaten by unidentified men in Beijing yesterday while filming Hong Kong activist Yang Kuang's attempt to visit Nobel laureate Liu Xiaobo's wife, who has been under extralegal house arrest for more than two years, the activist and journalists said.
Yang's whereabouts were unknown last night. A witness, a mainland activist who requested anonymity, said while Yang was waiting for a taxi shortly after 10pm a dozen men attacked him. He was taken away in a police car afterwards, the activist said.
Another activist, Hu Jia, posted on his microblog a picture he claimed to be the moment Yang was put in the police car.
A person who answered the phone at Yangfangdian police station, which detained Yang on Thursday night, said he was not there. Yang's mobile phone was switched off late last night. The Yuegezhuang police station near where Yang was picked up also denied he was there.
The Hong Kong government's Beijing office said it had not received a request for assistance from Yang.
Yang, known for his fight for recognition of the Diaoyu Islands as Chinese territory, tried to visit Liu after a failed attempt with three other mainland activists the day before. Yang, Liu Shasha, Zhou Ai and another supporter of Liu Xia stood outside her building on Thursday and shouted support through a loud hailer. They were later taken away by police and detained overnight at Yangfangdian police station.
Yang told the by phone yesterday afternoon that security guards at Liu Xia's residence refused to let him in after he registered at the gate and then about a dozen men came out of the compound to push away Yang and a group of Hong Kong journalists.
The unidentified men pushed Yang, before turning around to hit TVB cameraman Tam Wing-man and Now TV cameraman Wong Kim-fai, Yang said.
Tam said he was punched in the face, then pushed to the ground before five or six men trampled on him. Wong said they pulled him and tried to snatch his camera, before hitting him in the head. He said his camera was damaged during the scuffle.
After the beatings, the men continued to push the group of Hong Kong journalists away and yelled abuse at them, attracting the attention of bystanders.
Liu Xia has been confined to her home since shortly after her imprisoned writer husband won the Nobel Peace Prize in 2010.
The Hong Kong government said it was highly concerned about the journalists being beaten and would look into it.
This article appeared in the South China Morning Post print edition as: HK journalists beaten while filming activist