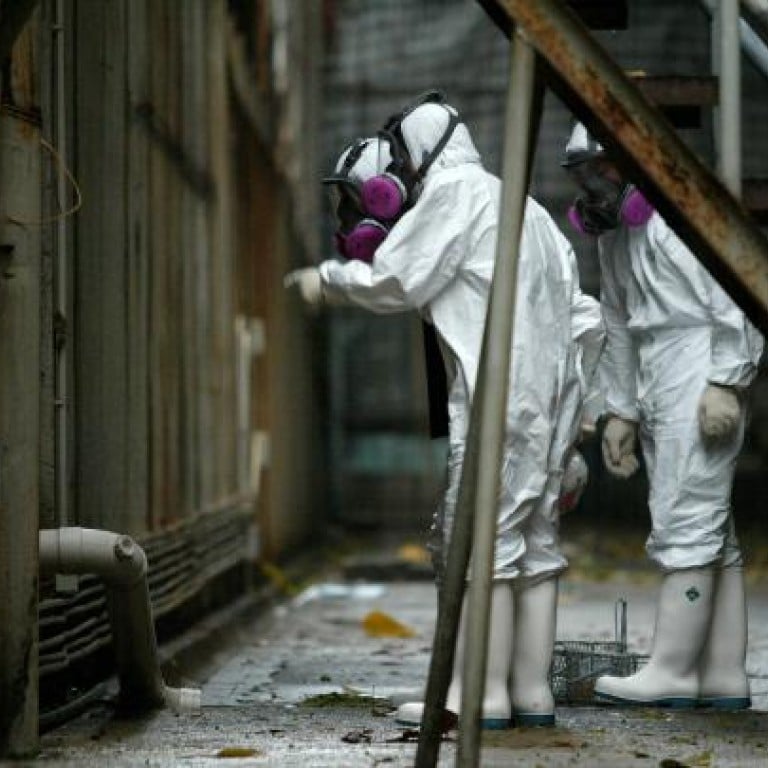 Ten years on - the mental and physical scars of Sars
The deadly epidemic that struck a decade ago has left a long-term mark. The first in a two-part series looks at the mental and physical scars
Ten years ago today, residents of Amoy Gardens in Hong Kong woke up to find their homes were on the front pages of newspapers around the world.
A cluster of cases of the emerging and terrifying severe acute respiratory syndrome (Sars) had been traced to a block at the Kowloon Bay estate. A quarantine was ordered, but by the time the outbreak passed, 42 of 329 Amoy Gardens residents infected had died.
Ten years on, a psychiatrist is leading a group of former Sars patients back to their former estate for a photography session - part of long-term counselling to help the victims put the pain of the pandemic behind them.
Although the long-term physical effects of Sars - including bone necrosis - are well documented, the psychological effects are less well understood. Many otherwise healthy adults are still suffering mental trauma as a result of the infection - with media and public interest in the 10th anniversary of the crisis forcing some to relive their ordeal.
"This period of time is a particular challenge to them," said United Christian Hospital psychiatrist Ivan Mak Wing-chit, who is treating Sars survivors.
"One patient said he felt depressed after seeing reports about the Sars 10th anniversary, despite the reports being very positive. He said he felt bad and abnormal about being trapped in the horror of the memory, while other people seemingly have come out of the darkness."
Those who appear to be putting the past behind them include Patrick Yuen.
A decade ago, Yuen went to the Prince of Wales Hospital in Sha Tin for what he thought was a routine body check. He left with the Sars virus, passed on to him by a nurse, one of many staff infected in a cluster of cases involving medical personnel at the hospital that earned it the title of the "city's deadliest place".
The banker, who was in his 60s at the time, was forced to spend more than 100 days in isolation. "I had never felt so lonely in all my life," Yuen says. "All of a sudden my freedom and health was taken away, and I was tied by my sickness to a bed."
Like other patients who suffered from Sars, Yuen developed symptoms such as atypical pneumonia and respiratory distress.
"To me, every breath was a struggle. To make it worse, my brain kept wondering whether I might be able to inhale the next breath, and I felt I was being abandoned with no one around. The pain and fear was almost unbearable."
Medical workers were by no means immune to such difficult circumstances.
Professor Henry Chan Lik-yuen, then a young doctor at Prince of Wales Hospital, also contracted the virus while carrying out duties in the same public hospital.
"I used to be physically fit as I had constantly worked out before the infection. But after I had been a patient, I could not even raise a bat. I would start panting after a two-minute walk", Chan said.
Both Yuen and Chan have come through the hard times and are willing to share their positive experiences, which have motivated them to cherish life more. Other patients, however, took the trauma quite differently. To them, the nightmare lives on.
Mak said: "Some of them do not wish to be reminded of anything about Sars again. They are reluctant to go to places that will trigger memories, or they feel depressed or have an urge to cry every time Sars is mentioned on the news. Some patients have lost trust in other people as they were discriminated against by others when they were sick."
These victims have developed post-traumatic stress disorder (PTSD) - a severe anxiety disorder that can develop after exposure to any psychological trauma. Typical symptoms including anxiety, grumpiness and feeling restless. Victims may be very sensitive towards things that can trigger unhappy memories.
Some experience flashbacks and depression. They may require mental health counselling, as well as medication.
According to a report done two years after Sars, some 40 per cent of recovered patients suffered from PTSD after the epidemic - much higher than the 20 to 30 per cent among victims who experience trauma from natural disasters or accidents. Mak said the profound impact may be due to the nature of the Sars pandemic, which included widespread panic, its unpredictability and the many months it went on for.
Dr Chu Chung-ming, of the Prince of Wales Hospital's respiratory department, said some former Sars patients were more likely to fear the worst when they had minor health problems.
"Some patients may complain that they feel something is wrong with them and many parts of their body are aching, but a body check shows that their health is perfectly normal," he said.
"I would not say that they are overreacting about their health, but it is like their body radar is constantly on a high level of alert since the trauma and small symptoms of sickness may trigger their attention. There may also be a general feeling that their health has been deteriorating since catching Sars. It is understandable after you have been through so much."
However, when their health concerns are not accepted or understood by others, such as their families, employers, or doctors who are new to them, the patients may be accused of worrying too much and end up feeling even more lonely.
Other Sars survivors dread going anywhere near a hospital.
"It is a psychological problem rather than a health problem. They really need a doctor to listen to them who was with them at the beginning to understand their concerns. They need time to practise how to relax," said Chu, who himself suffered intolerable stress as he treated patients during the pandemic.
Mak said a photography session in Amoy Gardens had helped his patients to overcome their fears.
"We arranged to go to the estate on a rainy day, the sky was dark and gloomy. But a patient managed to take a picture with a gloomy estate in the front, and a line of sunlight at the back. He said he had come to understand that 'every cloud has a silver lining'," Mak said.
While the horrors of Sars live on for some medics, others have positive memories of the camaraderie and teamwork that kept them going in the dark days.
Dr Leung Chi-bong, a kidney specialist, was part of Prince of Wales Hospital's team during the period when colleagues were being struck down by the disease. He was responsible for conducting body checks on patients suspected of having Sars.
He spoke of how there was a time when Sars left medical staff feeling isolated and lonely because of the immense psychological stress and high risk of infection. It was a time when ward 8A at Prince of Wales was in the spotlight after 11 health care workers in the ward went on sick leave simultaneously.
The ward is now closed and has been renamed room 8HK instead. When he accompanied the back to the ward, he said he preferred to remember the warm side of those times.
"There was a time when all medical staff ate their meals facing the walls instead of others," he recalls. "The hospital was quiet and no one was talking to each other in the canteen. Later, when we started to know more about the virus, we started to sit with each other again - with cardboard between us when we ate. At least we were able to have a conversation."
It was a tough time for Leung, who had a newborn daughter to worry about at home. For days, he did not dare approach his family or spend time with his children for fear he might pass the disease to them.
"But still, I prefer remembering the bright side. What touches me most was how the medical field united together and fought against the only enemy in front of us - Sars."
He said many doctors from other institutions volunteered to work in the so-called deadliest place in the city. "There were so many unsung heroes of this war. That's the way I want to remember it."
This article appeared in the South China Morning Post print edition as: Still suffering from Sars