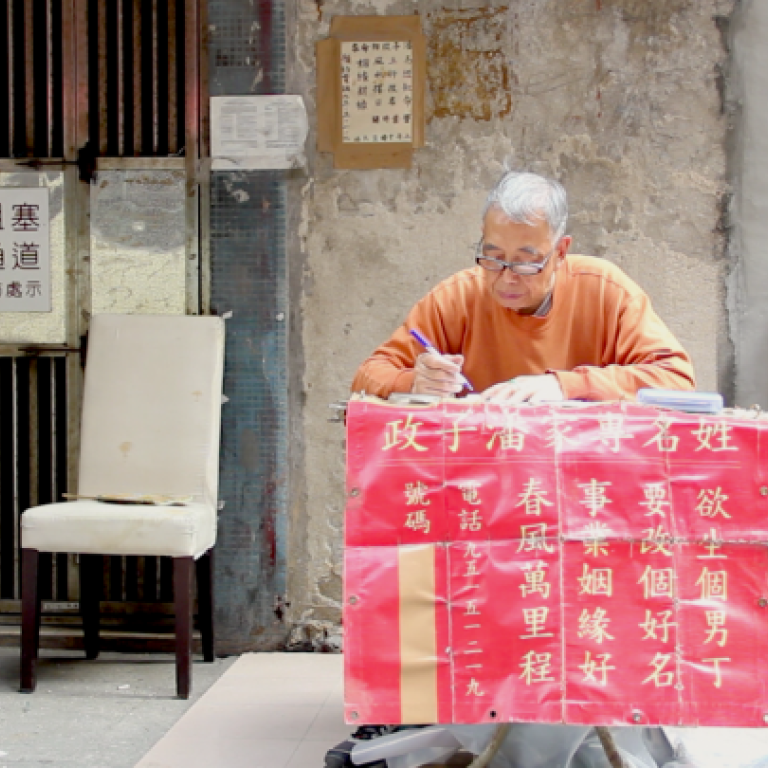 When words are not enough: The dying art of professional letter writing
Professional letter writers were once a common sight on Hong Kong's streets, but today only a few survive. In the latest episode of our Uniquely Hong Kong series, we talk to Pun Tse-ching about the dying art
Professional letter writers were once a common sight on Hong Kong's streets, but today only a few survive. In the latest episode of our Uniquely Hong Kong series, we talk to Pun Tse-ching about the dying art
Pun Tse-ching, 73, performs a role which is dying out in Hong Kong. He is a professional Chinese letter writer.
As is that case with so many other industries, the rise of modern technology, coupled with higher rates of literacy, have led to a sharp fall in the number of letter writers.
Once they performed a vital role in Chinese society. During the 1950s, for example, they were needed because Hong Kong only had a literacy rate of about 60 per cent.
A professional letter writer or "se seun lou" (寫信佬) writes formal letters for customers in Chinese characters. These can include business letters or correspondence to family and friends abroad.Usually well-educated and highly literate, they were skilled in writing and performed the role of professional secretary. As well as writing letters, they also had to read letters to their customers.
Their numbers have been dwindling since the 1970s following the introduction of compulsory education. The dawn of computers, e-mails, and text-messaging have also taken over the role. In the past, letter-writers could earn as much as high-level business executives. Nowadays they generally earn little and work can be hard to find.
Known as "Uncle Pun", Pun Tse-ching can usually be found sitting on a street corner in Kwun Tong. People requiring his services may approach him in person or call his mobile phone.
Pun recalls that as a boy, his family gave him a love of learning. He comes from an academic family. His mother studied medicine and a brother became an anthropologist at a university in California.
He was unable to finish primary school because he was bullied over his family's loyalties during the Chinese Civil War (1927-1949). Pun says this did not discourage him. He read widely, attended night school and studied literature.
Pun recalls he soon went from reading textbooks to Chinese poetry and classics like and .
Pun states on his name card that he is a "philosopher" rather than a "letter writer".
"A university student once asked me whether I was qualified to have 'philosopher' on my name card, as I did not have a university degree in philosophy like him," he recalls. "So I invited him to have a competition interpreting Chinese characters, but he was too shy to show up. The next day he brought his professor to meet me. We shook hands, and called it a draw." he said.
"Philosophy isn't about having a university degree. It is about your experience and your interaction with the world," he says.
Pun said he did not start his career writing letters. He began working in "hum yu" – the academic study of feng shui and fortune telling.
He only started letter writing after people in his neighbourhood asked for his help. "You might not believe this, but some of my customers are university graduates. They can't even write a formal letter [in Chinese]," he says.
Pun says he has never used a computer. He is not sure which are best – hand-written or typed letters. He believes hand-written letters are more effective in persuading people. "Especially, the traditional vertical-style of writing. There's something about that format that just works," he explains.
For a typical letter, Pun charges around HK$200. It is not a lucrative profession. Pun says it is not about money. "My children make enough to support me, so I don't have to do this. But I'm a bit superstitious. My neighbourhood is not well-off, so I feel that if I can help some of these people the gods will look kindly on me and add years to my life. God knows I need it!"
Pun says he has had successes, for example, when letters of appeal achieved their purpose. But he admits to some failures, too. He recalls that a customer once asked him to write a letter to Jin Yong, the well-known Wu Xia novelist, seeking his participation in a marketing campaign. Jin did not reply. "It was my most memorable failure, because I really respected Jin Yong as a writer," says Pun.
Most of his customers are elderly people. He often writes letters for them in regard to eviction letters, visa applications for China, letters of restitution and similar matters.
"Letter writing, especially to government officials must be concise and precise. Officials have no time for long letters. You have to know how to help people, to get to know them and their needs, and also have the skill to write the appropriate response."
The only letters he refuses to write are love letters and written complaints. "Love letters can't woo a woman," Pun says dismissively. "A man has to get to know a woman and have a proper relationship with her," he advises.
"And I never do written complaints. I don't like the thought that I may be responsible for someone getting fired or bringing me bad luck."
As well as writing letters and studying literature, Pun also writes poetry. "To understand poetry, you have to realise that without effort, toil, and suffering, poetry has no soul or life," he explains.
Pun says Chinese literature is his real passion. When he is not writing letters, he reads literature, oblivious to the noisy urban renewal construction projects going on around him.