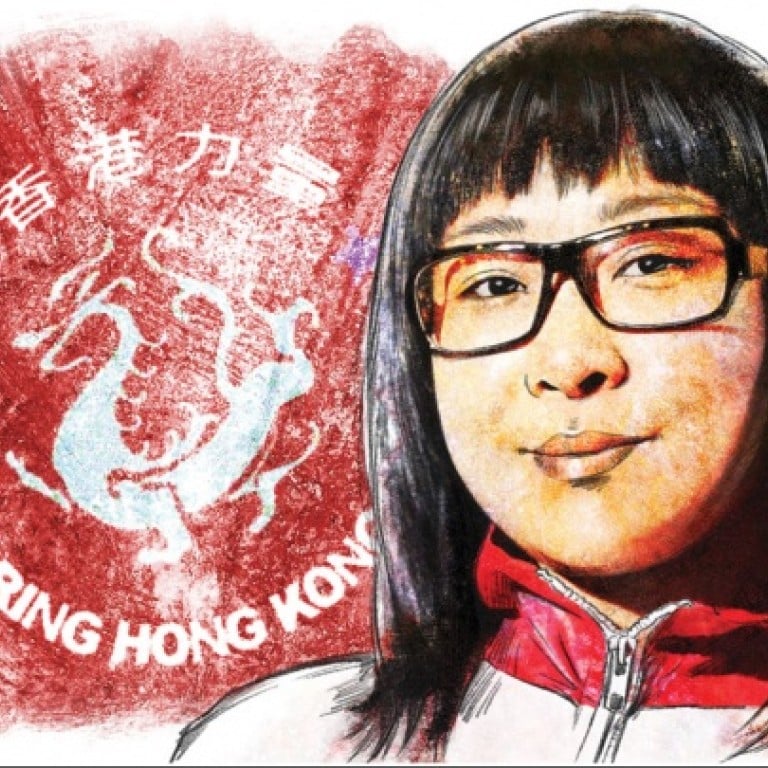 Hong Kong full of 'political rogues', says activist Chan Ching-sum
Housewife-turned-activist Chan Ching-sum says pan-democrats are messing up Hong Kong - and she sees no need for universal suffrage
Chan Ching-sum is renowned for her glowering facial expressions whenever she and her comrades bombard the pan-democrats they describe as "Hong Kong-harming". But off the stage, the novice political activist is surprisingly cheerful.
Surprising, too, is the smoothness of the interview between the housewife-turned-household name and the .
The convenor of Caring Hong Kong Power, a belligerently pro-government group founded in 2011, Chan has not been too successful in her media exposure. She was the first in RTHK's four-decade TV history to be bleeped for using indecent language in February. Later, the attempt to have her sit down with a democracy-minded social activist ended with her walking out halfway through the debate.
"I used to believe in the media," said Chan, who is wearing her signature outfit of a Caring Hong Kong Power jacket. "I used to believe that the Hong Kong government was bad."
But there is no trace of such a belief in the present Chan. One of the most shared online pictures of the convenor and her compatriots is of them standing on the desks of a City University lecture hall, pointing at scholars and politicians supportive of the Occupy Central movement plan. This is the plan that those calling for universal suffrage - including University of Hong Kong legal scholar Professor Benny Tai Yiu-ting - believe will be the last available resort to achieving their goal.
"If there is no livelihood, then what's the use of democracy?" Chan asked. She criticised the pan-democrats for having unlimited demands: "When there was no universal suffrage, people asked for it; when there is, they ask for it to be real."
Chan was unimpressed with her rivals' calls for the 2017 Chief Executive election to incorporate the United Nations' definition of universal suffrage as stated in the International Covenant on Civil and Political Rights. "We in Hong Kong abide by the Chinese constitution," she insisted. "How much does the UN count?"
It was perhaps such unrelenting assertions that gained her nicknames like "Hong Kong's Jiang Qing" - the wife of Mao Zedong and part of the infamous Gang of Four - or, perhaps more favourably, "Chiu Chow Spicy Girl".
Chan, though, says she does not care about the nicknames. "As long as I get my message spread, I'm fine with any labels."
Apparently her message became too well-spread and that led to allegations she was being paid to act on behalf of the government, or that she used to be a mainlander. She denies both.
Instead, she prides herself on being a homegrown Hong Kong patriot. She denies online rumours that she used to be a mainlander, moving to the city from Shenzhen a few years ago.
"My parents and I lived in a wooden house in Diamond Hill until I was seven or eight years old. Then we moved to a small private unit which they paid for in instalments with their hard-earned money," she said.
As a young woman Chan, who did not study for long, worked in a variety of jobs, including as a cashier and a phone receptionist.
But, despite her deep roots in the former British colony, she seems unsure why some city residents reject being part of China. "Some of them [reacted strongly] seeing me wave the five-star red flag - how could one not be patriotic? I wasn't waving the [Chinese Communist Party] flag." And she questions the need to continue commemorating the June 4, 1989 Tiananmen Square crackdown.
"Which country has never had any unrest? If someone could answer me, I'd say June 4 was wrong," she said.
Hong Kong, in her words, is full of "political rogues", her typical rhetoric that depicts the pan-democrats. "They aim at messing up Hong Kong - only by doing so can they enjoy more advantage," she said.
While pan-democrats have consistently won more than half of all legislature votes, Chan insists she represents "the silent majority" who oppose them. Her prime target has been the Civic Party. When it was revealed that Gladys Li SC, a founding member of the party, was representing domestic helpers in their court battle over right of abode, Chan called it an act of betrayal.
Another of Chan's prime targets is lawmaker Lee Cheuk-yan, who she says has been "manipulating" the dockers - now a month into their strike against Hongkong International Terminals, operated by billionaire Li Ka-shing's company, Hutchison Whampoa. Her disgust, though, goes beyond the pan-democrats. "Even some pro-establishment lawmakers are mere straddlers ... They are perhaps worse than them [pan-democrats]," she said.
But, at least for now, Chan says she is not interested in "joining politics". "In my present position, I speak for what I believe in; whereas if I were a lawmaker, I'd have to be subject to the voters."
And after all the talk of patriotism, democracy and legislators, Chan does not forget to give another smile before saying: "Frankly, I'm really not too familiar with politics."
Chan Ching-sum
Not disclosed
Not specified, but a "low level of education"

Co-founded Caring Hong Kong Power (CHKP)
Targeted the Civic Party, a member of which represented domestic helpers in the right-of-abode lawsuit, during the district council elections
CHKP launched an online attack against Scholarism, the group protesting against the national education curriculum
CHKP's debut pro-Leung Chun-ying march saw one participant hit a news cameraman; he was fined HK$1,500
Bleeped by RTHK for using indecent language during a pre-recorded talk show
This article appeared in the South China Morning Post print edition as: Waving the flag for the government