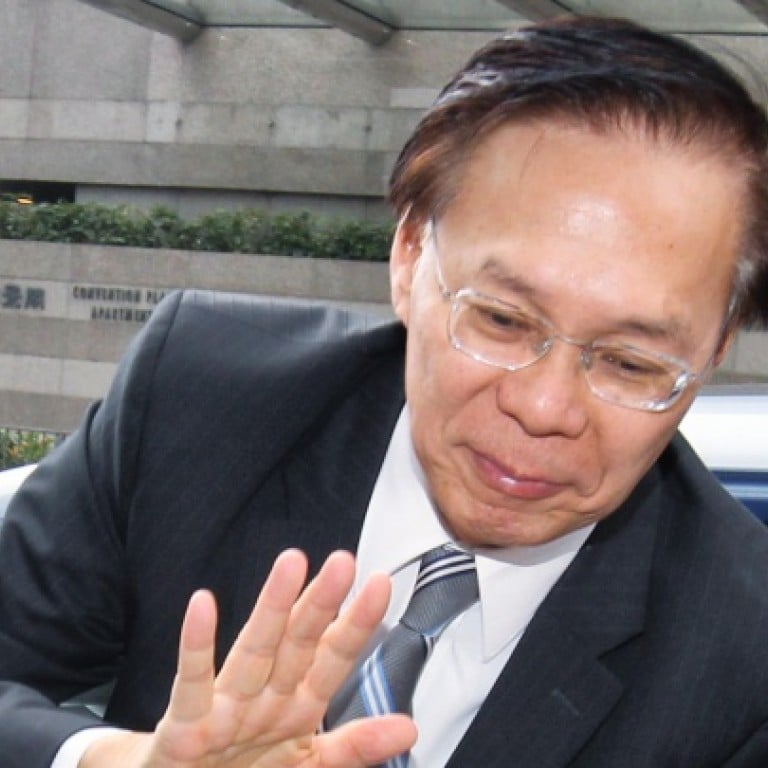 Tsang 'unable to find' legal document for flat swap
Assistant highways director says too much time has passed for him to locate declaration of trust
Assistant highways director Tsang King-man prepared a declaration of trust to protect the interests of former development minister Mak Chai-kwong in a flat swap the two undertook, a court heard yesterday.
But Tsang, who is being tried over a housing subsidy fraud, said he could not find the legal document due to the lapse of time.
The prosecution yesterday played Tsang's recorded interviews with the Independent Commission Against Corruption in the District Court.
Tsang, 57, and Mak, 62, are accused of defrauding the government of HK$700,000 in housing allowances by using two properties in which they had a financial interest. Mak also faces two counts, and Tsang three counts, of using documents with intent to deceive the government. They have denied the charges.
In 1985, Mak bought unit 21E at City Garden in North Point and Tsang bought the flat one floor above, 22E. The next year, they cross-leased flats. Mak moved to the 22nd floor, Tsang to the 21st, with the leases in their wives' names.
The prosecution earlier said that Tsang instructed a lawyer to prepare the declaration of trust for flat 22E in 1990. At the time, Tsang was about to sell flat 21E. It later sold for HK$2.49 million.
A declaration would have offered some protection for Mak - Tsang claimed the document was drawn up so Mak could keep the proceeds from any future sale of flat 22E, the court heard earlier.
When asked by an ICAC interviewer who prepared the declaration for him, Tsang said: "It should be [law firm] Lawrence Ong & Chung … but I can't recall who the lawyer is."
The court earlier heard that in 1990 Tsang asked solicitor Lai Sai-on to draw up the document.
Lai denied creating a legal document.
Tsang also explained in the interview that the pair swapped their homes in 1990 because he did not want to sell a property that had a tenancy agreement. Tsang said when he wanted to sell the flat, 22E, in 1990, it was occupied by a tenant.
"A potential buyer knew that flat 22E carried a tenancy agreement … so he declined to offer a good price," he said.
Tsang said the buyer asked whether he could show him a similar flat instead and he took him to flat 21E which he leased from Mak. He said the buyer found flat 21E suitable so he suggested a swap with Mak.
This article appeared in the South China Morning Post print edition as: Tsang 'unable to find' legal document for flat swap