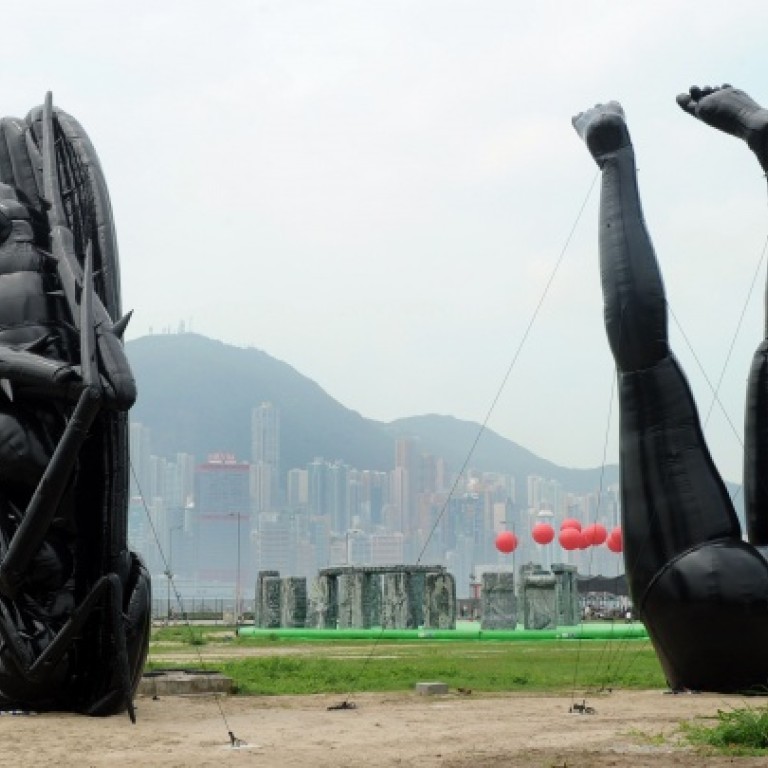 Museum gets 'kissing guards' from first local art donor
Museum's first local donation is a performance work posing questions about art and politics
The West Kowloon museum has received its first donation from a Hong Kong collector, who hopes to challenge people's ideas about art and politics with a performance work featuring two security guards kissing.
Hong Kong collector Alan Lau has donated performance work to the yet to open visual culture museum M+.
Created in 2002 by British-German artist Tino Sehgal, who was shortlisted for the prestigious Turner Prize last week in Britain, the work is a "constructed situation" where a pair of museum guards - two men, two women or a man and a woman - kiss each other when a visitor enters an exhibition space.
The live encounter comments on different issues, said Lau, who has been collecting contemporary art for eight years. He said the work posed questions such as whether witnessing a public display of affection was an intrusion of private space.
"This work also comments on issues around LGBT [lesbian, gay, bisexual and transgender] rights," he said, adding that performers were paid the minimum wage so the work also brought up the minimum wage issue.
"In response to [pro-Beijing lawmaker] Chan Kam-lam's remarks, does art really have nothing to do with politics?" Lau asked. Chan drew criticism last week after he warned the West Kowloon arts hub at a Legislative Council meeting not to confuse art with politics.
The acquisition of the work was a challenge as there was no invoice for the purchase from the artist's side.
"The artist is anti-object. He sold the concept. There's no documentation. No receipt. No other records," Lau said.
He said he hoped for the "transaction" to take place at the Venice Biennale at the end of June and expects the artist to give verbal instructions for the performance followed by a handshake witnessed by lawyers. He declined to reveal the cost.
Lau's donation was among those made after Swiss collector Uli Sigg donated 1,463 works of Chinese contemporary art to M+, which also bought 47 works for HK$177 million last year.
Lau, a management consultant and a member of the Tate's Asia-Pacific Acquisition Committee and the board of Para Site Art Space, said he was surprised to be the first Hong Kong collector to donate to M+. He said he hoped the art donation culture here could be further developed.
M+ executive director Lars Nittve said the "extraordinary" donation fitted with Hong Kong's guard culture. Sehgal's work "makes you think about the relationship between the museum and you, and your behaviour as a cultural consumer", he said.
The M+ building design will be announced in summer.
This article appeared in the South China Morning Post print edition as: 'Guards' to greet visitors with a kiss