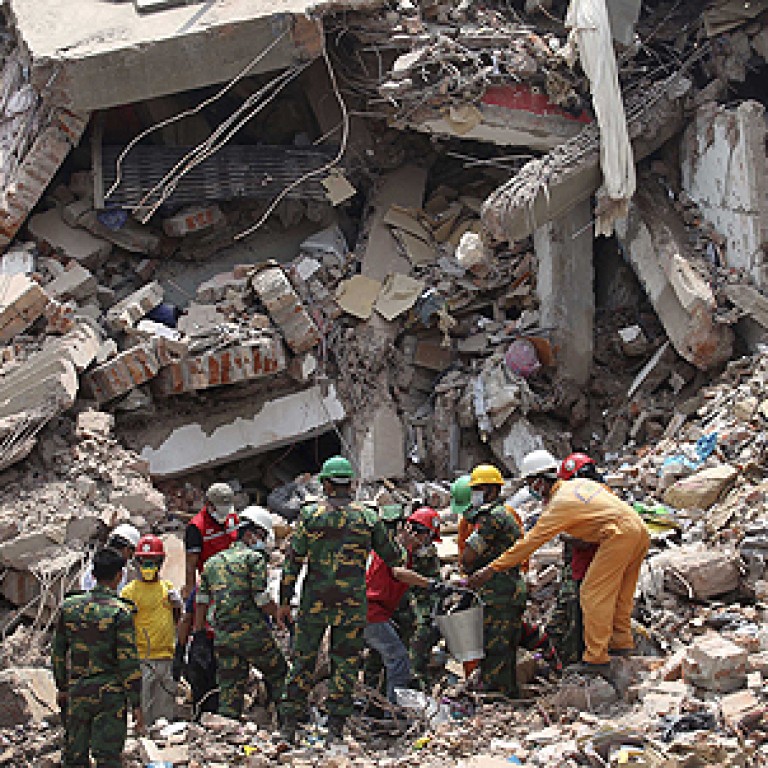 Hong Kong firms fear more disruption at their plants in Bangladesh
After deadly factory collapse, production at plants may be hit by a strike and rallies
Hong Kong manufacturers are bracing for more disruption at their plants in Bangladesh, where left-wing parties called for a nationwide strike today to demand justice after a factory collapse killed more than 400 workers last week.
Angry labourers started taking to the streets the day after the disaster, blocking major highways to several industrial areas outside the capital, Dhaka.
The region is popular with Hong Kong manufacturers as they seek cheaper alternatives to their traditional hub, the Pearl River Delta.
But the boss of Hong Kong-listed apparel maker Mainland Headwear, which bought a plant near Dhaka in March, said the firm had to shut down the facility most of the time.
"Our factory's capacity was more than halved over the past week," said managing director Pauline Ngan Po-ling. "We are worried about the long-term impact … the fragmented political scene there adds to the uncertainty."
Nonetheless, the firm is still looking to move 30 per cent of its total production capacity from the mainland to Bangladesh by the middle of next year.
Not only are wages there just a tenth of those on the mainland, but imports from Bangladesh enjoy an exemption from duties in Europe.
Rising costs and wages in Guangdong have forced many Hong Kong manufacturers of lower-end products to look elsewhere. They have looked at Bangladesh, Vietnam and Cambodia in the past few years and more recent targets include Myanmar and Uruguay.
But Textile Council chairman Willy Lin Sun-mo said these countries had a lot of hidden traps for foreign investors. "Their culture, religious beliefs, labour rights laws and green policies are so different from the mainland's that you can't just move your normal practices there," Lin said. "The Bangladeshi law that bans foreign investors from owning land poses another problem, as it means you must rely heavily on local partners."
This article appeared in the South China Morning Post print edition as: HK firms fear more upheaval in Bangladesh