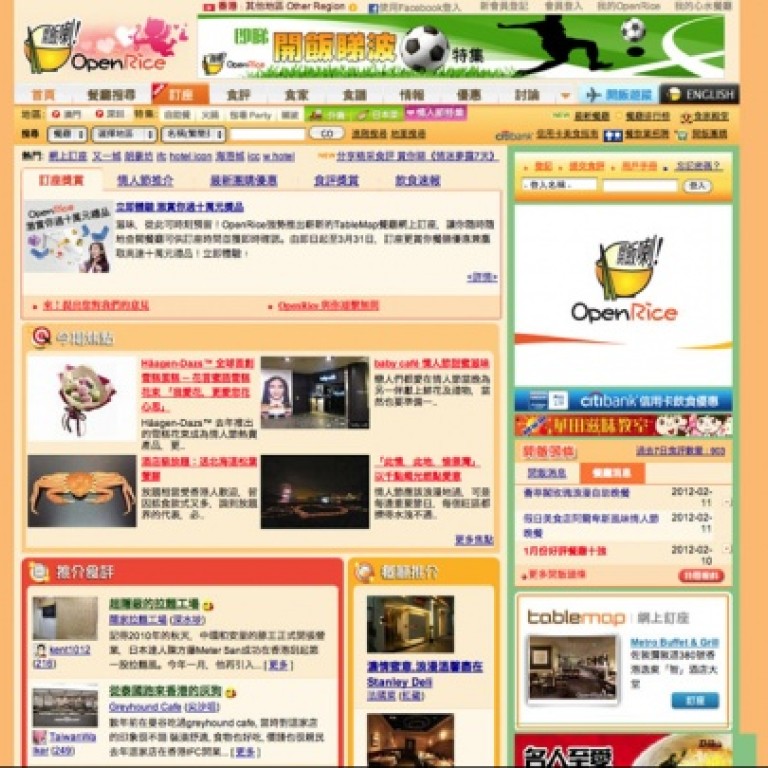 Extra help on the way from OpenRice in exploring city's 21,000 eateries
Restaurants website to roll out upgraded services and expand coverage this month
Foodies will soon be able to search for restaurants serving their favourite dishes with greater ease after a major revamp of restaurants website OpenRice.
Founded in 1999, the website enables restaurant-goers to find, rate and leave comments about the city's 21,000 food outlets. It is now ready to upgrade its services and expand coverage to Taiwan, taking the total number of restaurants covered by the guide to 500,000.
New versions of the website and its mobile application will be ready by the end of this month, following its biggest revamp since 2008.
"For the time being, searches are mainly conducted by entering the name of the restaurant," the website's managing director Jan Wong Fung-ming said. "After the revamp, people will be able to search by entering the name of a dish or a location."
By entering "", otherwise known as steamed meat dumplings, into the search field, for example, users will able to find restaurants selling the dish, such as Taiwanese restaurant Din Tai Fung.
An upgrade to the mobile application will allow users to see a list of restaurants near their current location, listed by their distance from the user and complete with a map showing all the outlets. People will also be able to download discount coupons, make prepayments and bookmark their favourite restaurants.
OpenRice will expand its geographical coverage later this year, and a major focus will be Taiwan.
"There are a lot of Hongkongers who spend two to three days in Taiwan, and dining is an important part of their journey," Alfred Tsoi Po-tak, chief executive of JDB Holdings, which oversees OpenRice, said.
This article appeared in the South China Morning Post print edition as: OpenRice revamp to put much more on the menu