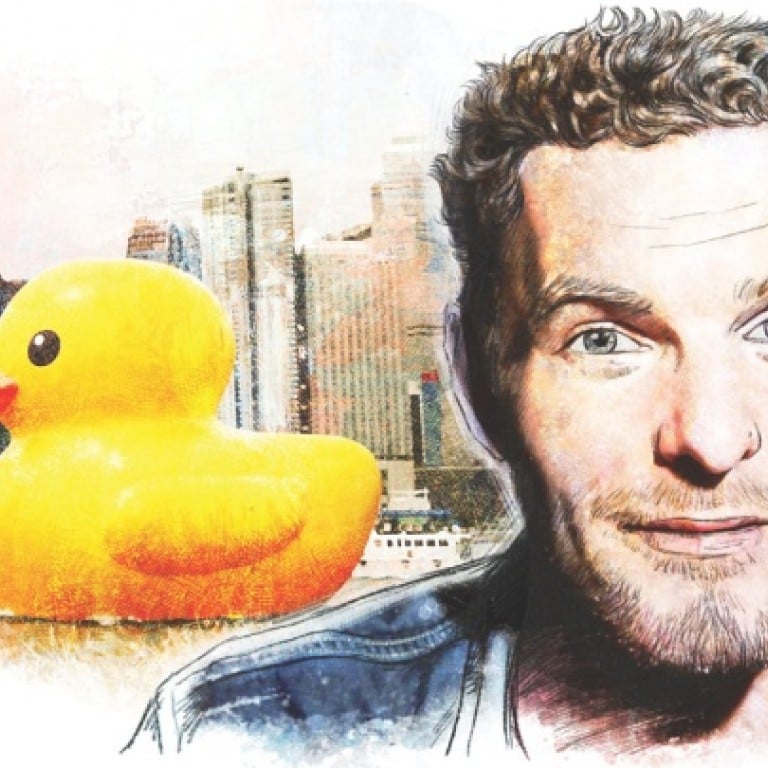 Florentijn Hofman, Rubber Duck artist, is man of principles
Florentijn Hofman could have cashed in big on the buzz over Rubber Duck. But he has strict views about the intersection of art and money
Florentijn Hofman has a reputation as a man of principle. Behind the playful, outsized floating in Victoria Harbour is an artist who takes his work seriously.
For instance, he has strict rules about how his "baby" is to be handled while on display in Victoria Harbour.
"First, it must always be shown to the general public … it's not for private [use]. There must not be any commercialised items involved. It must always be on the water. And it needs to be produced locally," says the 36-year-old father of three and Rotterdam resident.
"The water in the world is our global bathtub. We need to stay simple. The needs to stay as a ."
The juxtaposition of the child's toy against the backdrop of one of the world's busiest harbours has proved irresistible for media outlets, and images of the duck have popped up across the internet. Companies would no doubt have paid a lot of money for the chance to stamp their brand on the side of the 16.5-metre-tall sculpture.
But Hofman turned down all requests. Not even the name of shopping mall Harbour City, which commissioned the project, gets a special mention.
The only commercialisation involved is the release of 1,000 "mini" versions of , which are being sold to raise funds for Joyful (Mental Health) Foundation, a charity devoted to helping people with mental illness.
Hofman is no stranger to corporations pressuring him to market the duck. The sculpture made its debut at the Estuary biennale in St Nazaire in France in 2007. Two years later, he took it to Aqua Metropolis Osaka in Japan. He was asked to create a version that could be taken out of the water and placed on the rooftop of Hyogo Prefectural Museum of Art in Kobe. But Hofman's response was, "No. You can't have it."
Instead, the museum commissioned him to create another work, which became the 10-metre tall (2011). A celebrated musician also asked Hofman to let him feature the duck in one of his shows, but he again declined. But he agreed to partner with Harbour City because "they obey [my] rules".
"I'm a principles guy. Otherwise, you will kill yourself," says Hofman, who began his artistic career in the early 2000s. "I only work on things I believe in. I never make sacrifices, otherwise you could be in advertising."
Hofman hopes the sculpture evokes joy, love and peace by reminding people of childhood memories. But he also has a wider aim.
"I kidnap public space for a while … [The artwork] changes the volume of a public space. I really want people to look, to see public space from a different perspective," he says. Hofman has reasons for requiring his works be produced locally. Besides passing on the know-how to a local team so they can repair the work if something goes wrong, the production process often unites people in a different way.
"Work global, act local. There's an adoption [of the project] and [the local team] can be proud of what they have made," Hofman says.
The sculpture was made by a local ship building company, says Lam Shu-kam, creative director of AllRightsReserved, Hofman's local partner, which handled the production and logistics of the project, including securing government approval for using the harbour.
"When we commissioned a boat company to do the project, they were very reluctant in the beginning, because compared to building a ship, this is a very small project. But after the project was finished and we asked them to take group pictures, the team, the labourers, were very proud of it," Lam says.
Hofman likes that his works exist only temporarily, insofar as they do not end up in the hands of wealthy private collectors or people who buy art solely as an investment. "I'm not a big believer in 'art is forever'. A lot of art is bought by people who have money. But I'm a supporter of public art in public spaces. Art in public spaces is meant for everyone," Hofman says.
Does that mean he's against the art market? After a long silence, he says: "I guess I am. This is a very difficult question. It's like peeing in your own nest. That's not the thing I would like to do."
Hofman is extremely pleased with the overwhelming response his sculpture has received in Hong Kong.
will stay in the harbour until June 9. "It's a warm bath. Hong Kong feels like a warm bath to me. The attention is amazing," Hofman says.
Florentijn Hofman
36
Art college, masters, Interdisiplinaire kunsten, Berlin-Weissensee, Berlin, 2001
, Nijmegen, the Netherlands, (2011); Estuary biennale, inflatable , St Nazaire, France, (2007); , 3 pianos, wood, Schiermonnikoog, the Netherlands (2006)
This article appeared in the South China Morning Post print edition as: You can't play without setting rules