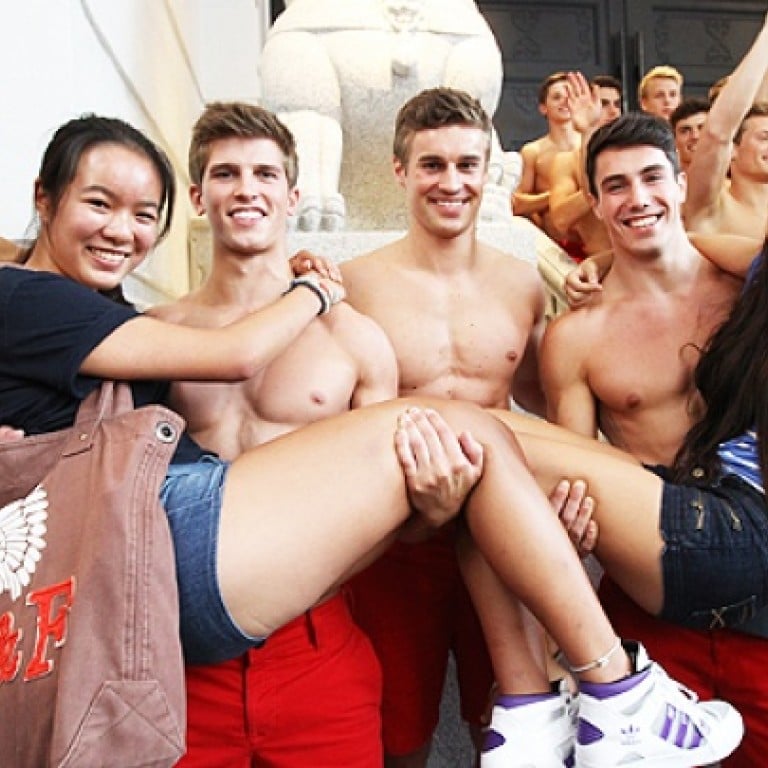 Abercrombie & Fitch CEO Mike Jeffries under fire for 'harmful' anti-plus-size policy
American retailer Abercrombie & Fitch CEO Mike Jeffries came under fire on Thursday from a Hong Kong health expert after a writer claimed Jeffries "doesn't want larger people shopping in his store".
The comments made by Robin Lewis, co-author of , and CEO and Editorial Director of The Robin Report, to on Wednesday have reignited the furore around Jeffries, who is no stranger to controversy when it comes to plus-sizes for women. Those who frequent the retailer will find that A&F – which has a branch in Central, Hong Kong – doesn't carry XL or XXL in women's sizes.
Jeffries, Lewis said, "doesn't want larger people shopping in his store, he wants thin and beautiful people, and he doesn't want his core customers to see people who aren't as hot as them wearing his clothing. People who wear his clothing should feel like they're one of the 'cool kids'.
"The only reason Abercrombie offers XL and XXL men's sizes is probably to appeal to beefy football players and wrestlers," Lewis, a professor at the Graduate School of Professional Studies at The Fashion Institute of Technology, added.
Dr Daniel Ho Sai-yin, an associate professor at the University of Hong Kong's Department of Community Medicine, branded the comments "harmful". He said: "I wish the company would be more sensitive to the feelings of people who are not their target customers.
"Direct and indirect weight criticisms could be harmful to psychosocial health."
H&M, Forever 21, and American Eagle, A&F's main competitors, all have plus-sized sections; it feels strange that A&F is going in the opposite direction, limiting their sizes from XS to L.
But Jeffries is adamant. In a 2006 interview with Salon, he made it clear that he did not want overweight women in his stores. "Candidly, we go after the cool kids. We go after the attractive all-American kid with a great attitude and a lot of friends. A lot of people don't belong [in our clothes], and they can't belong. Are we exclusionary? Absolutely."
Along with refusing to sell to larger people, he also has a discriminatory hiring policy, which has been challenged on several occasions. A company e-mail revealed the presence of a "measuring system" for employees: they were ordered to perform military-style exercises while at work so that they would stay "thin and beautiful". If the employees failed to meet the standard, they would be "punished" with extra squats and pushups.
Jeffries doesn't deny it. "It's… everything. That's why we hire good-looking people in our stores. Because good-looking people attract other good-looking people, and we want to market to cool, good-looking people. We don't market to anyone other than that."
He went on to boast, "Those companies that are in trouble are trying to target everybody: young, old, fat, skinny. But then you become totally vanilla. You don't alienate anybody, but you don't excite anybody, either."
The Behavioural Risk Factor Survey, published April last year by the Hong Kong Government's Department of Health, stated that 36.7 per cent of the population aged 18 to 64 are classified as overweight or obese, including 18.8 per cent as obese. If the unknown/missing/outlier group is excluded, the prevalence is 37.6 per cent. In the United States, the number is much higher, at 67 per cent.
A study conducted by Ho and his colleagues in 2009 elaborates on some of these harms. Perceived fatness and incorrect weight comments predicted psychological health problems, which were confirmed at a follow-up a year later to be headaches, feelings of stress, and feelings of depression. Ho and his colleagues suggest that social contacts, peers, and family members need to be aware of the potential adverse effects of their weight comments.
With such a large percentage of people in the plus-sized demographic, can A&F really afford to ostracise this group?
In 2011, controversy also arose when A&F offered money to the cast to have its brand removed from the show.