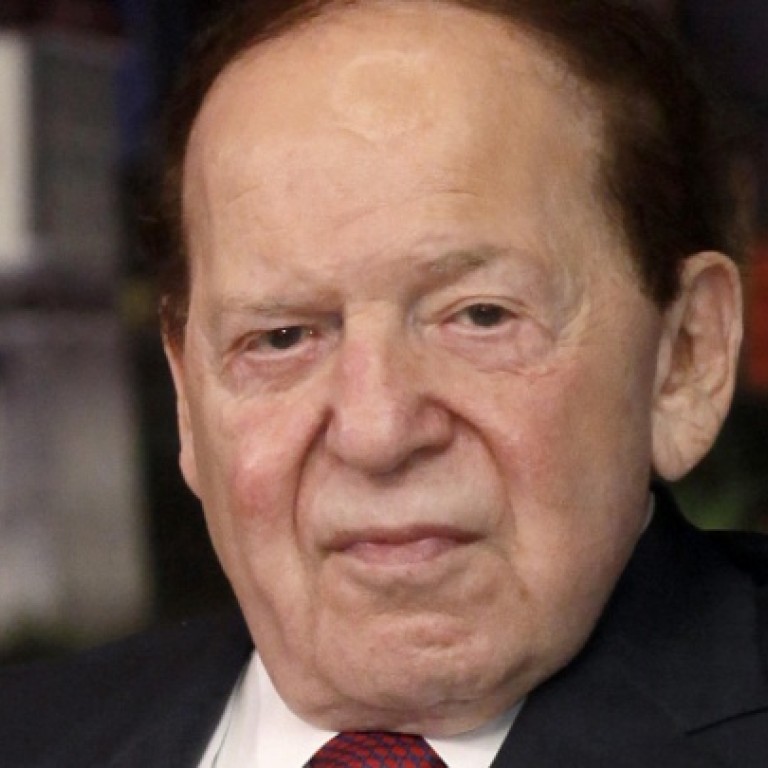 Sands denies Beijing gave help on Macau casino license application
Firm controlled by billionaire Sheldon Adelson rebuts claims leadership smoothed licence deal
A lawyer for Las Vegas Sands Corporation said the Chinese government had no part in the awarding of gaming licences in Macau for the casino operator controlled by billionaire Sheldon Adelson more than 10 years ago.
The attorney, Richard Sauber, told a Las Vegas jury on Friday that it was "inconceivable" that Chinese leaders violated the Basic Law - which guarantees Macau autonomy in its internal affairs - and "reached down" to make sure Las Vegas Sands got a gaming licence.
Sauber made his closing arguments in the trial of a suit in which Richard Suen, a Hong Kong businessman, has sought US$328 million in damages over claims that the company did not honour a promise to pay him for his help with licensing.
Suen claims that meetings he arranged for Adelson with Chinese officials in 2001 were instrumental in Las Vegas Sands' selection by Macau in 2002 as one of the companies that could operate casinos in the former Portuguese colony.
"I'm not sure what Mr Suen's claim is," Sauber told the jury at the end of the five-week trial in Nevada state court.
"I'm not sure how this meeting did what he signed up to do, deliver a licence."
Suen, 60, claims the meetings he and his associates arranged with Chinese Vice-Premier Qian Qichen , and Beijing Mayor Liu Qi , created the goodwill that led Edmund Ho, the Macau chief executive, to make his decision.
Suen's lawyers made their closing arguments earlier.
Sauber said the vice-premier, one of the principal authors of the Basic Law, would not have violated it and undermined chief goals of Chinese policy based on a 40-minute meeting with the Sands boss.
"China has left Hong Kong alone," he said. "China has left Macau to make its own decisions."
Las Vegas Sands gets about 58 percent of its annual revenue from its Macau business.
Suen's lawyer John O'Malley told jurors on May 9 that his client, a friend of Adelson's younger brother Lenny Adelson, alerted the Sands chairman in 2000 to the possibility that the Macau government would end the gambling monopoly held by Stanley Ho and award concessions to foreign casino operators.
"The true story is that Mr. Suen got them that licence," he said yesterday.
This article appeared in the South China Morning Post print edition as: Casino operator denies Beijing gave licence aid