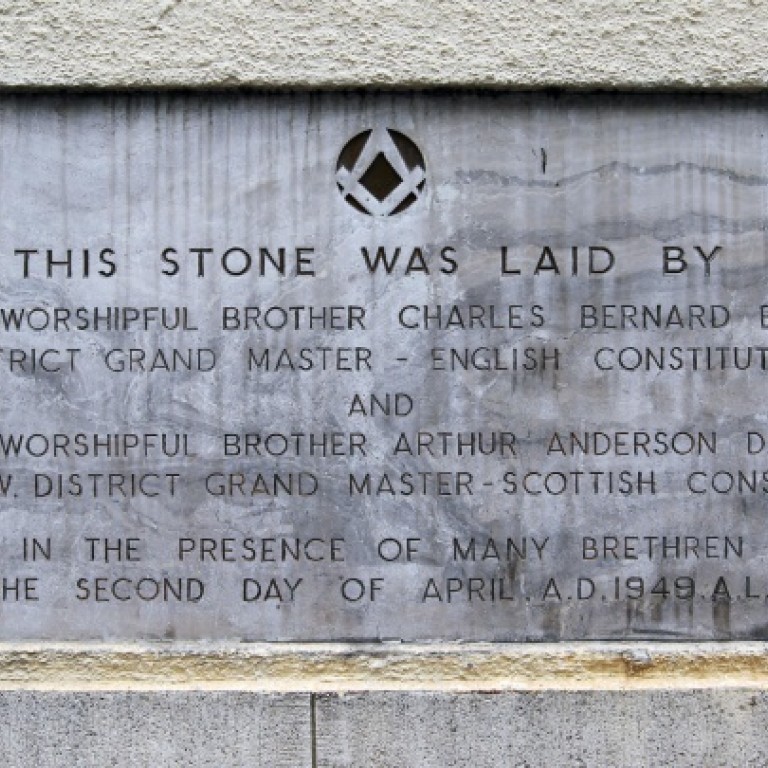 Assault trial of Freemason in 2012 'unusual'
Janitor was cleared of abusing secretary in 2012 case that legal figures say was tinged with the perception of an 'old boys' network
The conduct of Freemasons in Hong Kong has come under renewed scrutiny after senior legal figures questioned the handling of alleged indecent assaults by a member at their Zetland Hall headquarters in Mid-Levels.
Two weeks after the reported on accusations of a cover-up surrounding the theft of HK$500,000 from the hall, concerns have been raised over the 2012 trial of a Mason, with the chief prosecutor calling it "unusual".
The defendant, a janitor at the hall, was accused of assaulting a secretary but was acquitted after a three-day trial.
But lawyers consider it odd that a key prosecution witness worked alongside the man in the run-up to the trial, and that he was represented by two lawyers mentioned in Masonic documents as members.
Puja Kapai, deputy director of the Centre for Comparative and Public Law at the University of Hong Kong, said there was no need to prove conspiracy for damage to be done.
"If people feel there is an old boys' network within the legal profession, the justice system has already failed them," she said.
The Freemasons are an international brotherhood founded in medieval times whose members have included kings and presidents. The more than 1,000 Masons in Hong Kong include senior government officials, judges, lawyers and policemen. Critics say their loyalty to each other can clash with the public interest.
The defendant, in his early 60s, was charged with three counts of indecent assault in September 2011 after allegedly attacking the 25-year-old secretary at Zetland Hall. She resigned from her job not long after.
The janitor is a high-ranking brother, according to meeting minutes seen by the Zetland Hall trustees decided "there was no need to suspend him".
A key prosecution witness in the trial was a fellow employee, and the minutes name both the janitor's lawyers as members. One of them did not deny it and the other refused to comment.
Kevin Zervos, the director of public prosecutions, when asked about the janitor's case, said there seemed to be "a fair degree of rallying around the defendant".
"In situations like this when parties belong to an organisation, it is difficult to police that," he said.
"We cannot do any more than make sure appropriate mechanisms, such as bail conditions, are in place to prevent improper conduct."
A barrister, who preferred to remain anonymous, said after assessing the case: "Failure to segregate a prosecution witness from a fellow employee charged with a serious criminal offence poses an inevitable risk."
One of the janitor's lawyers defended their actions: "This chap already suffered enough, and he was acquitted. As a lawyer, it doesn't matter whether someone is a member of a triad or a racist or a child molester. Does it matter if it's another Mason?"
The janitor refused to comment and the secretary could not be reached.
David Fok, a solicitor who oversees Freemasonry in Hong Kong as district grand master, said: "Freemasons are supposed to be obedient and part of that obedience includes acquiescence to all actions passed by a majority of the brethren."
Some members say leaders should be held accountable.
"The current leadership has failed to acknowledge their obligations in a civilised and just society," said a member.
"One must ask if it is appropriate for Freemasons not to declare potential conflicts of interests."
[Correction: The headline and summary in an earlier version said the trial was in 2011. It was in 2012. The error was introduced during editing.]
This article appeared in the South China Morning Post print edition as: Assault trial of freemason 'unusual'