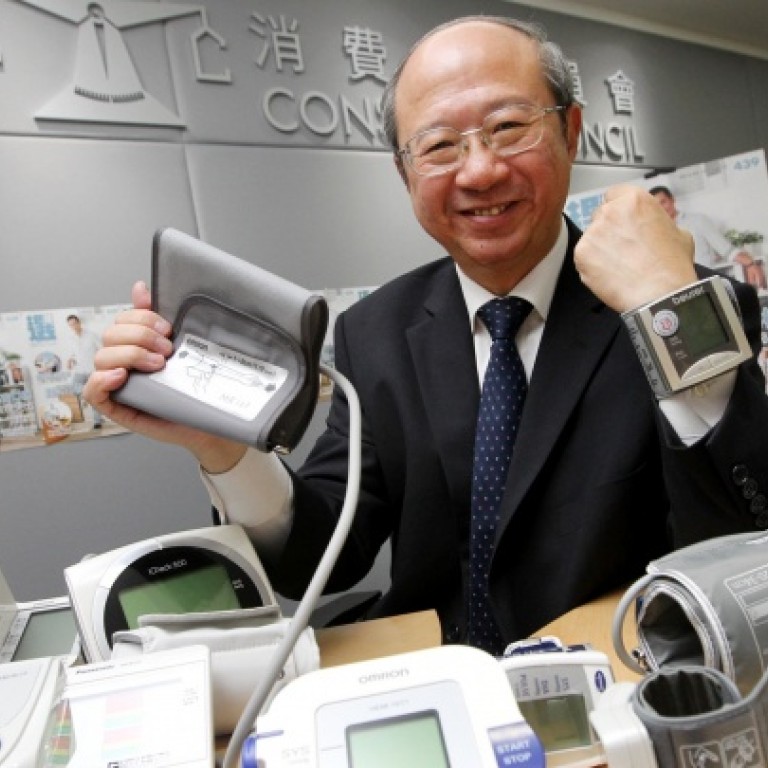 Home blood pressure monitors may not be accurate: Consumer Council
People who use home blood pressure monitors may be getting the wrong idea about their health, the Consumer Council warned yesterday after testing a range of electronic monitors.
Of 27 models tested in a two-year study - 21 upper-arm models and six wrist types - the readings were rated "very accurate" less than 60 per cent of the time.
A total of 1,002 patients at Queen Mary and Tung Wah Hospitals took part in the study, which was co-ordinated by the University of Hong Kong's cardiology department.
Each upper arm model was tested three times by 33 patients to produce 99 sets of readings while each wrist model was tested by 15 patients to produce 45 sets of readings.
The readings were then compared with those obtained from a mercury blood pressure monitor, a device usually used in clinics and thought to be more accurate.
Both systolic pressure - exerted when the heart is beating - and diastolic pressure - when the heart is relaxed - were studied.
For upper-arm models, "very accurate" readings - differing less than 5 millimetres of mercury from the mercury monitor's readings - were obtained on 55 occasions for systolic pressure and 59 for diastolic.
The better models included Omron Intellisense HEM-7011, Micro Life BP 3BM1-3P and Mannings BPM I series. Wrist models had poorer performances, with "very accurate" readings in only 21 out of 45 measurements.
"Using inaccurate blood pressure monitors makes it difficult for patients to … check the effectiveness of hypertension medicine," said the council's chief executive Gilly Wong Fung-han.
The city has no law to control the import and sale of such medical devices here.
This article appeared in the South China Morning Post print edition as: Home blood pressure monitors 'may not be accurate'