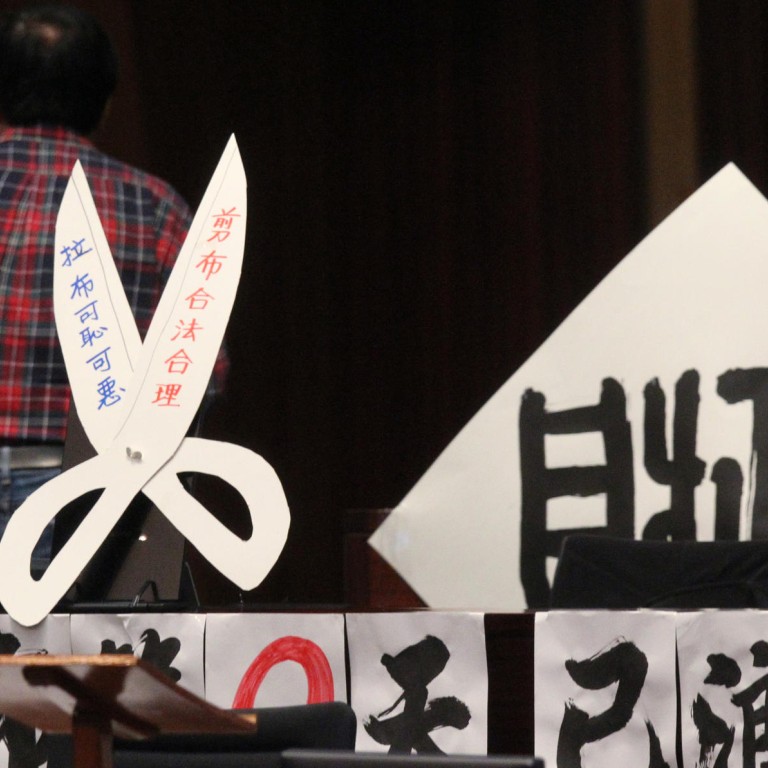 Filibuster brings opportunity to think outside box
Out politicians must find new ways to deal with balancing interests and meeting demands
The Chinese equivalent of "filibuster" is , meaning "stretching the cloth". This translation gives an image of fluff and flannel, not exactly the stuff of gravitas.
Yet, nothing could be more serious than filibustering, which acts like a safety valve, allowing minority voices to be heard. Filibustering, like a political pulse, is often an outward sign of an inner malaise.
This is particularly so in a semi-democratic Hong Kong, where those with executive power do not have a mandate from the people; and those with the mandate do not have the power - hence, the deep-seated conflict and dilemma.
Four legislators from People Power and the League of Social Democrats decided to use the debate on the Appropriation Bill 2013 to filibuster if that was what it would take to get what they wanted.
What they wanted was essentially the government's commitment - or at least a timetable or a road map - to a universal pension scheme. And as the treasury was flush with cash, they also asked also for a handout of HK$10,000 per person. A tall order, in any language and in any place.
They prepared hundreds of motions. Always eloquent, often humorous and sometimes quizzical, they radiated a collective conviction. Relay fashion, they gave mouth-to-mouth resuscitation to each head and sub-head of expenditure, long taken as read or dead. They stood each item on its head.
While this was going on, the financial secretary refused, with conventional wisdom, to let his budget be used as a bargaining chip in any negotiation. He stood firm and did not budge an inch from his entrenched position.
However, he also warned if the filibustering went on beyond mid-May, fiscal havoc would prevail and the community would suffer.
The Legislative Council president was placed in a predicament, wedged in by filibusterers and quorum busters on the one hand and, on the other, by calls for him to use his discretionary powers to terminate filibustering, thereby catching and saving the budget from the brink of the fiscal cliff.
On Monday, the president announced his decision to axe filibustering the very next day.
While some legislators welcomed this announcement as timely, others denounced it as compromising the independence of the legislature, suspecting his decision was nothing but a move to dovetail with the wishes of the chief executive.
Balancing interests and meeting demands are always difficult issues.
However, it is beholden to those in the corridors of power to think outside the box with open minds and a real understanding of politics so as to find new ways to deal with difficulties.
To paraphrase the famous words of Renaissance philosopher-politician Machiavelli, politics is simply the ability to see there is no difference between obstacle and opportunity. The important thing is to use both.
This article appeared in the South China Morning Post print edition as: Filibuster brings opportunity to think outside box