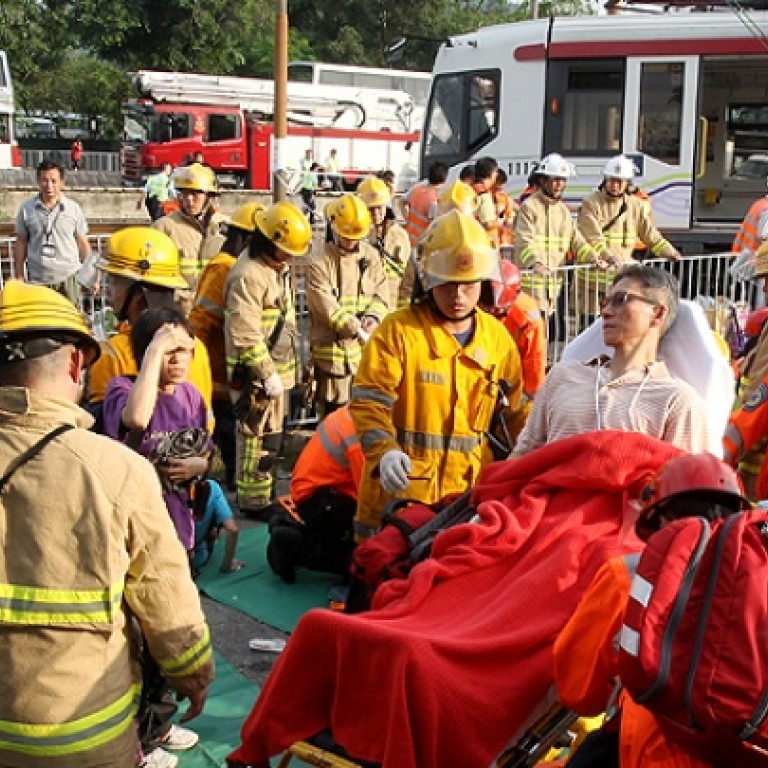 Baby among 77 injured after train derails in Tin Shui Wai
Six-month-old baby among the 77 injured, four seriously, in worst derailment in service's history
More than 70 passengers were injured when a light-rail train left its tracks in Tin Shui Wai, Yuen Long, on Friday.
It was the most serious derailment in the 25-year history of the transport system essential to the northwest New Territories.
Both of the train's two carriages, which were carrying more than 150 passengers, derailed at about 4.15pm as it made a turn of nearly 45 degrees from Kiu Hing Road to Castle Peak Road.
The 77 injured people, aged between six months and 70 years, were taken to five hospitals.
Four were in serious condition. Some were on stretchers and wearing neck braces while one had fainted.
Police investigating the cause said they did not rule out mechanical problems or human error, while an engineer and pas-sengers said the train may have been travelling too fast.
"I only remember the train was moving at a high speed when making the turn – it almost fell over," said one passenger.
The rear car of the route 761P train from Hang Mei Tsuen to Tong Fong Tsuen stations in Tin Shui Wai pushed up the front one in the incident, causing it to tilt to the right. Both sets of wheels on the front car and one on the rear car left the tracks.
One set was detached and stood vertically between the two cars. Windows were smashed while electric wires were toppled after the train hit a power pole.
"We didn't dare touch the metal handrails for fear of getting an electric shock," said one passenger.
The MTR Corporation, which runs the light rail system, said last night that it viewed the accident with "grave seriousness" and was "most concerned" about those injured and affected.
It said it would check the black box records on the train to help determine what happened.
A spokeswoman confirmed that the two carriages were assembled by a subsidiary of CSR Corporation, the state-owned manufacturer of the two trains that crashed in the mainland city of Wenzhou in 2011, killing 40 people and injuring 200.
Services on five routes be-tween Hang Mei Tsuen and Yuen Long terminus were suspended. Free shuttle buses were provided.
The MTR Corp said the train, its latest model, had been in service for just over a year.
Professor Lo Kok-keung, of Polytechnic University's department of mechanical engineering, said the accident could have been caused by speed, with the rear car failing to slow down as the front car made its turn.
The system, which recorded 12.7 million rides in February, has experienced at least four derailments in the past decade, with seven accidents since 2008. It was hit by problems in its earliest days when the colonial government postponed its scheduled opening in August 1988 after a series of accidents during trial runs.
This article appeared in the South China Morning Post print edition as: Scores hurt as light-rail train runs off the track