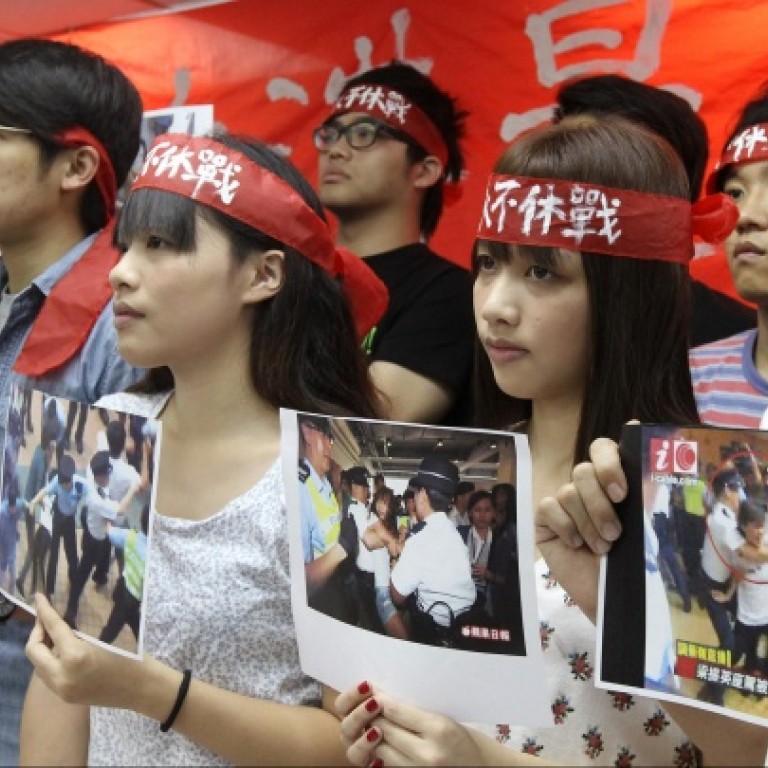 Student protesters accuse police of abusing powers
Protesters say they were forcibly removed and a woman was grabbed from behind by policeman
Student protesters who were forcibly removed from a Tseung Kwan O college by police on Thursday condemned officers for abusing their power.
They also complained about how male officers handled females. One said she felt "uncomfortable and offended" when a policeman grabbed her from behind, touching her breasts.
More than 20 students staged a sit-in for universal suffrage at the Caritas Institute of Higher Education when Chief Executive Leung Chun-ying officiated at the opening ceremony of an international seminar. They said officers forcibly removed them before and after the ceremony.
Leung in a statement last night said it was too chaotic for him to receive a petition that day.
Female demonstrator Ho Kit-ming said a male officer grabbed her from behind as she tried to approach Leung's departing car.
"When I learned that it was a male officer, I felt uncomfortable, offended and harassed," she said.
She questioned why she was not removed by a policewoman, as there was one watching nearby. Ho said the policeman who grabbed her had breached police guidelines, and other females were removed by male officers.
Undersecretary for Security John Lee Ka-chiu said police had a guideline on how officers should handle opposite-sex protesters. He said police "must have obeyed laws and rules" and used minimal force. "Every situation is different," he said. "We must allow police officers at the scene to make their own judgment and take the necessary action."
Students said police officers, Leung's bodyguards and some unidentified black-clothed men pushed them to the ground, dragged them out to the road and removed them with force even when they were demonstrating peacefully. Hong Kong Federation of Students council chairman Chan Man-fai said his right foot was swollen after it was stepped on four to five times after he was pushed to the ground.
Officers accused the students of unlawful assembly and took their details. A police spokesman said they had breached the peace by blocking Leung's car and occupying the road. They were removed after repeated warnings. Anyone who felt they were mistreated could lodge a complaint.
Student federation secretary general Eddie Chan Shu-fai said they were surrounded by police barricades when they wanted to leave after the protest. He said they would seek legal advice on whether this was illegal detention. He said the ordinance did not apply to private places and to protests of fewer than 30 people. He demanded an explanation and apology from police by Sunday, or they would consider filing complaints and further action.
This article appeared in the South China Morning Post print edition as: Police accused of abusing their power