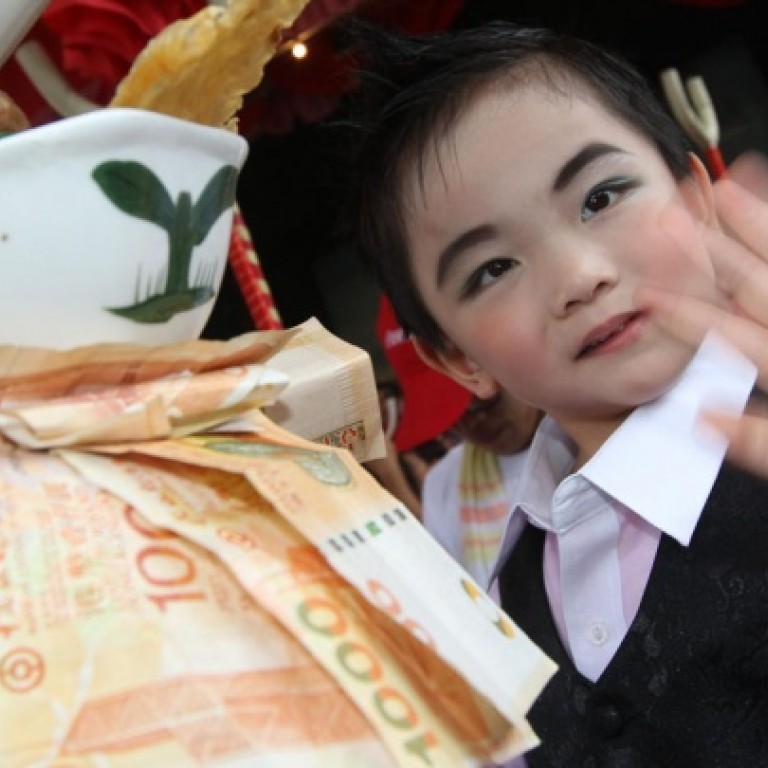 Tong the target at Cheung Chau Bun Festival parade
Former ICAC head is mocked along with a few other political figures in the annual procession on Cheung Chau, which draws 32,000 people
A float mocking the embattled former ICAC boss was the centrepiece of yesterday's Cheung Chau Bun Festival parade.
But the annual tradition of sending up political figures may have seen its last incarnation, with the island's sole float-maker announcing his retirement.
Tens of thousands of Hongkongers and tourists turned out for the Piu Sik (Floating Colours) parade and bun scrambling competition, undeterred by the unpredictable weather. Rain began to fall at 2pm, just as the parade was about to start, but soon gave way to sunshine.
The main attraction was the float by Wong Sing-chau mocking former graft-buster chief Timothy Tong Hin-ming, currently the focus of three investigations over spending during his five-year tenure.
At the top of the float, supported by a network of metal bars, was a three-year-old boy impersonating Tong. A young girl, who appeared to be standing on top of him, was Tong's female partner, whose identity, Wong said, was open for guessing. Several girls danced behind the float, carrying fans with the Chinese characters for anti-corruption on one side and greed on the other.
Wong decorated the float with, among other items, a bowl of dried seafood and a bottle of wine - references to Tong's alleged expensive gifts of meals and wine to mainland officials - and eight HK$1,000 notes. "They should have given the money to the public instead of spending it on corruption," Wong, 69, said. Wong is an iron smith who has been making the traditional structures of metal bars the floats use for the past half century.
"Many neighbours asked me not to retire. I am a bit moved. I was determined to retire at first, but now it's 80 per cent."
Future parades may have to recycle old supports if Wong steps aside. He enjoys using the event to poke fun at political figures, which are seldom seen on other floats in the parade.
Other public figures who were lampooned were Chief Executive Leung Chun-ying and Chief Secretary Carrie Lam Cheng Yuet-ngor. Their float was decorated with Leung's campaign slogan "one heart". Other floats celebrated Olympic cycling medalist Sarah Lee Wai-sze and health-care professionals who were the heroes of the 2003 Sars outbreak.
Wong had planned for children to give out cookies to the officiating guests, including Lin Wu, deputy director of the central government's liaison office in Hong Kong. Tong was alleged to have given cookies as gifts to mainland officials. But in the end, only mini rubber ducks were given out during the parade, which Wong said was to avoid embarrassment. Lin sidestepped the political controversy, saying: "Most of the themes for the floats were about traditional culture; I couldn't see a lot of them mocking the SAR government."
Meanwhile, the midnight bun-scrambling contest was won by Kwok Ka-ming for a fifth time in the men's category, and Wong Ka-yan in the women's. She also won in 2010.
Between 8am and 5pm, 32,000 people travelled to Cheung Chau via ferry, up 13 per cent from last year.
This article appeared in the South China Morning Post print edition as: Tong the target at island parade