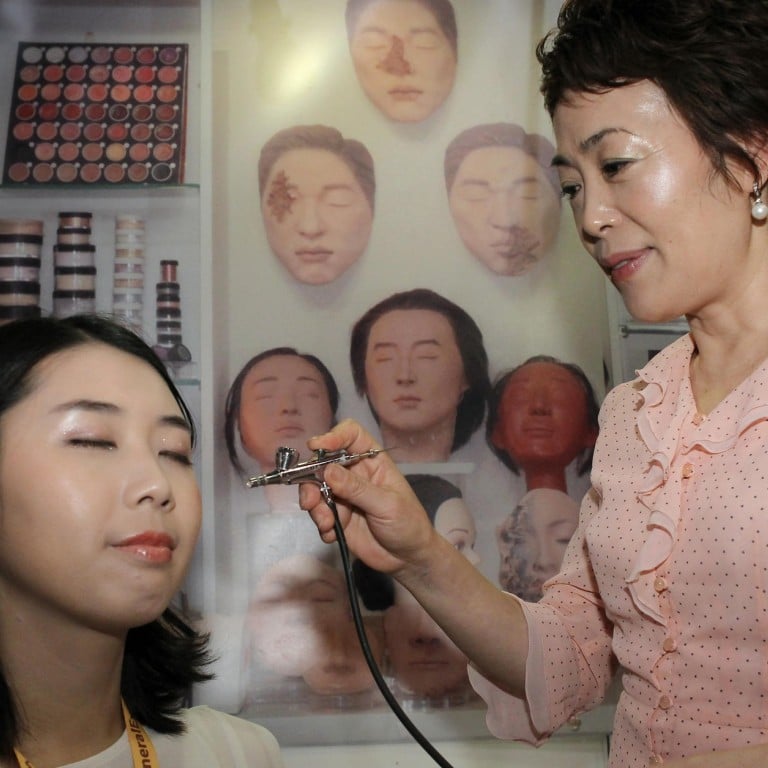 Make-up artist helps give departed a beautiful ending
South Korea's Lee Jong-lan defines her clients as those who are breathing and those who aren't
Lee Jong-lan has made up the faces of some of South Korea's greatest living superstars, but these days her clients are as likely to be dead.
Since joining the make-up industry, Lee has pampered the appearances of countless artists, including singer Kwon Bo-ah, who performs as BoA, and actor Song Seung-hun.
But after she worked on the face of a relative who died in 2001, she took up funeral art professionally and in 2010 founded the Korea Funeral Make-up Association, the only such organisation in the country.
"The only difference is that one person is breathing and another is not," Lee said with a laugh, though she admitted that making up the dead often involved extra work, such as reconstructing an accident-damaged face and covering scars and discoloration with opaque paint.
"I want to combine the two to make funeral make-up more natural and beautiful," she said during a visit to attend the Asia Funeral and Cemetery Expo and Conference in Wan Chai last week.
Lee recalled how, after working with her deceased relative, she went on to teach the skill in universities. She founded the association and established a professional qualification system.
Students are taught make-up, funeral services, colour schemes, hygiene and feature restoration.
"Unemployment was a problem in South Korea. Funeral make-up would create more job opportunities for make-up artists," she said.
While beauty make-up could be wild and dramatic, funeral make-up put more emphasis on a natural look, she said.
The most important thing was to make the deceased look as much like they were in life as possible so their families can bid them farewell with ease, she said. "When the families see the body, even when they are sad, they are surprised by the good looks."
Colouring can be especially challenging. "The blood flows to the back of the head, so the face appears to be yellow or green."
The skin is also very cold and moist after emerging from the mortuary freezer and "it's not easy to paint".
A good sense of colour was required to make the face look natural, Lee said.
If the body colour is very blue, the make-up artist applies yellow, the contrasting colour. In her case, Lee prefers using an airbrush to apply mixed colours little by little.
It is also essential to look at pictures of the deceased to see how they used make-up themselves.
One of the most emotional moments over the years was working on an 18-year-old girl who had jumped off a building. "I also had a daughter who was then 18 years old … I felt like her mother," she recalled.
After dressing her in a formal outfit, Lee crowned the girl with flowers, added feathers to her collar and applied light make-up.
"She looked as though she was sleeping. Her family said 'wake up'," Lee said.
"Everyone deserves a beautiful ending," she said, reciting the line she has made her motto.
Although working with the dead may not be a profession many people would think of, Lee values her job highly.
"Life and death are two sides of a coin," she said. "Death is in our lives. We can make the last moment of somebody very beautiful … It's a small part of the industry but there is big potential."
She continues to do both kinds of make-up as she sees no conflict in beautifying both the living and the dead. The stars she serves are not concerned, either.
"They want me to do [funeral make-up] on them and their family members when their time comes," she said.
This article appeared in the South China Morning Post print edition as: Make-up artist helps give departed a beautiful ending