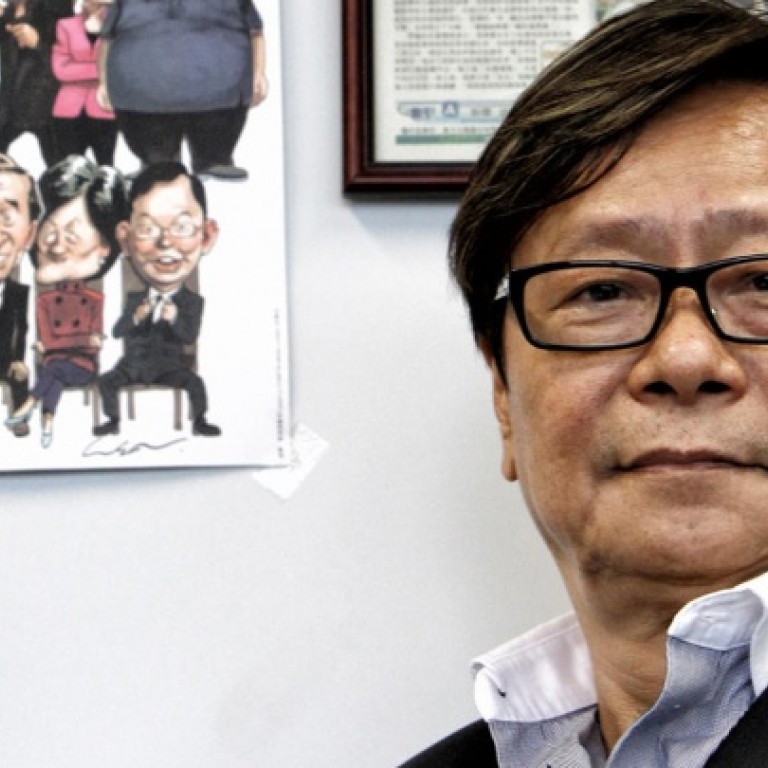 People Power feels 'Mad Dog' Wong Yuk-man's bite
Maverick announces political group is joining him in quitting radical movement as he stands firm on 'one man, one vote' rule of democracy
The extent of the rift within the radical People Power association emerged yesterday as lawmaker Wong Yuk-man, who quit the group on Monday, revealed that affiliate group the Proletariat Political Institute will go independent with him.
Wong, nicknamed "Mad Dog", said plans by People Power to persuade him to change his mind were useless after the group did the "unacceptable" and deviated from its founding manifesto on direct democracy.
The maverick lawmaker pledged to focus on strengthening the Proletariat Political Institute, which he founded, adding he would not be forming any new political alliances.
Christopher Lau Gar-hung, chairman of People Power, said the news was a blow to the city's radical pro-democracy movement. The Proletariat Political Institute was one of three groups within the umbrella organisation, which was founded in 2011. The two remaining groups are Power Voters and The Frontier.
Wong told the the group was divided over universal suffrage, with some members supporting a nominating committee - as written into the Basic Law - for candidates hoping to stand in the 2017 chief executive poll. He remains fiercely opposed to this.
"In our manifesto, it is in black and white - the people's right to draft our own constitution, with no screening mechanism.
"With a nominating committee … it will be an indirect democracy [and that] is unacceptable, even if the panel was elected by one man, one vote," he said.
Wong dismissed People Power lawmaker Albert Chan Wai-yip's suggestion that his decision was part of a "personal feud". "I never engage in those things," he said.
Yesterday morning, Chan said People Power would hold an executive committee meeting today to call for a motion urging Wong to retract his resignation.
But Wong said: "I won't consider it … I shouldn't waste my time and effort on it."
He argued that since his political stance could not be altered, his departure from People Power was unlikely to deal any blow to the movement. He added: "Co-operation [with People Power] is still possible in the legislature on particular issues."
Wong, 61, graduated from the Taiwan-affiliated Chu Hai College with a master's degree in history. He first made his name in the early 1990s when he co-hosted Asia Television's controversial and hugely popular programme .
He savaged pro-Beijing "running dogs" and politicians who "blow with the wind" until the show was axed after 64 episodes in 1994, allegedly under pressure from the mainland authorities.
In 1990, he used his entire savings - HK$500,000 - to launch magazine, but it closed down within two years and left him heavily in debt. Undaunted, he dug deep again to start in 1996, which turned into in 1997.
That, too, failed, and another blow awaited him with huge losses clocked up by his y online newspaper - he sold it for a loss in 2001 when the dotcom bubble burst.
While his businesses were failing, his popularity hit a peak in the mid-1990s - he hosted two weekly shows for Commercial Radio; had three weekly slots on RTHK, both on television and radio; and appeared on prime-time TV at least once a week.
In 2006, a year after Commercial Radio terminated his contract, he co-founded the League of Social Democrats with activist "Long Hair" Leung Kwok-hung and Albert Chan.
Two years later, he won his Legislative Council seat. Two months later, he threw a banana at Donald Tsang Yam-kuen as the then-chief executive was giving his policy address.
Since then, the political surprises have kept coming.
This article appeared in the South China Morning Post print edition as: People Power feels Mad Dog's bite