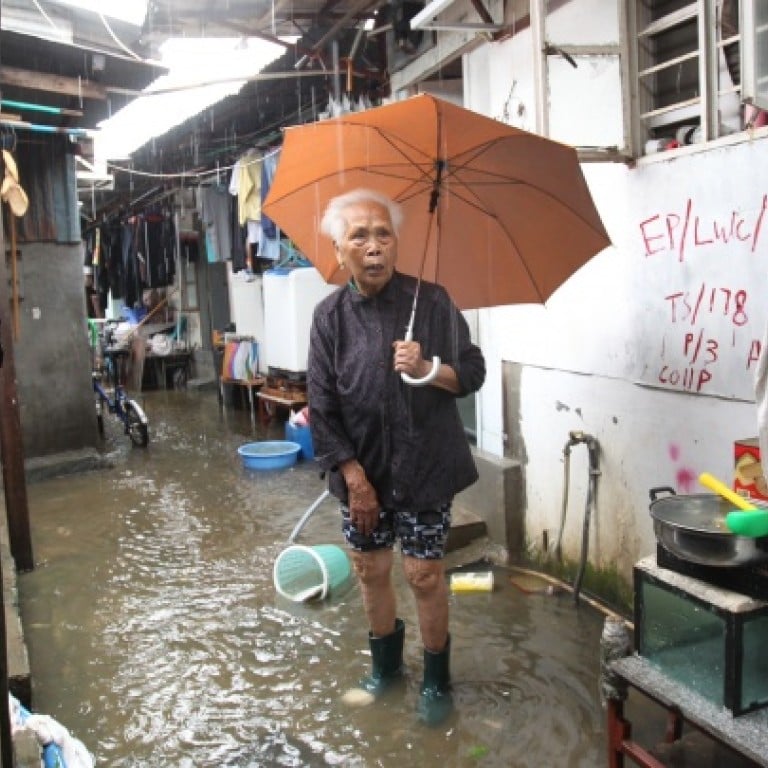 Clean-up starts after severe rainstorm hits Hong Kong
The Hong Kong Observatory lowered all rainstorm warning signals at 10.30am on Wednesday, after landslides and flooding were reported earlier.
Rain and thunderstorms continued across Hong Kong on Wednesday afternoon after the first black rainstorm warning since 2010 was lifted.
More than
18,000 lightning strikes
were reported over the territory on Wednesday morning, according to Hong Kong Observatory.
SCMP.com readers captured dramatic pictures of lightning strikes across the city, while children enjoyed a day off school due to the bad weather.
The black rainstorm warning, along with flooding alerts that had been issued in the early hours of the morning, were lifted at 10.30am, although rain continued to fall.
The
Observatory
forecast continued squally thunderstorms, heavy at first, with moderate southwest winds and gusts reaching up to 70kmh.
More than 150 millimetres of rain was recorded in many parts of the territory on Wednesday morning, with over 200mm at Tseung Wan O.
A total of 24 street flooding reports were made and seven landslides were recorded, including at Central, the Peak and Tseung Wan O.
This time lapse video posted on Tuesday shows Lamma Island in the eye of the storm
All schools and kindergartens were closed for the day, while courts and tribunals resumed their hearings for the afternoon sessions and hospitals opened their doors at 2pm.
Hong Kong Exchanges and Clearing Limited (HKEx) announced that trading in the securities and derivatives markets would resume from 1pm.
Despite the heavy storm, the website of the
Hong Kong International Airport
showed few flight cancellations as of 8.50am, apart from an 8.30am Air China/Cathay flight bound for Beijing. Some inbound and outbound regional flights suffered delays of up to two hours.
[Video, sent in by reader Chris Knop, of flooding from a construction site on Caine Road in Central.]
The Observatory said the bad weather would ease off later Wednesday and the forecast for Thursday was mainly cloudy with showers.
A special announcement posted on the website of Hong Kong International Airport stated: "Due to inclement weather and air traffic flow control around Hong Kong, flight / ground operations may be affected. Passengers are advised to contact their airlines, check with the airport's website or the flight information display screens for the latest flight information."
The judiciary said all hearings at courts and tribunals would resume on Wednesday afternoon. Those due to attend court hearings on Wednesday morning, including the jurors, should do so at 2.30pm.
Train services at MTR Tseung Kwan O line from Quarry Bay to Yau Tong was temporarily suspended due to signal problems, but normal services resumed at 9.20am.
The Immigration Department has also suspended public services.
By Wednesday afternoon, workers were cleaning up roads covered by mud and rocks unleashed when heavy rain struck the city earlier in the day.
In one place in Kwun Tong, 1,000 cubic metres of mud and rocks had rolled down from a hillside construction site, covering a large area of a road beneath and disrupting bus services.
No injuries were reported in this case, but it has forced the closure of Lee On Road and nearby areas.
The Civil Engineering and Development Department said it would take at least one day for workers to remove the mud and re-open the affected roads.
Michael Chang Mein-kai, a senior engineer from the department, said workers would continue to clean the road overnight. They would also carry out enhancement works to the slope in order to prevent further mudslides.
He said the construction site was one for building retaining walls and drainage improvement works on a slope.
The department said it received 19 reports of mudslides after torrential rains struck the city on early Wednesday. A black rainstorm – the most severe level — was issued by the Observatory at 4.10am and remained in force until 9.45am.
No injuries were reported in the landslides.
Send your weather photos to [email protected]