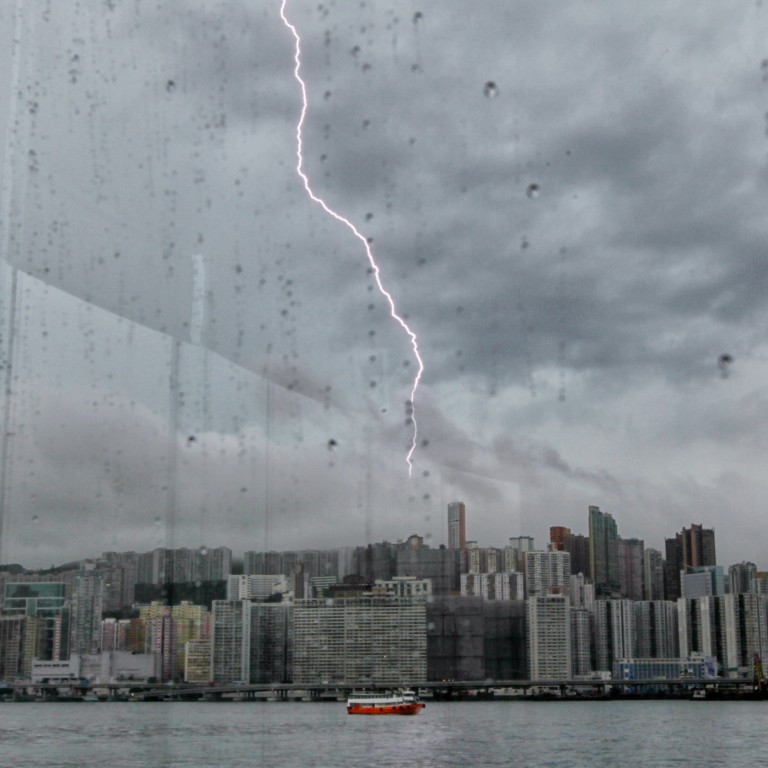 Hong Kong flight struck by lightning during first 'black' storm since 2010
Landslides and floods hit city, along with 15,000 lightning strikes in three hours
A Hong Kong Express Airways Airbus was hit by lightning on Wednesday in the first 'black' storm to hit the city since 2010.
The plane was struck shortly before 3pm as it flew in from Sanya, Hainan, Hong Kong Airport Authority said. The pilot landed safely at Chek Lap Kok airport at 3.06pm with fire engines on standby. No injuries were reported. It was carrying 100 passengers and crew members.
Torrential rain pounded the city for more than five hours during the morning, causing landslides, flooding, traffic chaos and business disruptions.
No injuries were reported, but more than 300 flights were delayed. 
Were you a passenger or crew member on the plane? Email us at [email protected]
The stock exchange cancelled the morning session and resumed trading at 1pm. Its turnover was HK$52.4 billion, down from an average of HK$58.5 billion per day this month. The courts were also closed in the morning while all schools remained closed for the day.
Sau Mau Ping was one of the worst-hit areas as several landslides hit the neighbourhood.
In one incident, concrete debris, rocks and mud were washed down a hillside at about 4.30am, about 20 minutes after the Observatory hoisted a black rainstorm warning, the highest of three storm signals and the first since July 2010.
The signal was in place for five hours and 35 minutes. The longest black storm on record raged for five hours and 47 minutes in August 1999.
The unexpected rubble built a metre-high blockade on the pavement and carriageway of Lee On Road outside Shun On Estate before dawn, upsetting residents and traffic.
"After 4am, I was awoken by a loud bang. I thought it was an earthquake," an elderly man said. He realised a landslide had taken place only when he ventured out after daybreak.
A nearby section of Shun On Road was also buried - with more dislocated rubble lying dangerously atop the slope.
Government agencies including the Civil Engineering and Development Department are checking where the landfall debris came from.
Department engineer Michael Chang Mein-kai pointed to construction works by the Geotechnical Engineering Office on Anderson Road.
That project involved upgrading infrastructure including roads and drains to provide usable land of about 20 hectares for housing and other facilities.
Chang said he hoped the affected roads in Sau Mau Ping would be re-opened tomorrow, though he expected workers to take one to two days to clear the mess on Shun On Road. Yesterday, the Observatory issued rainstorm warnings three times before daybreak - the amber signal at 1.30am, the red signal at 3.20am and the black at 4.10am.
Between 3am and 6am, it recorded more than 15,000 lightning strikes. By 2pm, authorities had received 49 reports of flooding and 19 landslides.
Senior scientific officer Chan Sai-tick said more than 100mm of rain drenched Sau Mau Ping, Kwun Tong, Tseung Kwan O and Sai Kung between 4am and 5am. One of the major flooding areas was Tin Sam Tsuen off Kam Po Road, Yuen Long, covering 500 square metres, said Shum Jin, acting technical secretary of the Drainage Services Department. He said more than 10 village houses were up to 50cm deep in water. In Kwun Tong, a sedan inside an underpass of Kwun Tong Road was nearly submerged.
The Observatory withdrew all rainstorm signals at 10.30am.
At Chek Lap Kok, 140 inbound and 174 outbound flights had been delayed by 5pm while one inbound flight was diverted, the Airport Authority reported.
Chan said the downpour was the result of a band of rain moving across the city from west to east as part of a southwestern monsoon.
He said a trough of low pressure was still lingering around the Guangdong coast, so showers could be expected in the next couple of days.
The Observatory said that from midnight to noon, the rainfall exceeded 200mm in Tseung Kwan O, eastern Kowloon, the northern part of Hong Kong Island, Tuen Mun and Tung Chung.
This article appeared in the South China Morning Post print edition as: Heavens open in first 'black' storm since 2010